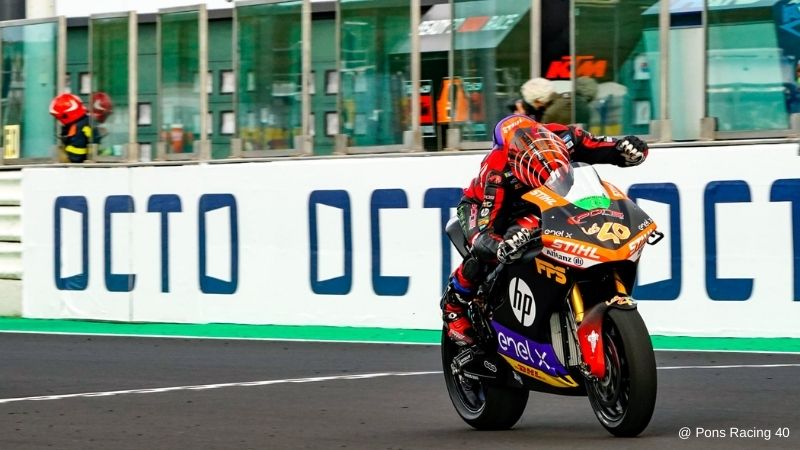 Great race for the Spanish rider of HP Pons 40, who conquers victory and leadership in the standings at the end of race 1 of the San Marino GP. Iwema follows his particular progression and is fourteenth.
Excellent race Saturday for the HP Pons 40 at Misano. In the morning, the day started well with Jordi Torres' conquest of the EPole. The Spaniard managed to place a perfect lap that to start from the first position in the race in the afternoon. As for Iwema, the HP Pons 40 rider was classified in seventeenth position with the aim of scoring points in the race.
In the afternoon, the first of the two races of the San Marino Grand Prix took place, which will conclude the MotoE World Cup. Torres started from first position and knew it was time to take a step forward and take a risk to attack the lead. Starting well, the Spaniard of the Pons Racing team remained in the first group of the race, fighting for the victory, until with two laps to go he moved to third position. In the last moments of the race, Torres took advantage of a risky maneuver in the two leading positions to regain the first position and cross the finish line as a winner.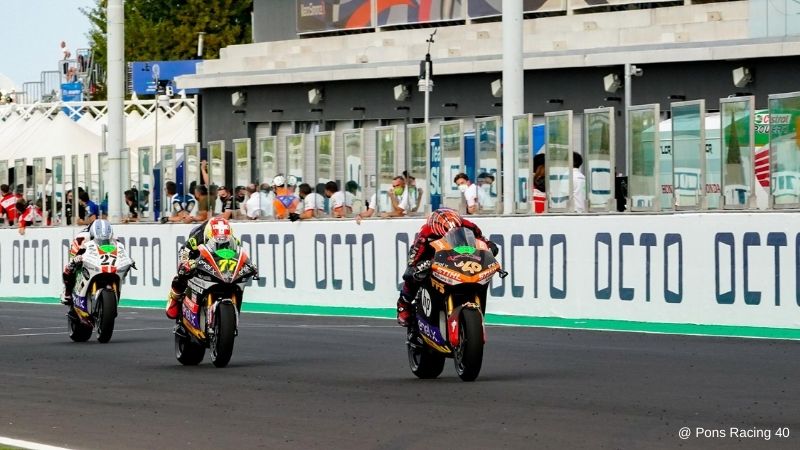 With this victory Torres is the new leader of the championship, ahead of Aegerter by 8 points and with 25 points still up for grabs. The second race starts on Sunday at 15:30 pm.
Good race for Iwema too. From seventeenth position, Iwema knew he could fight for the points. And so it was. Constant on his pace, Iwema moved up three places to finish fourteenth, scoring another 2 points in his first season in MotoE.
Jordi Torres
"In this race we started with an extra aggressiveness, we are risking everything between today and tomorrow. During the race it is still difficult for me to overtake in the race but we countered it on the corner. It was a very difficult race until the last lap and this are MotoE races, you don't know what's going to happen until the last moment. We have won and it gives us confidence and hope for tomorrow's race".
Jasper Iwema
"We added two points. Every time it's going better but the season is really short. I think I can be satisfied with the progress I'm making and I want to thank the team for having improved the bike a lot. I want to take this opportunity to congratulate Jordi's race and I hope that tomorrow there is something to celebrate in the team".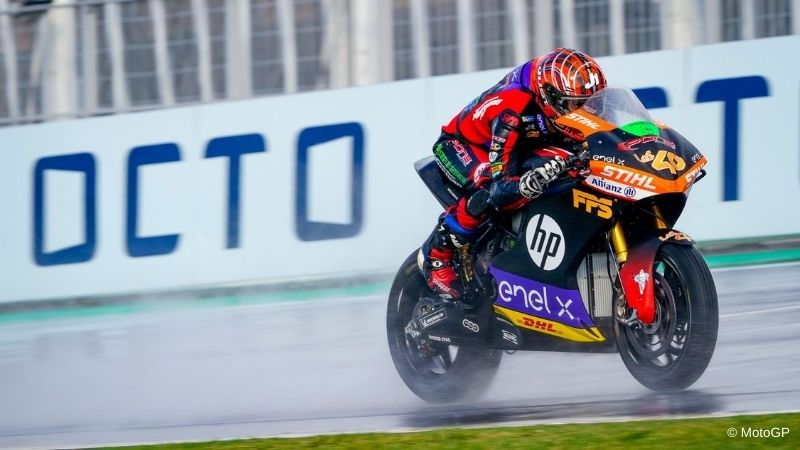 To be updated on MotoE World Cup, subscribe to Epaddock's Whatsapp broadcast and receive all our news on your mobile phone in real time: find out how here.