Zero Motorcycles SR/F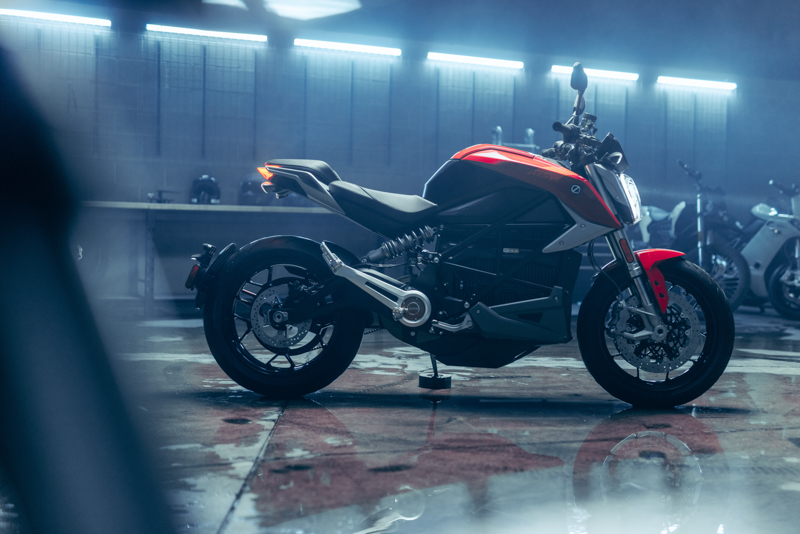 The SR Series is Zero Motorcycles' most popular street electric motorcycle and is one of the Californian brand's most successful and longest-running models. There are three versions: the SR, the SR/F and the faired SR/S. The 2022 models are mainly characterized by a higher battery capacity (+20%), faster charging speed and increased range.
Before describing the SR in detail, let's talk about the battery increase, as 20% is a substantial jump in onboard capacity when it comes to electric vehicles. The new ZF batteries, according to Brian Wismann, responsible for product development, have an all-new die-cast aluminium design and more efficient thermal management along with improved weather resistance. As a side benefit of the revised architecture, the new batteries are also 2.7kg lighter while maintaining the same footprint as the previous unit. Wismann says maintainability has also been addressed so that power packs can be more easily accessible for maintenance or upgrades.
The new batteries will be available in two versions, ZF 14.4+ and 15.6+ kWh, with the "+" designations indicating that the capacity can be further upgraded on some models, up to 17.3 kWh (an equivalent increase of 20%) without having to buy a new battery. There is also an additional 3,6 kWh power tank which brings the total available battery capacity to nearly 21 kWh. The 14.4+ battery is standard on all three 2022 model bikes (the SR, SR/S and SR/F), and all are capable of accepting capacity upgrades as well. The larger 15.6+ battery is an option on the premium 2022 SR/S and SR/F motorcycles.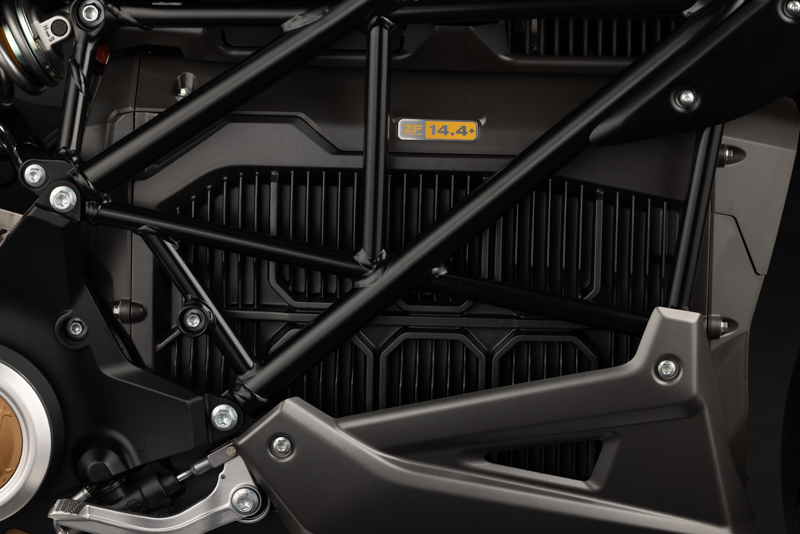 In this post we have decided to talk about the SR/F, the naked version of the SR family by Zero Motorcycles.
The SR/F is equipped with the ZF75-10 engine which delivers 190 Nm of torque and 110 hp, pushing the SR/F to a top speed of 200 km/h. Zero Motorcycles' brushless permanent magnet architecture, combined with a compact design with passive air cooling, ensures high levels of performance and efficiency.
The SR/F is equipped with the ZFORCE 15.6+ lithium-ion battery, capable of a maximum range of 365 km (227 miles). The power and energy density of the battery, combined with the aluminum housing with heat sink and thermal transfer interface, ensure constant cell cooling and maximum long-term performance. In addition, dedicated software updates available in the Cypher Store unlock up to 17,3 kWh of battery capacity.
With the latest version of the Cypher operating system, the Cypher III+, it has been introduced the ability to access a series of software updates that allow every rider to customize their riding experience through the Cypher Store. You can improve the charging speed, have a turn-by-turn navigation system on the dashboard, or activate the parking mode that allows you to reverse. Cypher III+ is the only system that allows performance upgrades on demand, and is only available for Zero Motorcycles.
The scalable fast charging system allows you to configure the motorcycle for different charging levels. The SR/F 3 kW standard and 6 kW premium models can be upgraded up to 7 kW via the Cypher Store. In addition, an additional 6 kW charging module can be purchased which can carry up to 13 kW. In addition to these significant updates, there are small 17% charge speed improvements available in the Cypher Store.
The SR/F is the first electric motorcycle to integrate Bosch's MSC system, renowned for its dynamic acceleration and stability characteristics that are unaffected by the state or conditions of the road surface. In combination with Cypher III+, the MSC system can express its full potential, ensuring excellent ABS performance on straights and cornering braking control, as well as optimal anti-skid control with torque regulation.
The SR/F provides a variety of riding modes that allow the rider to customize the performance of the bike through the app interface and dashboard with 5" color TFT display. The SR/F has Rain, Eco, Standard, Sport and Custom modes preloaded; in addition to these, numerous other customized riding modes are available.
The SR/F is connected through cellular networks, transmitting information to the app at all times. The app has several functions that allow you to monitor the bike in four main areas: bike status and alerts, charging, sharing trip data and system updates.
In the following table you can find all the features of the SR/F.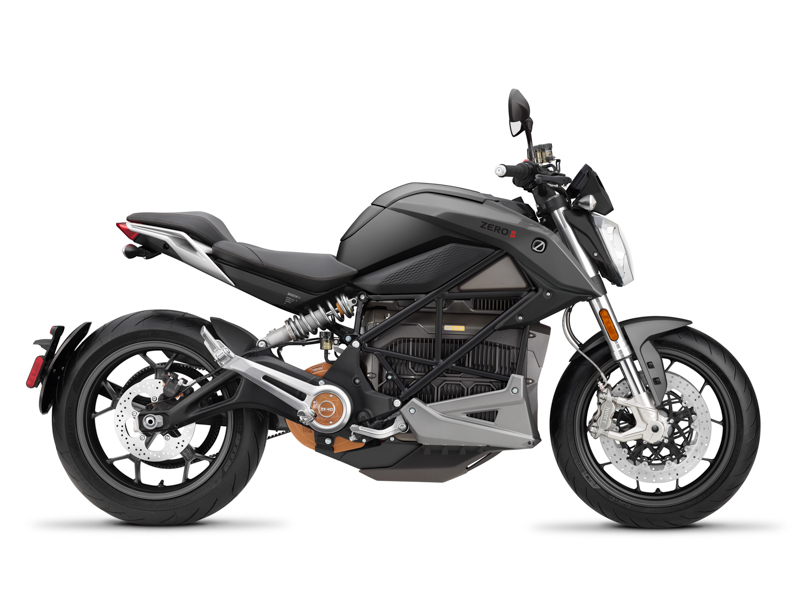 Zero Motorcycles SR/F - Performance and Specifications
Maximum speed (peak/continuous): 200km/h / 170km/h
Maximum power: 110hp (82kW) at 5600rpm
Continuous power: 54hp (40kW) at 5000rpm
Maximum torque: 190Nm
Weight: 227kg
Range : 200-365km
Motor: Z-Force 75-10 internal permanent magnet AC motor
Battery: Z-Force lithium-ion
Battery capacity: 14.4kWh (+) and 15.6kWh (+)
Transmission: direct without friction
Cooling: by air
Chassis: trellis frame
Final transmission: belt
Charging time: from 1.0h to 2.2h (95% charged)
Charger: 6kW
Front suspension: 43mm Showa SFF-BP fork
Rear suspension: Showa 40mm shock with external reservoir
Front brakes: double J. Juan radial caliper and 320mm discs
Rear brakes: J. Juan single caliper with 240mm disc
Front tire: 120/70-17
Rear tire: 180/55-17
Prices and further information are available on the Zero Motorcycles website (www.zeromotorcycles.com)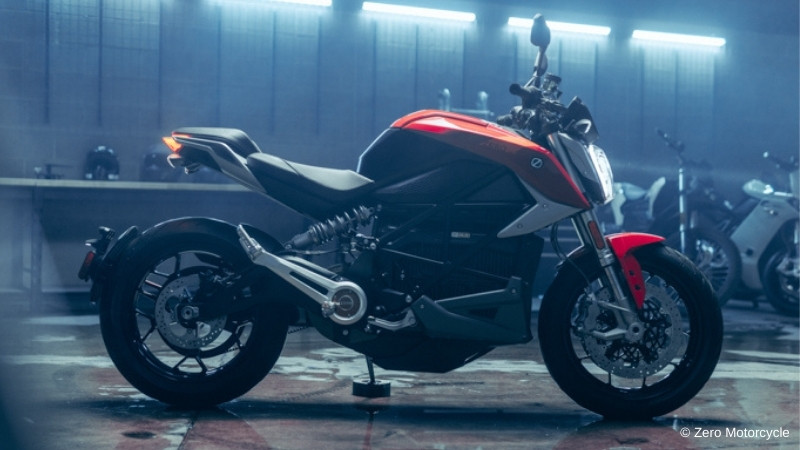 To be updated on MotoE World Cup, subscribe to Epaddock's Whatsapp broadcast and receive all our news on your mobile phone in real time: find out how here.