Specifications and data sheet of the MotoE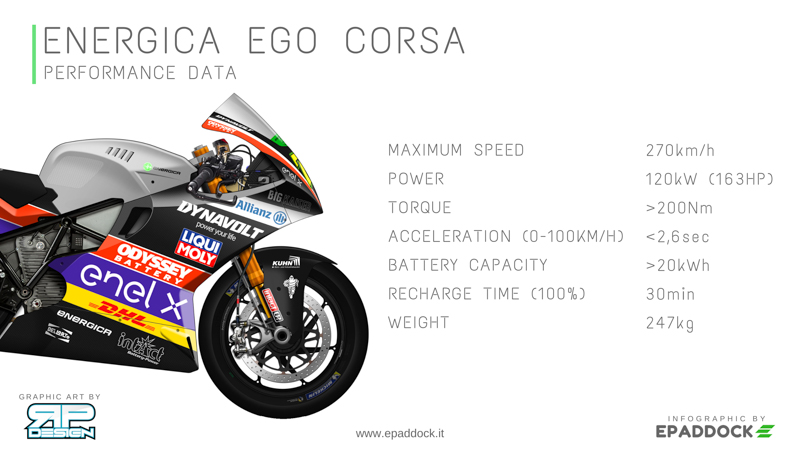 Specifications and data sheet of the MotoE for the 2022 season.
La MotoE it is equipped with a synchronous reluctance electric motor (SynRM - Synchronous Reluctance Motor) with mixed air and liquid cooling. Energy is provided by the lithium battery contained within an aluminum casing to protect it in case of crash and rain. The battery casing is also a supporting element of the steel tube trellis frame.
The current from the battery is sent to the motor through a converter that transforms it from direct to alternating and an inverter that modifies its frequency. The motor shaft transmits motion to the wheel through a chain transmission directly without gearbox.
Specifications and data sheet of the MotoE (Energica Ego Run)
Max speed: 270 km/h (limited)
Potenza: 120 kW
Torque: > 200 Nm
Acceleration (0-100km/h): 2.6 sec
Weight/size247 kg
Charging time (100%): 30 min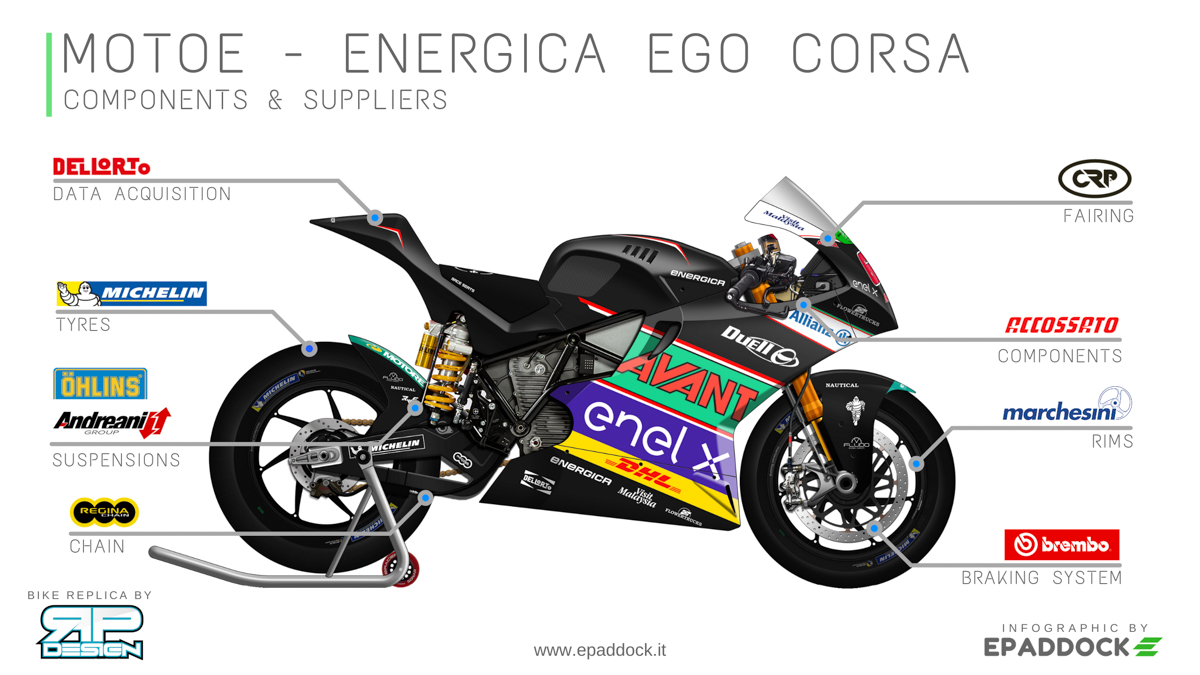 Motor: synchronous reluctance (SynRM - Synchronous Reluctance Motor); maximum rpm 11000rpm
Battery: Lithium ion with capacity> 20kWh, voltage 380V
Charging connection: DC Mod. 4, type 2 according to the European standard
Cooling: the battery is air-cooled, the inverter water
Chassis: steel tubes
Swing arm: aluminum casted
Fairing (CRP Technology): in Windform® composite material
Suspensions (Ohlins): S46PRC rear monoshock, FKR front inverted fork
Front brakes (Brembo): T-drive discs in steel of 336mm diameter and 7,1mm thickness; aluminum monobloc calipers GP4-PR with 4 titanium pistons, sintered pads Z04 type
Rear brakes (Brembo): steel discs of 218mm
Front brake pump (Brembo): radial with 19mm diameter and 18mm wheelbase
Rims (Marchesini): 7 spokes aluminum forged
Tyres (Michelin): front 3,75 × 17 inches, rear 6 × 17 inches
Final transmission (Regina Chain): chain
Accelerator: ride-by-wire type
Dashboard (Cobo Group): liquid crystal


To be updated on MotoE World Cup, subscribe to Epaddock's Whatsapp broadcast and receive all our news on your mobile phone in real time: find out how here.