Gauss Project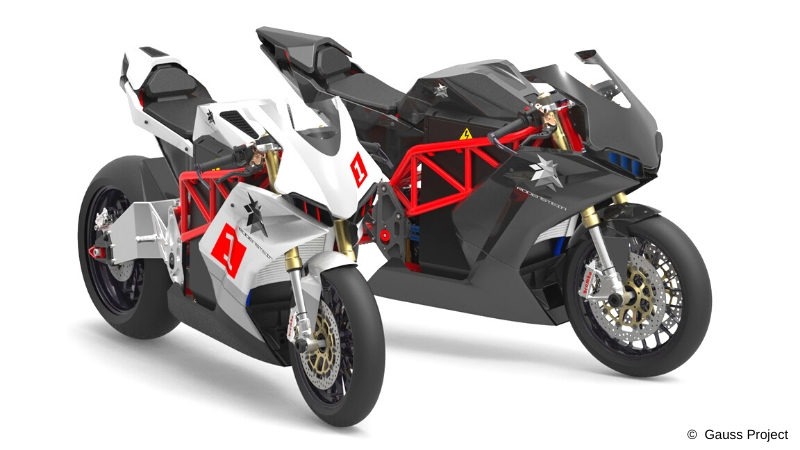 The Gauss Project is an interdisciplinary research project created by the Applied Sciences department of the University of Darmstadt, Germany. Over 40 students of mechanical and electrical engineering, industrial design and economics work to develop an electric sports motorcycle. The project is named after the German mathematician and physicist Johann Carl Friedrich Gauß, who carried out fundamental studies on magnetism.
Gauss One
The first "Gauss" project pursues the development and testing of an energy recovery system for racing applications. Conventional vehicles are equipped with mechanical brakes which convert kinetic energy into heat during braking. The idea of ​​the Gauss One project is to recover energy during braking to recharge the battery. By taking advantage of an electric front brake, the kinetic energy is transformed into electrical energy used to charge the batteries and increase the overall efficiency of the motorcycle.
GAUSS ONE
Performances
- Max speed: 200Km/h
- Power: 60kW
– Torque (Motor): 250Nm
- Torque (at wheel): N/A
- Weight :: 170kg
- Acceleration (0-100km/h): N/A
- Charging time: N/A
Specifications
- Motor: N/A
- Battery: lithium ion type
- Battery capacity: 4kWh
- Battery voltage: 366V
- Battery weight: 60kg
- Shift: No
- Cooling: water-cooled motor
- Chassis: aluminum made
- Final transmission: chain
Gauss Two
The Gauss Two project aims to create the first electric motorcycle designed for Endurance races. The study provides an innovative system to quickly swap the battery and extend the range of the bike. The new designed chassis is fully adaptable to the race track and the rider needs; . The steering head angle, height and the length of the swingarm are adjustable. The core of the electric superbike is its Li-Ion energy storage system. Within seconds, an empty battery can be changed against a fully charged one.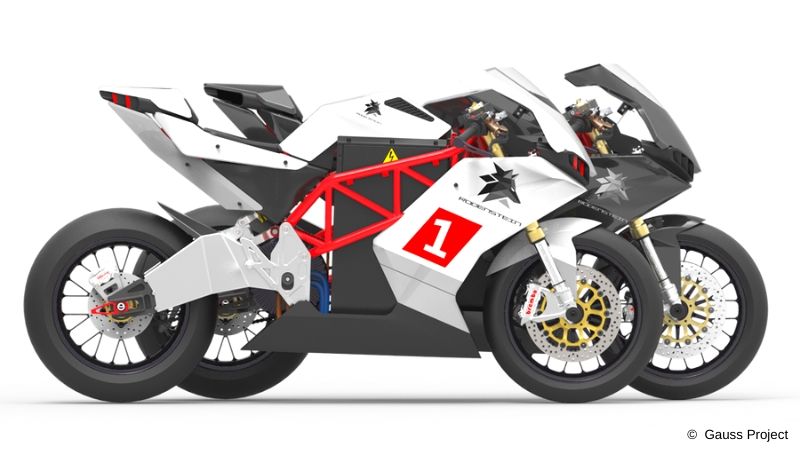 GAUSS TWO
Performances (depending on the battery set-up)
- Max speed: 250+ Km/h
- Power: 60-110kW continuous (220kW peak)
– Torque (Motor): N/A
- Torque (at wheel): 500Nm
- Weight :: 200kg
- Acceleration (0-100km/h): 3sec
- Charging time: 30sec for battery change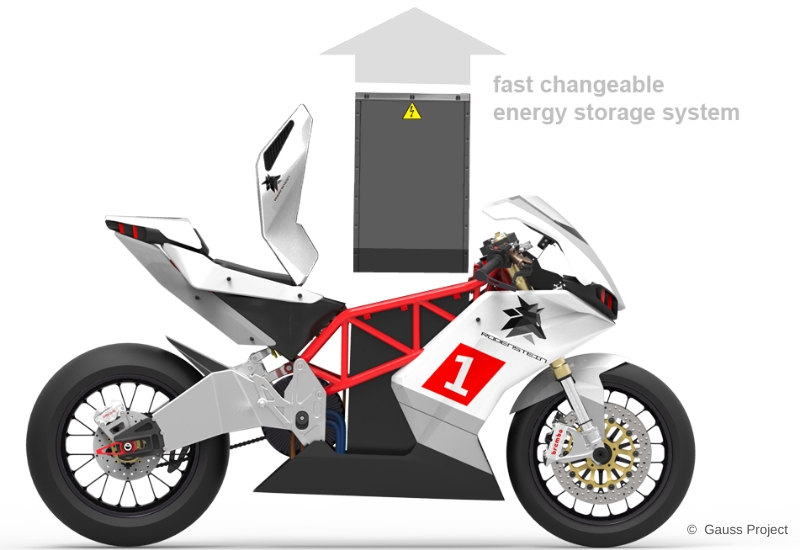 Specifications (depending on the battery set-up)
- Motor: N/A (max 7000 rpm)
- Battery: lithium ion type
- Battery capacity: 17-25kWh
- Battery voltage: 700V
- Battery weight: 100kg
- Shift: No
- Cooling: water-cooled motor
- Chassis: steel made
- Final transmission: chain