Wrocław LEM Photon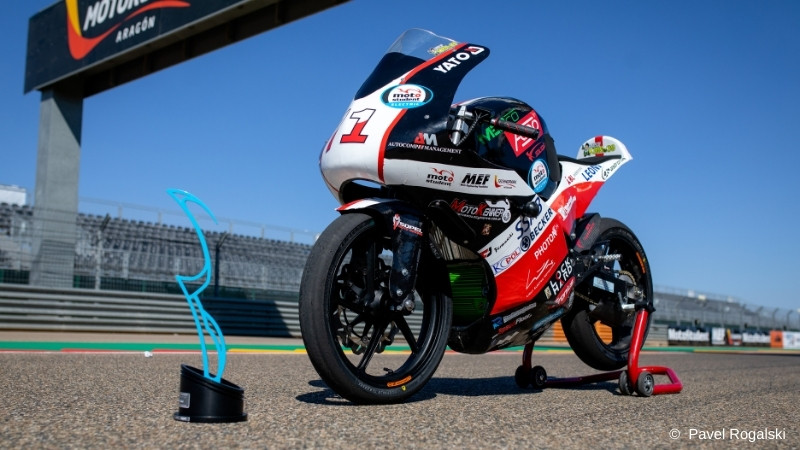 Light Electric Motorcycle (LEM) is the racing team of the University of Wrocław, Poland, and is made up of a group of 60 young engineers. The history of this team begins in 2013 when it started producing electric bicycles. They later created electric mopeds, police motorcycles and lately enduro motorcycles. Over the past 2 years they have been working on a new type of challenge to find out more about racing bikes, the MotoStudent.
The team is made up of students divided into six disciplines: Mechanics, Construction, Suspensions, Electronics, Composite Materials and Marketing. The motorcycle is the LEM Photon of which you find below the technical specifications and performance.
At MotoStudent 2021, the student team from Wrocław took sixth place in the overall standings and first place among rookie teams.
LEM Photon - Performance and Specifications
Max speed: 196km/h
Power: 36kW
Torque (motor): 95Nm
Torque (at wheel): 415Nm
Weight: 155kg
Acceleration (0-100km/h): 4.0sec
Motor: permanent magnet synchronous (PMAC) max 8000rpm
Motor weight: N/A
Battery: Lithium-ion (644 cells)
Battery capacity: 6.2kWh
Battery voltage: 117.6V
Battery weight: N/A
Shift: No
Cooling: by air
Chassis: Cr-Mo alloy steel
Swingarm: 6068 Aluminum alloy
Final transmission: chain
Fairings: fiberglass, carbon fiber, and aramid fiber
Charging time: 45min/80% 1,5h/100%