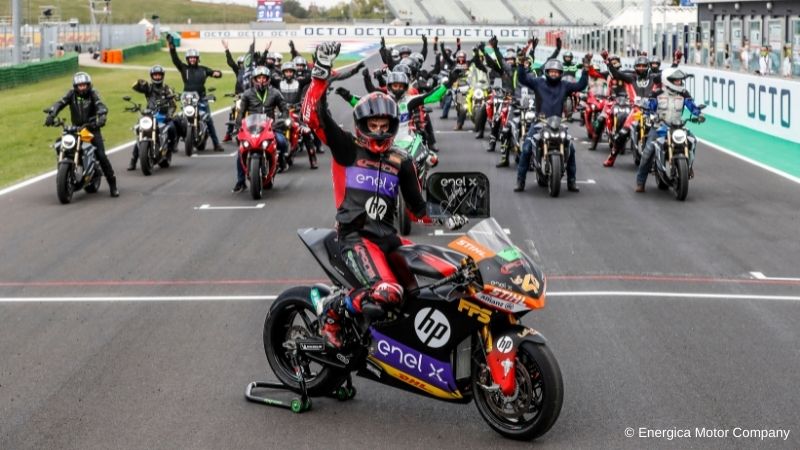 Jordi Torres made his debut last year in the MotoE World Cup and was immediately very fast: he went on the podium in the second race, two pole positions, one victory plus another four podiums. All this allowed Torres to conquer the crown of the MotoGP electric class despite being a rookie. The Spanish remained in MotoE also in 2021, and has now become the first rider to win the MotoE twice, and doing it twice in a row.
This year, the rookie had become the defending champion and thus the man everyone wanted to beat. Torres kept his cool, trying to score points without making any mistakes, starting immediately with a podium in Jerez. Another podium came in Catalunya, and then in Assen. A few points in Austria and after that the Spaniard arrived at the final round of Misano with excellent chances of winning the title. In Race 1 he won, taking advantage of Granado's error that slowed Aegerter right at the last corner.
In Race 2, after an incredible duel against direct rival Dominique Aegerter, Torres had a contact with the Dynavolt Intact GP team rider and crashed to the ground, then recovering in thirteenth position. In the end this was still enough to take first place in the final standings, while the Swiss rider was penalized by 38 seconds for the clash.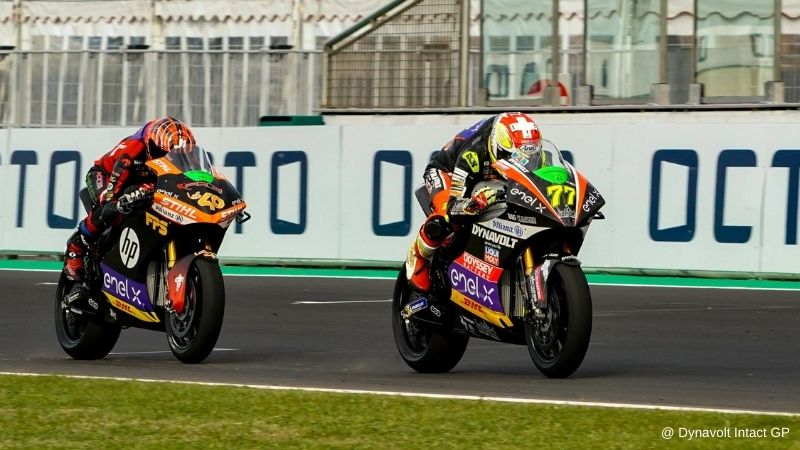 Jordi Torres
"I never could imagine that I could win again this year. Maybe last year, our win had some luck, calculating very well how our points were, but this year we're more concentrating on our way, in the sense of improving the bike and trying to be as calm-minded as possible in the races to avoid mistakes. But arriving in the last two races with many options to win the title is a lot of satisfaction for our team, but to arrive here with these options it means we continued to push and be aggressive, very fast, during all the season. But we know that doing many races we tried to save points, coming fifth or seventh, but if we were able to do a great race we tried do. And we tried all season to not make a mistake and in these last two races we tried to be aggressive, fast, at the beginning of the weekend, in any condition, and put all the cards on the table and show how the performance is in the last two races."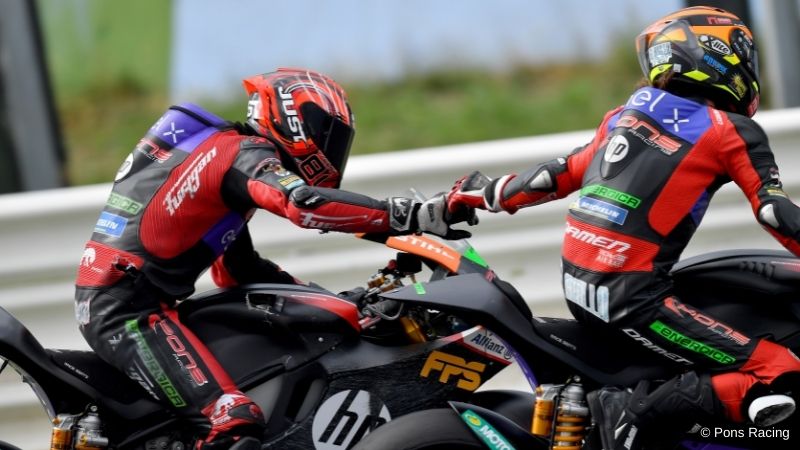 "Trying to do all races at this pace and as aggressive as today, in some races we would fall. All season we tried to be at 90 or 95%, but for sure this weekend, and not just me, four or five guys tried to do 100% to stay on top, it's the one chance to win the title. And that's what we did, to fight for victory.
I knew Domi needed to overtake me and win the race to win the title, he's also a great racer and did a great championship, able to win it. But I knew that if you try to overtake under these conditions - when I'm trying to brake late - and he saw two or three times that it was difficult to overtake me like that because he went wide. I knew on the last lap he'd try everything but in this condition he wasn't able to do it well, we crossed lines and I couldn't enter the corner, I tried to pick the bike up as fast as possible. But he hit me, I hit the ground and I went to my bike, tried to run and get to the end because you never know if you take one or two points it could be necessary in the title. And I saw Jasper Iwema waited for me to give me some help, if I took one point more it could have been needed. I want to say thanks to him."
"When I saw the result and the flag I started to cry, I felt down, I felt like I was a loser and lost the title. I tried to squeeze the maximum in this race and focus 100% to do my pace, and when Domi tried to overtake me I tried to be calm to not make a mistake and manage well the situation. But all this work I did, and the work my team did all this year to arrive here, it's like well.. all this in the rubbish and start again! I cried and arrived to my people, when I entered the pits they all said 'ok take a break, don't worry, we'll see what happens'. I was still crying, and then when I saw the result from Race Direction it became happy tears, a rollercoaster of emotion, and I'm tired now after that! But we're happy for this happy ending, and we make a lot of notes for next season to continue in this direction; fast, aggressive, great results, but we know where we need to change to be safer in that performance."

To be updated on MotoE World Cup, subscribe to Epaddock's Whatsapp broadcast and receive all our news on your mobile phone in real time: find out how here.