The two free practice sessions of the French GP took place yesterday MotoE World Cup 2020 at the Le Mans circuit.
Today the eighteen drivers of the championship will be involved in the Epole and, at 16 pm, in the first race of the weekend. Here's what the riders said at the end of yesterday.
Mike DI MEGLIO - Team EG 0,0 Marc VDS
"It has been a very good today and to finish fastest in my home track is a great feeling. I didn't complete many laps this morning because my goal was to just check my feeling on the bike and I have to say I immediately felt great. A lot of riders improved their pace, but I knew we had plenty more potential and that's exactly what we showed this afternoon. I was confident I could set a very fast time and I'm very satisfied to be on top. We have some different settings to try tomorrow but my pace is strong, and I need to perform well in E-Pole to give myself the best chance to fight for the podium".
Alex DE ANGELIS - OCTO Pramac MotoE
"I am really very happy with this day, we are continuing on the right path. Today I didn't change the set-up so much, the feeling with the bike is really positive. Tomorrow I will have to be very focused on the Epole because it is a single lap, but I'm optimistic!"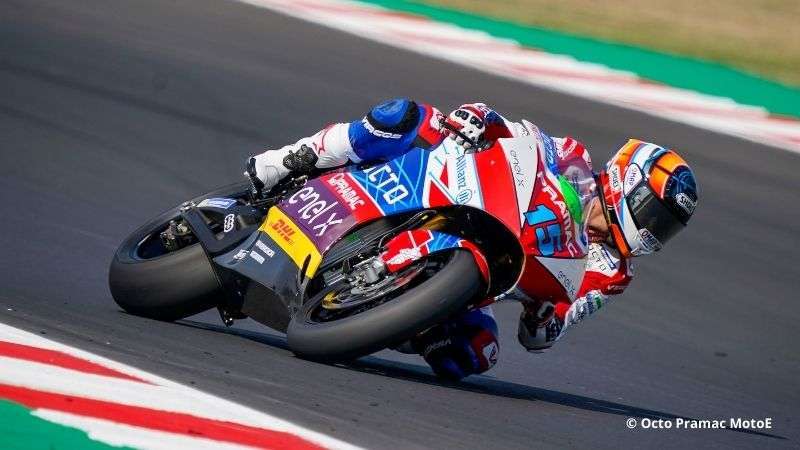 Xavier SIMEON - LCR E-Team
"It has been a very positive day. I tried to put into good use my experience from the endurance race I did here one month ago but the MotoE is a completely different bike. We didn't have a lot of time to adapt, this morning was wet and in the afternoon was dry so I tried to understand directly how it has to be because tomorrow we only have one EPole Lap, so like always it's important to be quick from the beginning.
Anyway, we are at the top, there are five or six riders with very close in lap times so tomorrow during the E Pole, it will be really important to be fast. Like I said, we are in front and that's what's important."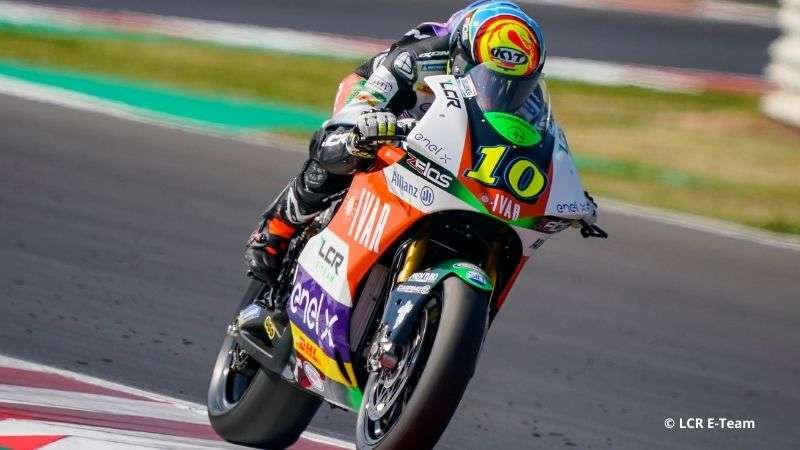 Matteo FERRARI - TRENTINO Gresini MotoE
"Today's feeling was good, even in mixed conditions. We were competitive without taking too many risks. In the afternoon with a dry track we used only one new tyre, while the riders in front of us used two. We tried different levels of motor braking, but the basis we have is very good and we will not make any major changes because tomorrow is already Epole time. Tomorrow we will see".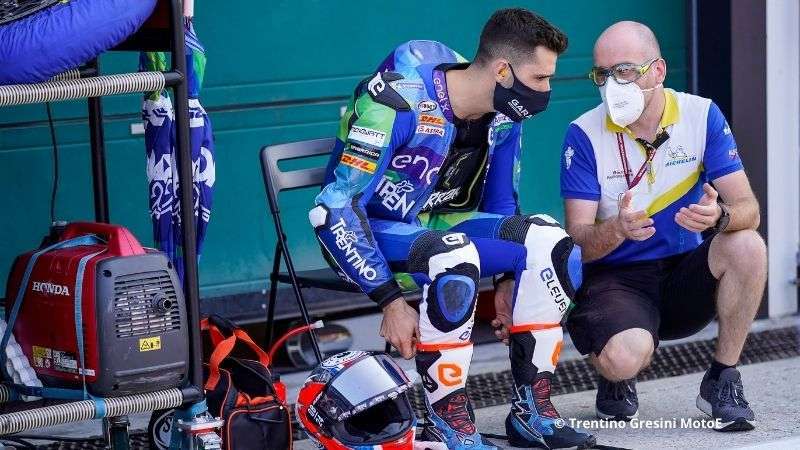 Niccolò CANEPA - LCR E-Team
"It was a good day. We had just one session in dry conditions and I finished very very close to the first because I am only three tenths off, so it's really encouraging for tomorrow. It will be tought because we only have XNUMX lap tomorrow before the race and it decides the starting grid so we'll have to push really hard to start in front."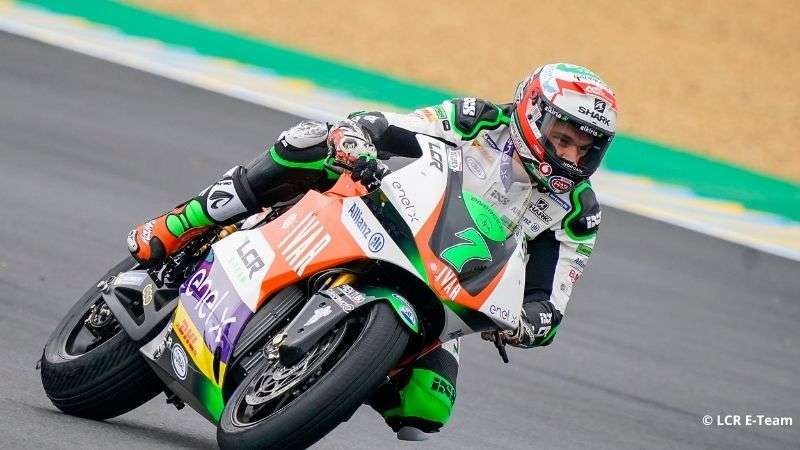 Joshua HOOK - OCTO Pramac MotoE
"This morning went quite well, we did a good job and improved a lot compared to the past few weeks. The feeling was really positive, I got a very good impression. During the second session I struggled a little, but we understood a lot. We still have some work to do but we are in the right direction."
Jordi TORRES - Join Contract Pons 40
"Changing situations today, half dry, half wet, and that complicates things a bit more for us. It has been a day of taking references, getting sensations, and in the afternoon we have already been able to run 100% dry. Now it is my job to adjust the references in each corner and tomorrow to give it my all on the E-Pole. Let's go for it!"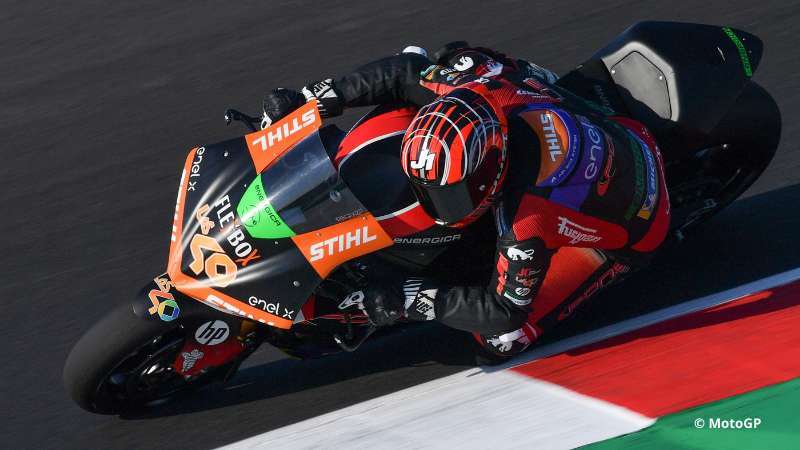 Niki TUULI - Avant Ajo MotoE
"I'm happy with the opening day of the French Grand Prix, as my feeling improved. In the morning, the track was in mixed conditions, so we couldn't draw many conclusions from the first practice. Nevertheless, I felt pretty good. In the afternoon, the asphalt was dry, although there were still some small puddles around. I decided to push and I made improvements lap after lap. I'm satisfied overall and I believe that tomorrow we have the opportunity to set a solid fastest lap in EPole that will allow us to qualify well for the race".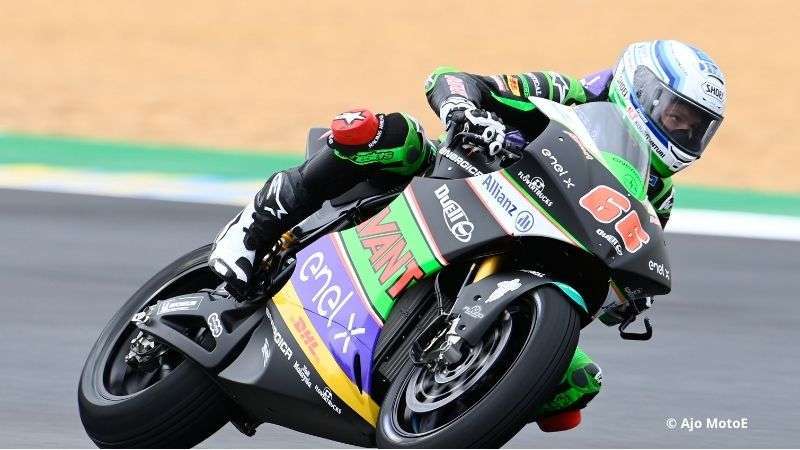 Dominique AEGERTER - Dynavolt Intact GP
"We rode the MotoE bike and Michelin tyres in the rain for the first time today, which was of course something completely different on an electric motorcycle, especially since the track was new to me and the Energica. I was able to do a lot of laps and in the end, I felt really good. Unfortunately, at this point, I had already lost too much to the top. This afternoon it was mostly dry, but our timing wasn't perfect because we went out on track pretty early. It was still a little wet in some corners, but the others left a little later and gambled a bit with the tyres, but we're doing well after all. Even in the dry conditions, I felt comfortable on the bike. We are doing a good job, the team is working well, and together we will now analyze the different data from today. You don't have much time to ride really. We rode nine laps in each session today. Tomorrow we just have one more lap in the battle for the EPole and the starting grid, followed by the first sprint race of seven laps in the afternoon. Tomorrow we have to cope with what we have worked for and I think we will also make a few changes for tomorrow, but in the EPole you only have one lap to push. The race will give us more information, but one thing we can say very clearly already, we want to be within the front. I will give everything to be a part of the leading group".
Eric GRANADO - Avintia Esponsorama Racing
"It was an atypical day in which the first practice was in the wet and the second in the dry. This is being a weekend in which we go from less to more, and I am focused on the two races that are important. In the afternoon we had a problem with the battery that did not perform as it should, but despite this we are confident for the weekend."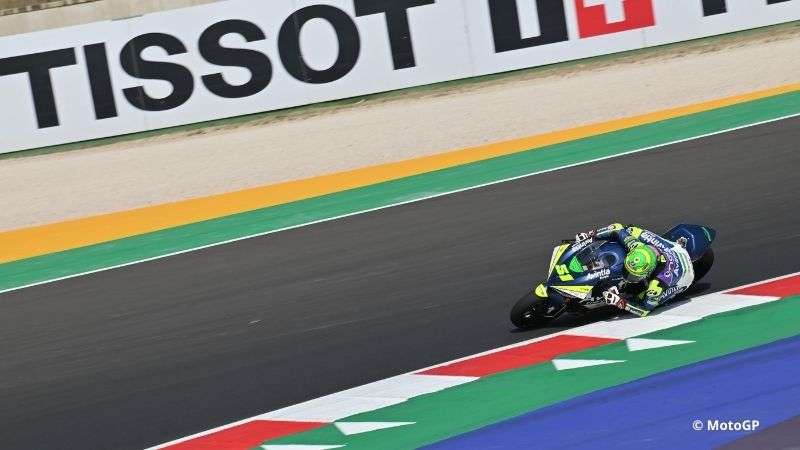 Tommaso MARCON - Tech3 E-racing
"I'm for the first time here in Le Mans and I have to say, that I like this track a lot. This morning the conditions were 50 to 50, but we went out with rain tyre and just saw it as a warm up session. The first dry session this afternoon was quite good. We still need to work a lot to learn it better, I think that will be the main point for the upcoming two days".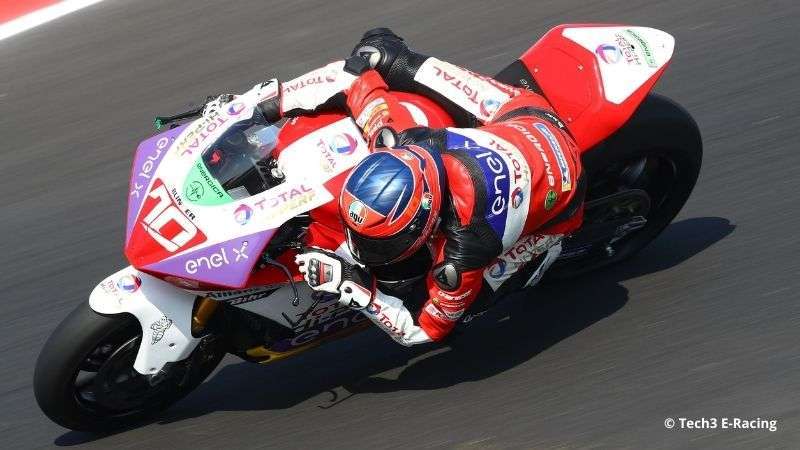 Jakub KORNFEIL - WithU Motorsport
"It was difficult in the morning, as the track had mixed conditions. I was very cautious, because I didn't want to crash. In the afternoon the asphalt was completely dry -except for some small damp patches. I really enjoyed riding the bike and I improved lap after lap, which is very positive. I am very happy with the work that we did today. However, I feel like we could even have gone a little faster - but it was difficult to choose the right tyre pressure due to the changing weather conditions. Tomorrow we have a few riders who will go out ahead of us in E-Pole, which makes me very satisfied. I'm looking forward to the action starting again this Saturday, as it is also looking like we will be able to ride in the dry. The most important thing will be to continue enjoying ourselves on the bike and give 100%, like we always do, to obtain a good result".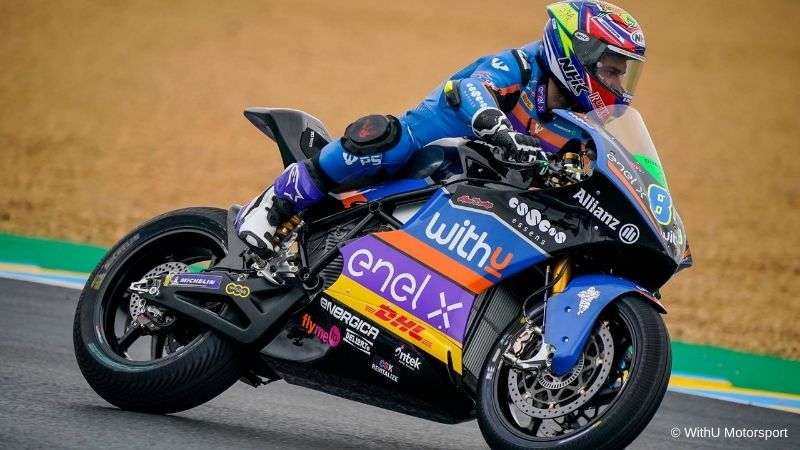 Maria HERRERA - Openbank Aspar Team
"We need to be able to stop the bike more to turn faster and improve the time. This bike has a lot of inertia and you have to brake it well. I am happy because, if we improve this, tomorrow we will take a big step forward. In the first free practice, in the water, the sensations with the bike were difficult because I didn't even touch my knee. However, in the afternoon, in the dry, I felt quite well and confident."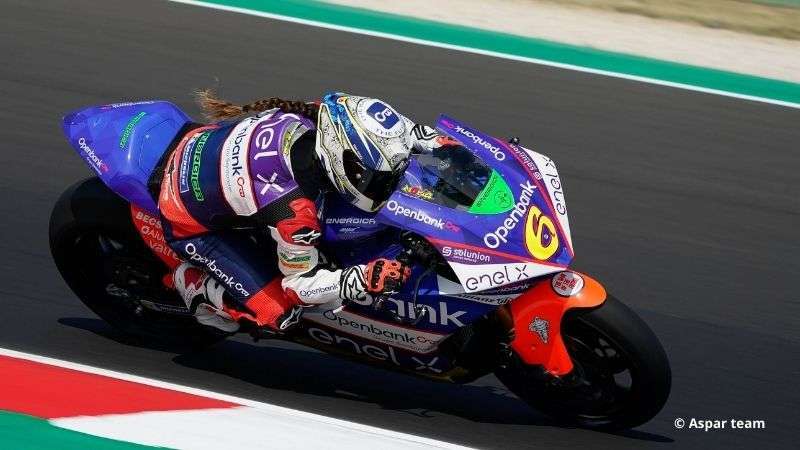 Alessandro ZACCONE - TRENTINO Gresini MotoE
"It was a difficult day, the weather made everything a bit complicated and for me, first time on this track, it was not easy. Unfortunately we have very few laps available… We have to improve several things to make a big step forward for tomorrow. I like the track, but being fast after ten laps isn't easy. We'll try again tomorrow! "
Alejandro MEDINA - Openbank Aspar Team
"This morning, with the wet track, I tried to adapt, but with the water it is not the same as in the dry. I still need to know the correct line. Tomorrow we have the ePole, we will have to do our best on that lap and try to be as far ahead as possible for the first race."
Xavier Cardelus - Avintia Esponsorama Racing
"A somewhat strange day, in which in the first tests on a wet track I felt very comfortable. In FP2 we worked on the set up for tomorrow what is the most important and it is not so much to get a fast lap today."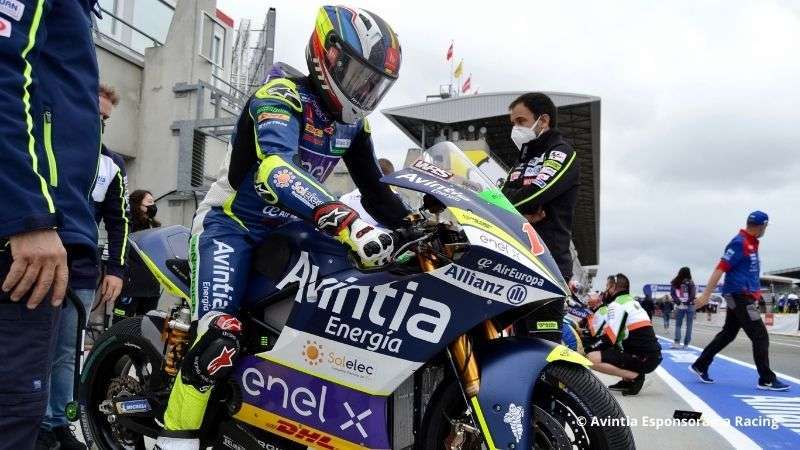 Lukas TULOVIC - Tech3 E-racing
"It was the first day of Tech3's home GP and I was really looking forward to this weekend, because I have some good memories here in Le Mans. This morning, we started in mixed conditions and the feeling was quite good. The adjustments my team made on the bike were working well with the injury and I felt quite strong on the bike, only 1,7 behind the top, being the first time on the Michelin rain tyre was positive. For the second practice, we knew it would be dry, so I took some more pain killers, but the pain with my injury was very strong. For this, I'm a bit disappointed. Now, I'm going to talk to the team and the doctors to make a decision for the rest of the weekend".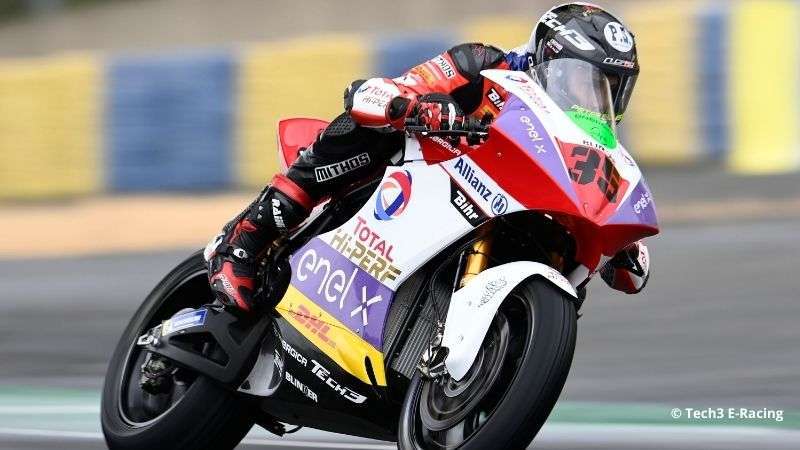 The EPole is scheduled for today at 11:45 am (local time). Here you can find the time schedule of the French GP in Le Mans this weekend.
To be updated on MotoE World Cup, subscribe to Epaddock's Whatsapp broadcast and receive all our news on your mobile phone in real time: find out how here.