The race of the MotoE at Sachsenring lasted 5 laps due to the red flag exposure due to damage to the air fence hit by Savadori's bike. Without the incident the race, declared wet, would have lasted 7 laps, one less than expected on a dry track. Although the number of laps is definitely lower compared with the other MotoGP classes, the tires are no less important, having to bear the load of an 260kg motorcycle and equipped with a torque of over 200Nm.
The tire supplier is Michelin, as in the MotoGP. The French company has defined a 3,75 × 17 inch front tire while the rear is 6 × 17 inches. The compound is fixed for each race as it changes from circuit to circuit. For the race in Germany the compounds were medium at the front and soft at the rear. As for the number of tires, each rider is provided with 9 dry (4 front and 5 rear) and 7 wet (3 front and 4 rear).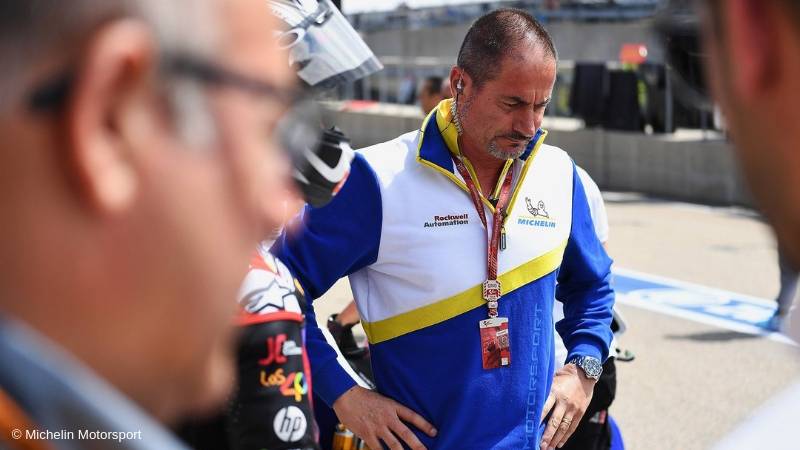 Below we present the declaration issued at the end of the race by Piero Taramasso, Michelin Motorsport Manager for motorcycle races.
"The first race of the MotoE it was very exciting and showed how close the riders can be in the race. All the testing and preparation we have done to supply specific tires for these bikes culminated in today's race; it was the first use in a real race. There was a lot of overtaking on the track, a sign that the riders were confident they could push with the Michelin Slick tires. MotoE. Congratulations to Niki Tuuli for the first win in MotoE and to all the other riders for giving a show in difficult conditions.
Michelin has been delighted to be part of this project from the beginning and today was a historic moment with the first all-electric race in a MotoGP event. Energica and Enel have done a great job delivering affordable and eco-sustainable racing bikes. Michelin has accepted to be a technical partner in this new challenge which gives the opportunity to show what can be achieved in the future from motorcycle racing. "
For more information on tires for the MotoE World Cup, please refer to the dedicated section. (link)