Tyres
The tyres for the FIM ENEL MotoE World Cups are provided by Michelin, as for MotoGP. The French company has defined a front tyre from 3,75 × 17 inches while the rear is from 6 × 17 inches. The compound is fixed for each race while it changes from circuit to circuit. Regarding the number of tyres, each rider is supplied with 9 dry (4 front and 5 rear) and 7 wet (3 front and 4 rear). The tyres are mounted on seven-spoke aluminum rims supplied by Marchesini.
The organization wanted to keep the life easy for teams in the beginning; with only one type of dry compound for each race, riders do not have to choose between different options. As for the slick tyre, the front is derived from the experience in MotoGP, because the tyre has to withstand a lot of stress and load. The weight of the MotoE is 260kg of which 140kg on the front and 120kg on the rear. The latter derives from the tyre that Michelin has developed for the MotoGP and Superbike championships and guarantees rapid warm-up and excellent grip for 9-10 lap sprint races. The profile adopted is exactly that of the MotoGP rear tyre.
The wet tyres are derived from MotoGP, have a lot of grip and are very rigid. The riders who tested them in the first tests in Jerez where the track was wet, were surprised at how much the feeling of riding with these tyres was similar to that in the dry conditions.
The TPMS system measures the pressure and temperature of the tyres during each session on the track and transmits them to the data logger of the bike. Each time the rider returns to the pits, the data contained in the Data Logger are downloaded and analyzed with the DoData software. The whole system, from the TPMS to the analysis software is provided by Dell'Orto.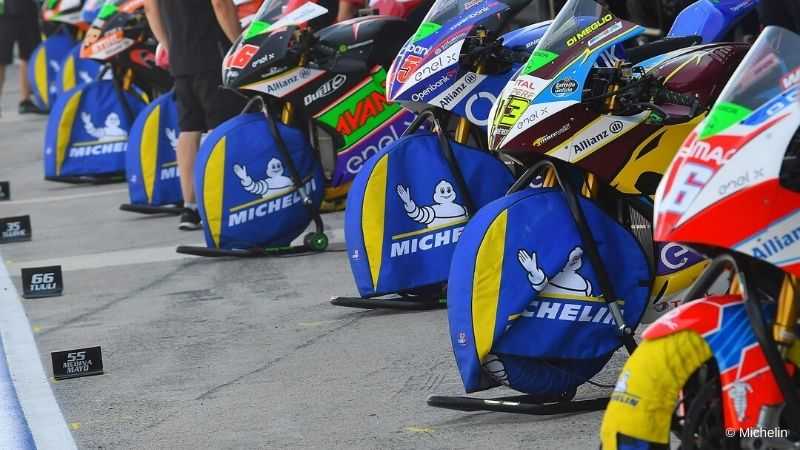 The organization did not leave anything to chance: also for the heating blankets the focus was on the energy saving. The selected technical partner is the Italian Capit which supplies two product models to support the Michelin tires: the TNT 85°C blanket and the TNT 50°C Rain, suitable in case of rain.
For further information on the tyres of MotoE, we suggest you this post with Piero Taramasso, Michelin Motorsport Two-Wheel Manager.