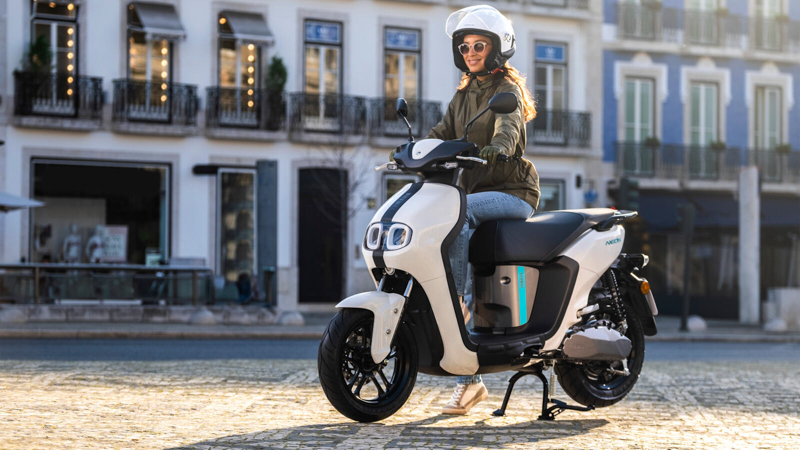 Economic electric scooters: YAMAHA NEO's is among the ten most interesting models of economic zero-emission electric scooters that can be purchased in 2022, also taking advantage of the incentives for electric motorcycles.
YAMAHA NEO's
Economical Electric Scooters - Intended primarily for urban mobility, the next-generation NEO's is Yamaha's first "zero emissions" electric-powered scooter equivalent to 50cc models.
The new NEO's is powered by the latest generation Yamaha Integrated Power Unit (YIPU). Mounted in the center of the rear wheel is a highly efficient brushless electric motor which significantly reduces the power losses of the transmission typically associated with traditional gear and belt systems. The swingarm contains the engine control unit (MCU) which regulates the power delivery.
The 50,4 V / 19,2 Ah lithium-ion battery weighs only 8 kg and is positioned under the saddle in the center of the frame. The battery can be recharged either when it is installed in the vehicle or after removing it to connect it to a power outlet. NEO's comes with a portable charger designed to plug into a household outlet. A full charge takes approximately 8 hours. The homologation is for mopeds and the autonomy can go up to 68km.
The price for Italy is 3.199 euros which is reduced by 30% with incentives or by 40% in case of scrapping.
More details on: www.yamaha-motor.eu


To be updated on MotoE World Cup, subscribe to Epaddock's Whatsapp broadcast and receive all our news on your mobile phone in real time: find out how here.