MotoE - In the French GP, Kevin Zannoni, new rider of the Sic58 Squadra Corse team, achieved his front row since racing in MotoE. Zannoni fought until the last corner for victory in Race 1 and lost the podium in Race 2 by just 6 thousandths of a second.
The Le Mans circuit hosted the second round of the fourth edition of the MotoE World Cup, in a weekend characterized by good weather and high temperatures. Kevin Zannoni, in his second year in MotoE, has completed his two best races since racing in the MotoGP electric class. Zannoni achieved the front row for the first time in MotoE and in both races he was fighting for victory. Unfortunately a mistake at the last corner in Race 1 deprived him of his first career podium. He seemed to be on the podium in Race 2 but Canepa's excellent maneuver at the last corner allowed him to precede Zannoni by six thousandths under the checkered flag. In France, Zannoni thus conquered a fourth place, equaling his best result in MotoE last year in Misano.
The next appointment of the MotoE World Cup is in two weeks on the Italian Mugello track for the Italian GP.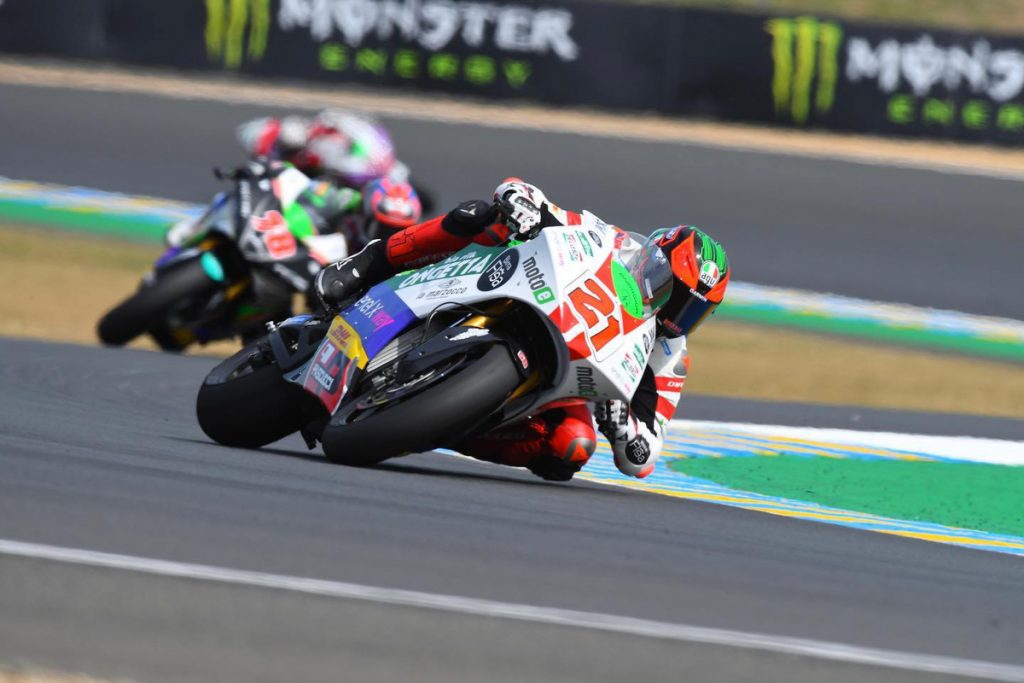 Paolo Simoncelli (Sic58 Squadra Corse Team Principal)
"MotoE started quietly, amid a general skepticism, including mine, even though I had to change my mind. While in its first year MotoE was a competition for riders at the end of their career, now it is a category with a lot of young riders with the desire to do well. Exciting and intense races are the result. It is the new launching pad for Moto2. I'm happy for Casadei, who is the rider for whom I came back to races with the SIC58 team. We shared joy and pain, adventures and misadventures and now I'm happy to see him winning, even though to our own detriment.
Zannoni is our special gift from Cecchinello, to whom I have also recommended him last year. He tried to overcome Mattia in a hasty way and then he crashed, but I'm fine with that. If a rider does not try to win during the last lap, then when should he try?
In Race 2 he missed the podium by a whisker, on the last corner for 6 thousandths, the equivalent of 5 cm, in a sprint with Canepa. I really like him, the best replacement I could find for Casadei."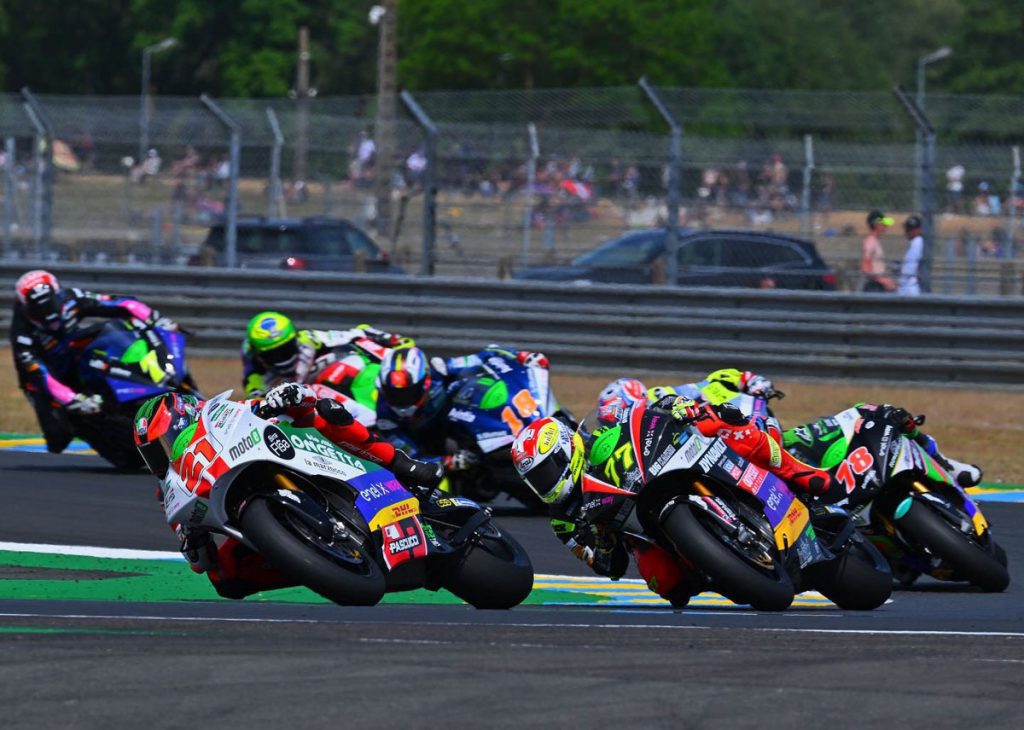 Marco Grana (Sic58 Squadra Corse Technical Director)
"We did well in Le Mans. We started in FP1 with a cold track and the tire we had used in qualifying at Jerez, it was certainly not the conditions in which to push a lot but already there we had understood which direction to take for the setup. In FP2 with new tyres and higher temperatures we managed to be very fast making the third laptime 140 thousandths from the fastest. In qualifying Kevin decided to enter the track alone, without looking for the slipstream by other riders. It was a good choice because he managed to ride well; for a good part of the session he had the best laptime and Kevin was only overtaked in the final, finishing third just 21 thousandths from Casadei who took the pole. Kevin was very happy with the bike on Friday and in fact he was among the best all day."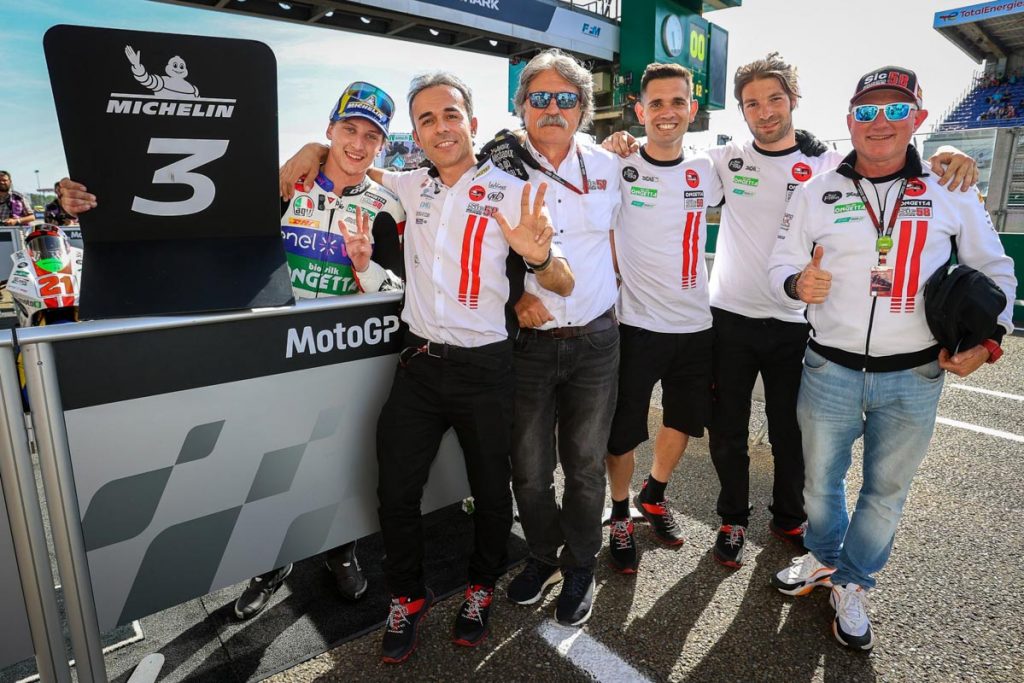 "Race 1 was almost perfect. Kevin started very well then Mattia (Casadei) passed him but Zannoni made a good recovery lap after lap and indeed, at the end he seemed to be much faster than the first.
Mattia, however, is an experienced rider in MotoE, he has been racing there since the first season, so he knew how to brake hard so as not to be overtaken. Kevin tried to pass him in various corners because the desire to win was great but, before Le Mans, Zannoni had only raced nine races in MotoE and this was the first race in which he was fighting for a podium and victory. He tried in various points to overtake but Mattia has always resisted very well.
Kevin in the attempt at the last corner was too aggressive and crashed, but it's okay. The fact remains that our rider rode a leading race and could win until the end. I'm really happy that after only two rounds we were able to get Kevin to fight with the fastest riders in the category who all have much more experience than him in MotoE and in the World Championship."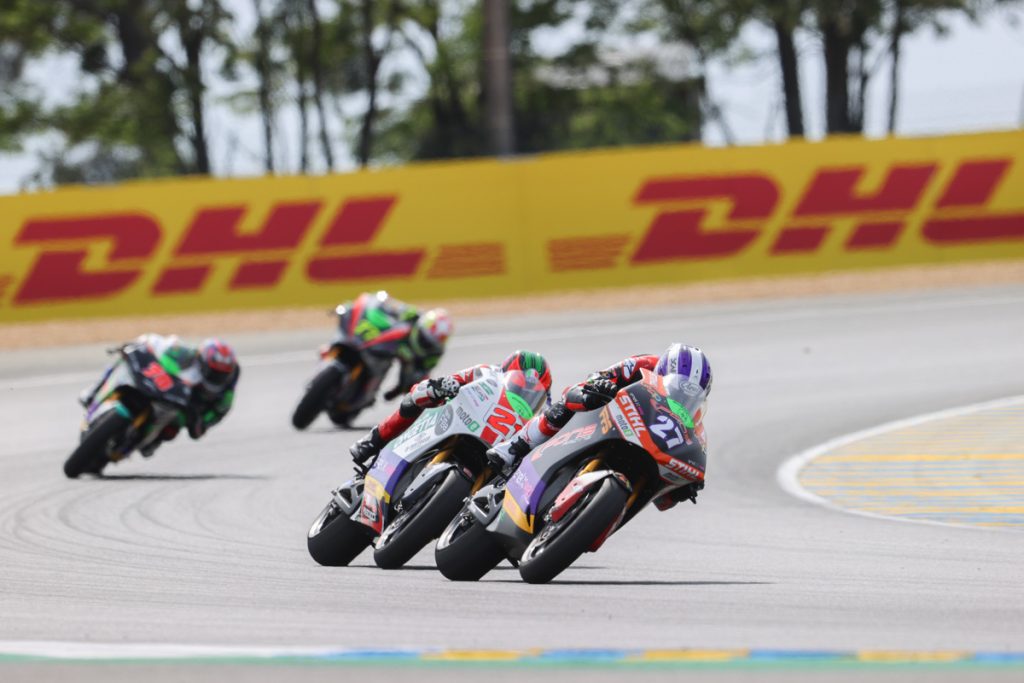 "Race 2 also did well; Zannoni was second in the first part of the race before being overtaken by Aegerter. If he hadn't crashed on Saturday, he would have been more aggressive on Sunday and he would have been on the podium. On the other hand, at the last corner Canepa was better and managed to precede Kevin at the finish line by only six thousandths.
I am satisfied because Kevin rode two races as a protagonist, while he was a bit disappointed because he wanted to achieve at least one podium. After the problems we had in Jerez it was not easy to make the step in performance we made at Le Mans. For me the vote of the French GP is 9 and a half ".
"Zannoni works very well during the race weekend: he is serious, concentrated, he works hard, I like him. We are working well together and in fact the results have started to arrive. For three years our rider was Casadei who is more aggressive in braking than Zannoni while in terms of corner speed or use of the throttle they are similar and both are very strong in corner entry. Despite this, the setup of the bike this year is very different from previous years because the bike is lighter than 15kg and the weight distribution has changed, so we are unable to use the setups we did before despite Zannoni and Casadei have a style of riding quite similar.
Now let's go to Mugello, a completely different track from Le Mans, where it will be important to understand right away which direction to take for the setup. I hope the changes to the bike we made in France work well also at Mugello.
I think that between now and the end of the Championship we will be able to be competitive on all circuits and always be among those who fight for the podium."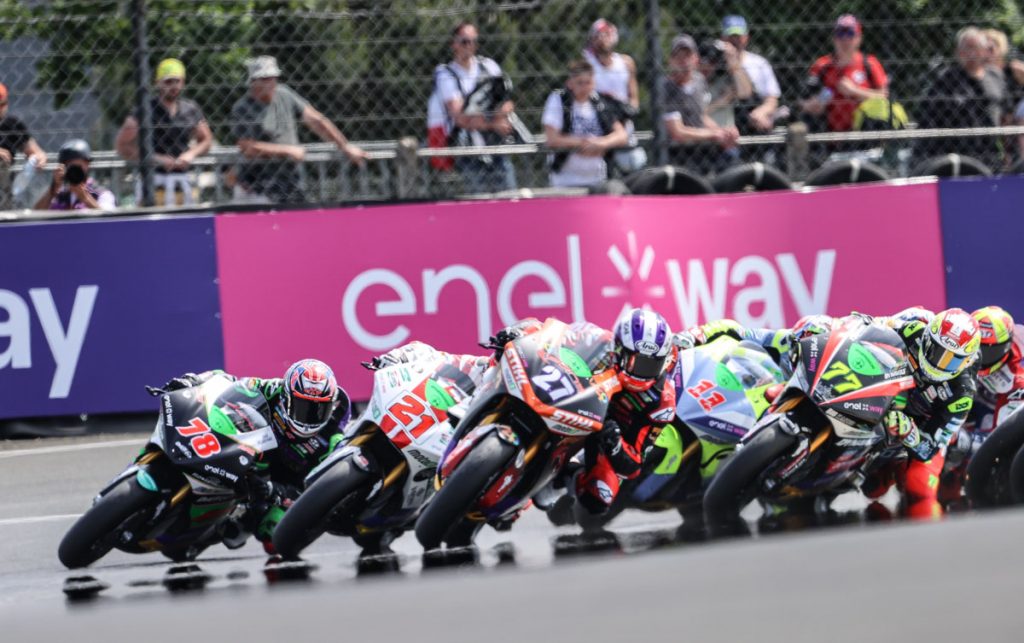 Photos: motogp.com and Sic58 Squadra Corse
To be updated on MotoE World Cup, subscribe to Epaddock's Whatsapp broadcast and receive all our news on your mobile phone in real time: find out how here.