Eric Granado ( Avintia Esponsorama Racing), Hector Garzò (Tech3 E-racing), e Bradley Smith (One Energy Racing) are the three riders on the podium of the race XNUMX at the ValenciaGP. Here their world right after the end of the race.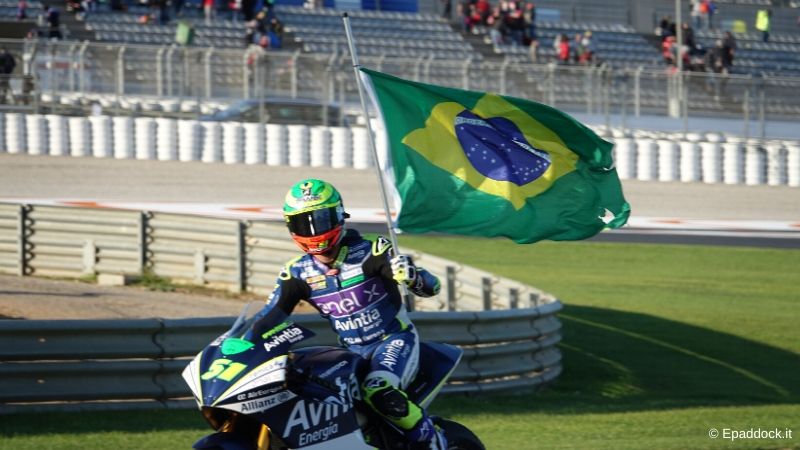 Eric Granado
"It feels amazing, it's very nice, I think being on the top step and feeling all this energy is something I was dreaming of since I was a child! I had a great race although not a great start, Bradley opened a gap and I made a mistake on the first lap. But then after I got a good rhythm, Garzo was catching me as well so I needed to hurry up. Finally I caught Bradley and I had the first opportunity and overtook him at the first corner, then I pushed at the maximum until the end. I'm very happy with this win! Tomorrow I'll try to do the same! It's not easy, the riders fighting for the title will put in the maximum as well."
Hector Garzò
"From the beginning, I felt really confident with the bike. In the first lap, there were many overtakes with Ferrari and Simeon, but I tried to leave them behind me and go for Smith on the top. When I saw my lap time, I was surprised, to be honest. I felt good, the bike felt fantastic in every corner of the race, so thanks to my team for that! Smith was fighting with me for the Championship, so it was not easy. Anyway, I wanted to try to catch Granado to make up more points, because I'm still missing too much to Ferrari. Overall, I'm really happy for this second position, but the target was to win, so we will try this again tomorrow."
Bradley Smith
"I knew I needed two wins this weekend and that is what I went after. On the first two laps I set the best pace I could, but the riders behind were going faster. They cut the gap to 0.8 with some impressive speed. It's frustrating, but we know that we have to improve a little for tomorrow. When I saw Garzo, I knew he was a rival for the title and I focused on fighting with him and scoring some points, but unfortunately those four points that got away from me make the situation for tomorrow different. I thank the team for their efforts. I did everything I could and we will see what happens tomorrow."
Here you can download the 1 race results file of the Valencia GP.