The Trentino Gresini MotoE Team announces the renewal for next season with Matteo Ferrari. Current leader of the general standings with two races to go, Ferrari has shown a great spirit of adaptability to the new bike and, despite having only 22 years, he showed an excellent maturity in this first year of the MotoE World Cup.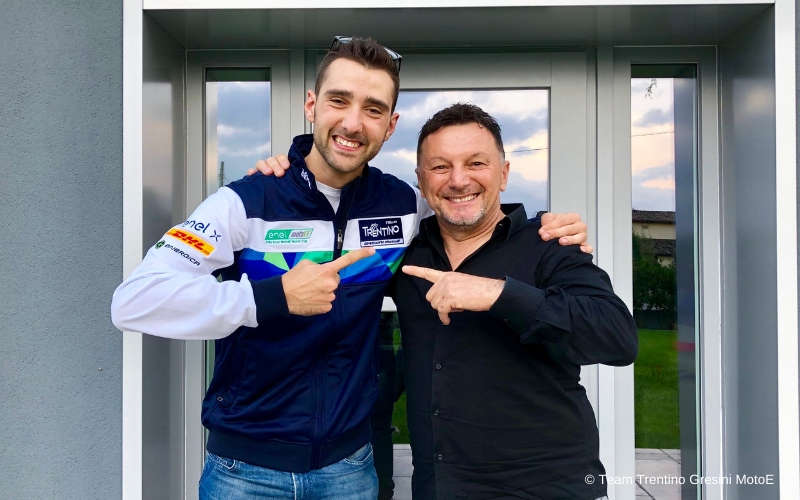 For all these reasons, the Trentino Gresini MotoE Team strongly wanted his renewal before the last round of the season scheduled from November 14 to 17 in Valencia, where Ferrari will try to get the first title of the new MotoGP electric class.
It will be a high voltage weekend with Matteo Ferrari who will have to defend himselves from the attacks of many rivals that are still in the running for the title. The Italian has 19 points ahead over the second in the standings, the Spanish Héctor Garzò, but the cup, with 50 points up for grabs in Valencia, is still live for 12 riders. The first scheduled event is on Thursday with the first free practice at 16:00. Hereafter the statements by Ferrari and the team's director, Fausto Gresini.
Matteo Ferrari
"I am happy to have renewed the agreement with the Trentino Gresini MotoE team for the challenge also in the 2020. Since the start of the season we have always improved and teamwork which has allowed me to reach Misano at the top and win both races. This was made possible thanks to the trust that Fausto and the team passed to me and now it represents the basis for achieving new goals together. I have the desire to be ready for all the opportunities that the team can give me. Now let's think about Valencia ... which is the most important thing! "
Fausto Gresini - Team Director
"It is certainly a great pleasure to have Matteo with us again next year. In addition to being a rider of great talent, he proved to be able to adapt to these new prototypes with great speed and I think it was one of the keys to a great results so far, which we hope will continue in Valencia too. It was important to be with him also next season, we are convinced that it can be a focal point of this important project."