After the first of the three races of the MotoE at the Misano World Circuit, we asked Marco Grana, technical director of the Sic58 Squadra Corse, his opinion on the fifth place of Mattia Casadei; here's what he told us:
"The weekend was very positive. We started with the work base we had set up in the two previous races in Jerez and this allowed us to be very fast right from the first free practice on Friday. The work that the team and Mattia (Casadei - ed) have done in Spain has paid off here in Misano.
We had set ourselves the goal of reaching a lap time of 1:43.8 and we did it in qualifying by working very well in all sessions; Mattia was very good at setting the second best time in the E-pole which allowed him to start first in the race due to the penalty to Ferrari."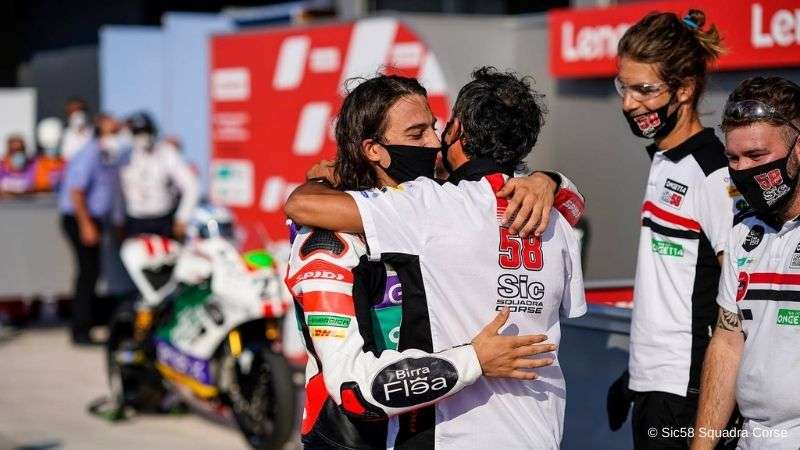 "During the race Mattia did 1':43.6 in the first fast lap which is a very good time. We tried to take advantage of the first position on the grid and to run away and until halfway through the race we had succeeded. Unfortunately, at the Carro curve of the last lap Mattia made a small mistake: preparing the attack on Simeon he left space inside and Aegerter passed him. At that point Mattia was on the outside and was also overtaken by Torres. Too bad but the races are like this, it's all experience.
Anyway, I am very happy with Mattia's race, we were always among the first, it was a very positive weekend.
Now we have another race weekend ahead of us, we need to be able to improve the bike more but we are strong."
Here you can find all the results of the San Marino GP while at this link you can find the time schedule of the next race weekend again at the Misano World Circuit.
To be updated on MotoE World Cup, subscribe to Epaddock's Whatsapp broadcast and receive all our news on your mobile phone in real time: find out how here.