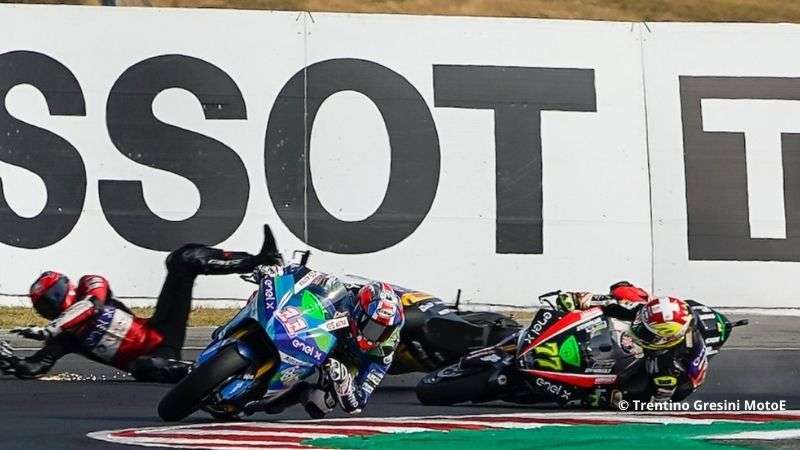 A risky maneuver of Tommaso Marcon takes away Dominique Aegerter (Dynavolt Intact GP Team) from the podium at Misano, and also from the first place in the overall standings of the MotoE World Cup.
After Saturday's brilliant victory, Sunday's race couldn't have had a more unfortunate outcome.
After a good start from pole position, the Swiss rider was in second place behind Matteo Ferrari when, during the second lap, he was hit in the rear wheel by Tommaso Marcon's bike, in the latter's attempt to overtake Mattia Casadei. Aegerter immediately tried to get back on the bike to complete the race and try to recover some points in the world championship, but with the bike damaged, the gap from the group was too high to be recovered in a few laps.
Despite his determination to recover positions, Aegereter crossed the finish line sixteenth.
In a moment, the nineteen point lead in the World Cup has turned into four points less in the overall standing.
The German team will have some time to digest this weekend's events until 9-11 October when the Shark Helmets French Grand Prix takes place at the Le Mans circuit. Aegerter will have two races at his disposal to regain the leadership of the championship.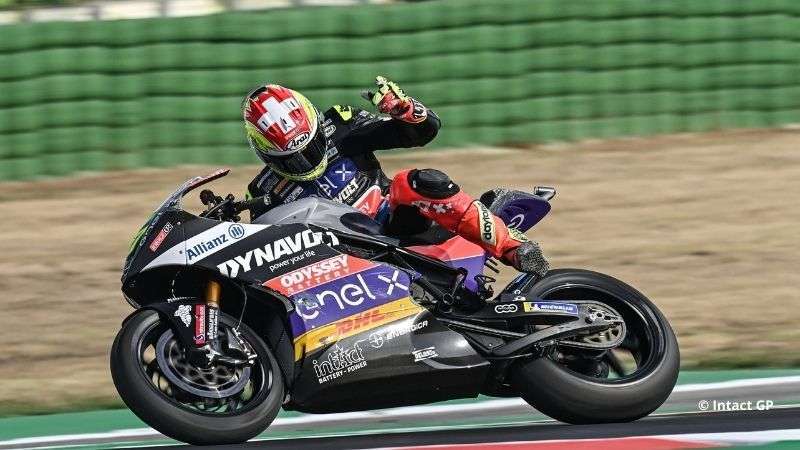 Dominique Aegerter
"I am angry and disappointed because it just wasn't my fault at all. I started from pole position really well and was then taken out of the race by a competitor. He slammed into my rear wheel almost with full speed. I couldn't save that one but tried to keep going, but the seven laps didn't leave much time. Of course, I was hoping to maybe save a point or two, but I didn't. I think I could have fought for the victory again. The bike worked great, I felt good. That's racing, but of course, it's just a shame to get knocked down because of another rider. We have another doubleheader at Le Mans and we will now focus on that".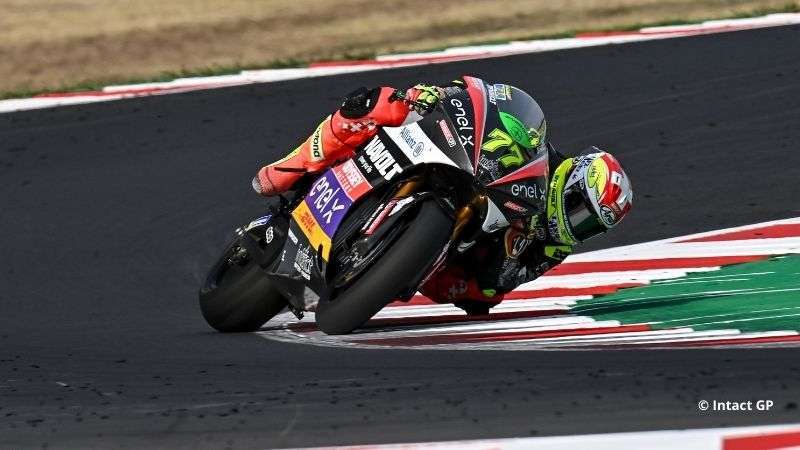 Here you can find the complete standing of the MotoE after the Misano races.
To be updated on MotoE World Cup, subscribe to Epaddock's Whatsapp broadcast and receive all our news on your mobile phone in real time: find out how here.