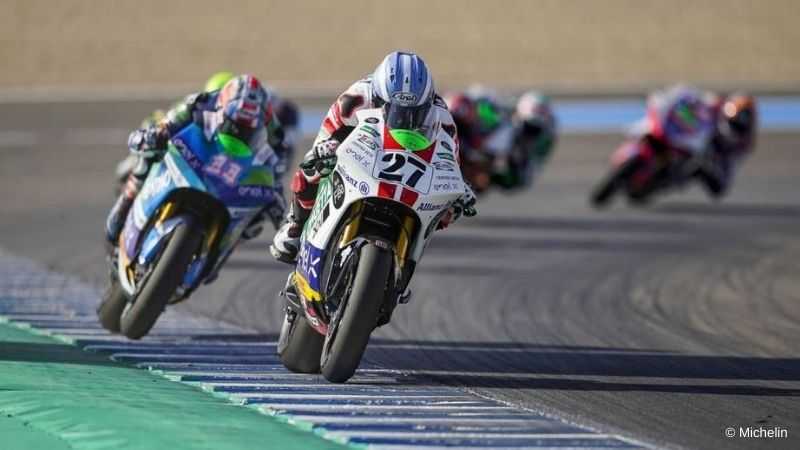 After the intense excitement for the double podium in the AndaluciaGP for the Sic58 Squadra Corse team (victory in Moto3 with Tatsuki Suzuki and third place in MotoE with Mattia Casadei), we spoke with Marco Grana, technical manager of the team. We asked him how he experienced these first two rounds of the MotoE World Cup on the Spanish circuit of Jerez de la Frontera, after which his rider is fourth in the overall standings thanks to the fifth and third places achieved.
"When we arrived in Jerez on the eve of the first race, we were at a disadvantage because we had not participated in the tests that had taken place in March on the same track (3 days of testing with new suspensions and new tyres); the other teams had participated in that test having the chance to fix the setup."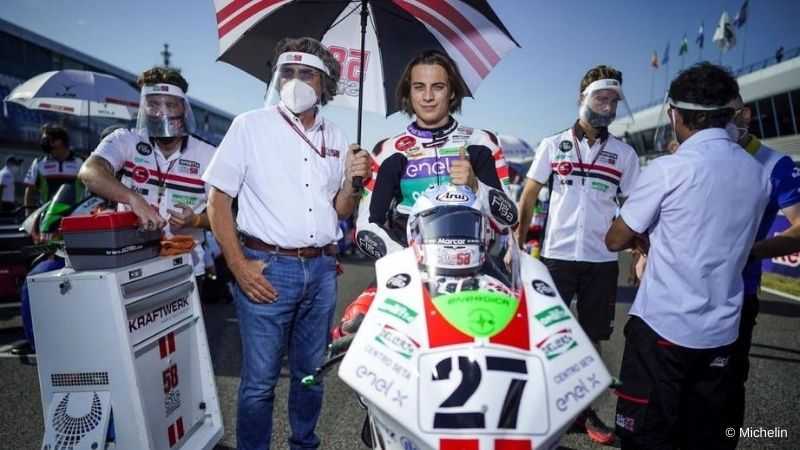 "We were on track in Jerez for the first time on Wednesday (for a test day organized before the Spanish GP), and we were very much in difficulty. Mattia's best lap was 1'51, which is quite high, and we had a couple of technical problems that we were able to solve very quickly, so Mattia could complete all the sessions of the day. This test day was important to understand what goals to have and what to do on the bike.
Session after session we managed to lower our lap times; we made a lot of set-up changes and reached a good overall balance.
On the first round, the Spanish GP, Mattia had a good race, the qualification was not satisfactory, but in the race, he considerably improved his lap-time (in the race, he lowered his best time by one second - ed.) And we got a fifth final position that made us truly happy."
"During the weekend of the AndaluciaGP, the work was very precise; Mattia was good at figuring out where we could attack and where we were strong with the bike. We were aware of our strengths on Friday and what to do to be fast. We knew that the lap time of 1'48 was within our capability and that we could do it even with used tyres. And so it was because, on the last lap of the race, Mattia made an excellent 1'48.1 despite having to overcome Canepa and with used tyres.
I liked his attitude to the race; he listened to our advice all weekend and put into practice everything that we identified as relevant here in Jerez. This one was undoubtedly the best weekend since we worked together in MotoE, even more than in Misano, where we also got third place.
Session by session, we knew the bike better and understood where to improve. It is a third place that makes us very happy but also for the way it was achieved, with stubbornness, intelligence, with nice and clean overtaking, unlike some of our opponents, without ever daring and especially with a well-prepared race. We knew we were strong at the end of the race, and so it was."
"Mattia is one of the youngest riders of the MotoE lineup, and I would like this championship to allow him to be shown and to have a contract in Moto2 or another category because Mattia is a very good rider who has improved a lot in recent years and it certainly deserves an important championship.
The MotoE is a young class but it is continuously improving; as you can see, the races are really exciting. Energica has done a great job on the bike, and the new Michelin tyres also allow the riders to reach very high lean angles. The next round will be in Misano, and it will be an important event because there will be three races over two weekends and I want the work done in these two weeks in Jerez to be the starting point for the next races; if we start from this level, we can compete for the MotoE title."
Here you can find the standings of the MotoE World Cup
To be updated on MotoE World Cup, subscribe to Epaddock's Whatsapp broadcast and receive all our news on your mobile phone in real time: find out how here.