The electric scooters of MotoGP: the FW-06 model of the Chinese FELO is among the most interesting ones in the MotoGP paddock. Thanks to the sponsorship with the Gresini Racing team in MotoE, all the members of the Faenza team, from MotoGP to Moto2, have FELO's futuristic scooters at their disposal to move around the paddock.
The electric scooters of MotoGP: the FW-06 model supplied to the Gresini Racing team is produced by FELO, a Chinese company already leader in the design and production of electric scooters in the Asian market. Thanks to the collaboration with the Gresini Racing team, FELO aims to make itself known also on the international scene, in anticipation of the arrival of its models on the European market in the second half of 2022. In addition to producing scooters directly, FELO is also a company that develops the designs from other brands, such as, for example, Kymco.
In the 2022 MotoGP races we saw the FW-06 driven in the paddock by the MotoGP riders, Enea Bastianini and Fabio Di Giannantonio, by the riders of the MotoE, Matteo Ferrari and Alessio Finello, but also by Carlo Merlini (Sales and Marketing Director of Gresini Racing) and Manuel Poggiali (Technical Director of the Gresini team).
The FW-06 is a scooter that immediately catches the eye for its technological and futuristic appearance. The MotoGP version available to Gresini Racing is also striking for the livery, completely blue Pantone 2022, the same color as the bikes on the track of the team from Faenza.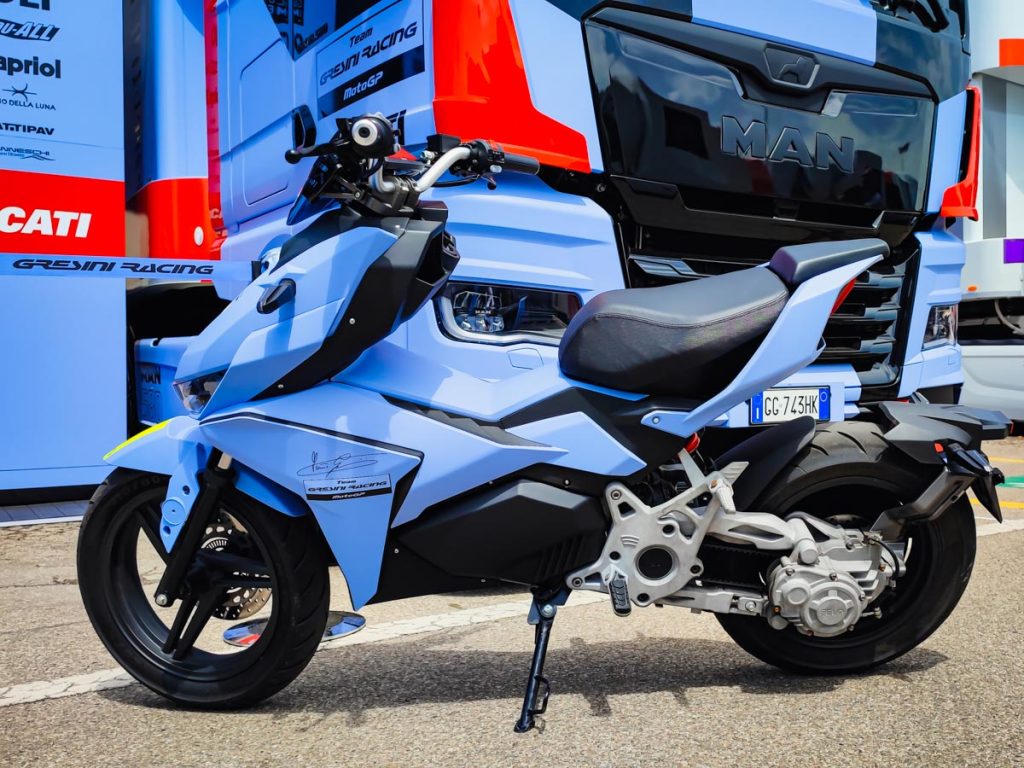 The FW-06 is an electric scooter equipped with a 96V and 58Ah lithium battery which guarantees a range of 140km. The FELO scooter is equipped with two gears; in this way it is possible to choose the lowest gear for a quicker and more agile response in city traffic, while the longer gear allows for lower energy consumption. The motor has a power of 5kW (10kW peak) and guarantees a maximum speed of 110km / h. Full recharging from a domestic-type outlet varies between four and six hours.
The FW-06 frame is tubular steel type with aluminum swingarm, telescopic fork and chain drive. The tires are 14 "and the total weight of the FELO scooter is 121kg.
In addition to being one of the electric scooters of MotoGP, the FELO FW-06 can be seen on the road in China, while to buy it in Europe it will be necessary to wait until the second half of 2022.
More details on: www.felo-ev.com e Gresini Racing team MotoE team


To be updated on MotoE World Cup, subscribe to Epaddock's Whatsapp broadcast and receive all our news on your mobile phone in real time: find out how here.