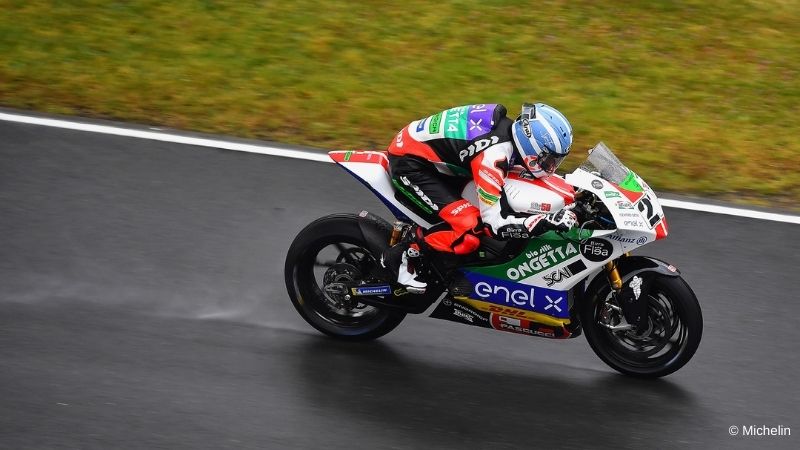 Mattia Casadei and the Sic58 Squadra Corse team returned to Le Mans with the memory of the disastrous weekend of last season, in which Casadei, fighting for the title of the category, made a high-side at the first chicane and closed his 2020 season with a retirement. Racing with that memory would not have been easy for anyone, even more so after the crash in qualifying. Despite this, on Sunday Mattia Casadei rode a fantastic race, even greater than Race 2 of the Emilia Romagna GP in Misano last year.
Casadei started from fifteenth position on the grid and, lap after lap, he was able to recover many positions without making mistakes or being involved in accidents by other riders. Casadei's progression was impressive: in the first lap he gains five positions, in another two laps he reaches sixth place, with two laps to go he is fifth and with two overtakes in the final lap he reaches the third position.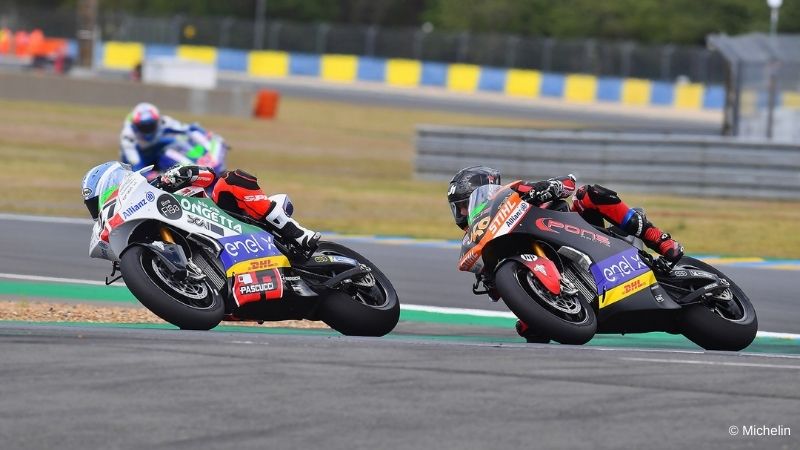 The last position is earned after the checkered flag, due to the penalty to Alessandro Zaccone who was second at the finish line but in the last lap he had gone outside the track, on the green area beyond the curb.
In the general standings Mattia Casadei is second with 33 points, 8 points less than Alessandro Zaccone who leads the MotoE World Cup after two races.
This is what Paolo Simoncelli, patron of the Sic58 Squadra Corse team, said about Mattia Casadei and his race at Le Mans.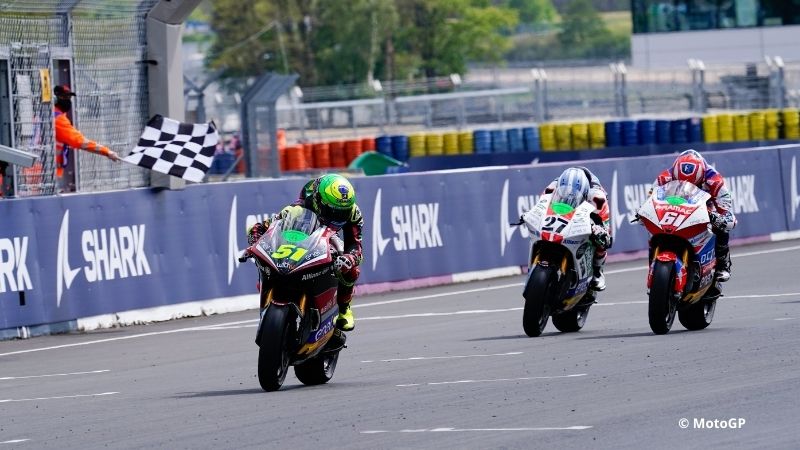 "I want to dedicate this press release to a special kid, with me since I decided to start this team back in 2013: Mattia Casadei. A young kid, smart, beautiful and polite, Irlanda is a pleasure to have him in the team. I used to get angry often with him because of his crashes, sometimes "unnecessary" for his excess of exuberance. He is a champion but he has never concretized, sometimes because of bad luck, sometimes for the hurry to demonstrate too much and too soon. But Yesterday, in Le Mans he has been super, in a difficult "World Championship" track, he showed what he is made of."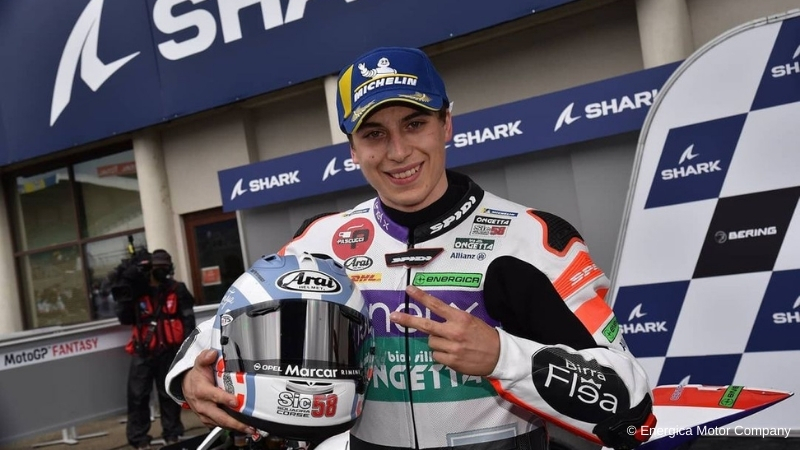 "He started from the back, 15th after crashing in the qualifying at the exit oh the last turn, after thinking "I did it: it's pole!" But no, he crashed due to that cruel asphalt. I'm still watching the race in my head, even if I watched it from my smartphone while trying to get to the airport through the Paris jungle trying not to lose our flight to go home. Mattia, with his huge wish, made a smart race, catching a well deserved 3rd position. At the end he got the 2nd one as Zaccone has been penalized as he cross the green.
I'm so happy for both him and the team, that was having a bad weekend until few minutes before. Mattia deserves that and I'm so sorry that a rider like him is still not able to arrive in Moto2. He has so many qualities but not the "must" to enter this world: the budget, which can makes you look even stronger noelwdays."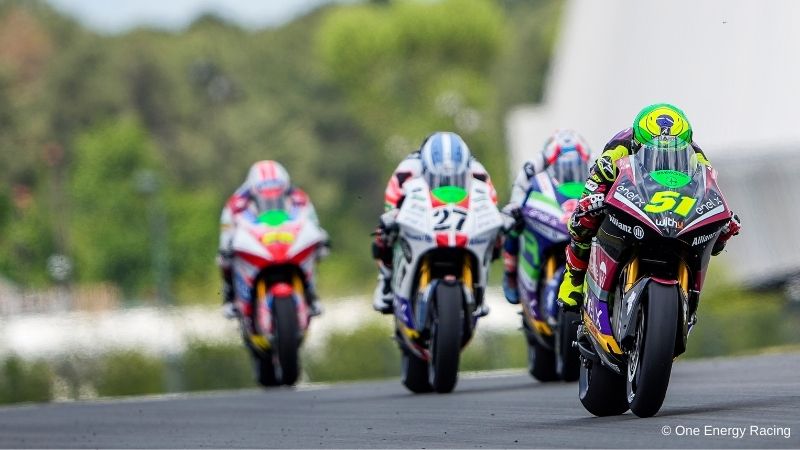 "I wish him all the best, I'm satisfied to see what he is able to achieve today, how much he has changes, his improvements, and I get emotional if I think about that kid who rode this little bike, red and white with the SAN CARLO's logo, with the sparkling eyes and the timid voice, on the stage of the "Buon Compleanno Sic" 2013. With Sergio Sgrillo, Guido Meda and all the public as 'godfather'."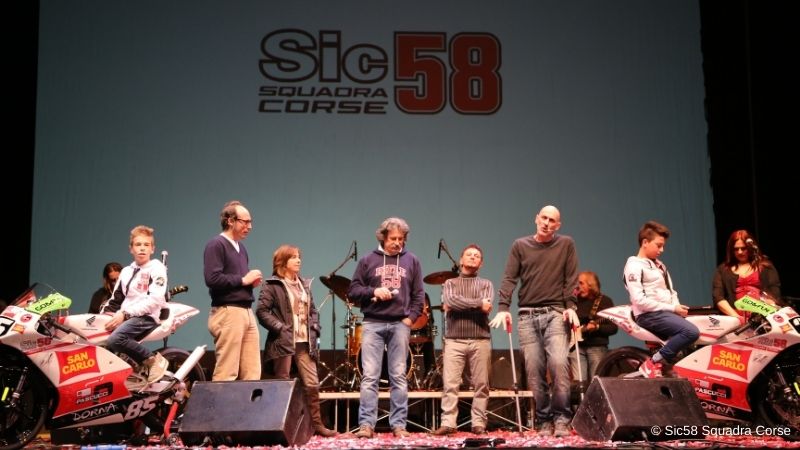 To be updated on MotoE World Cup, subscribe to Epaddock's Whatsapp broadcast and receive all our news on your mobile phone in real time: find out how here.