The LCR E-Team is on the Jerez de la Fronteira track for three days of MotoE testing. Niccolò Canepa and his new team-mate, Xavier Simeon, are working to test new components of the bike, different types of rear tyre and new set-ups of the front suspension.
After two days of testing, Xavier Simeon achieved the fourth best time while Niccolò Canepa finished seventh, three tenths from his teammate.
Tomorrow is the last day of testing with both riders who will aim to further improve their times and feeling with the bike; here their statements.
Niccolò Canepa - # 7
"I am satisfied about today's test. I improved a lot from yesterday, so I am really happy. I tested a few items that Energica and Michelin brought to us. It's really interesting to see the development that we are having on the bike. I can say I like everything they've brought, so it's a good improvement.
Tomorrow we have some ideas to change something more on the setting to try and close the gap, but I am quite satisfied now. We are in seventh place, which is quite good, and we are working well.
The weather here is still amazing, so we have the opportunity to do one more full day of testing and this is great for me."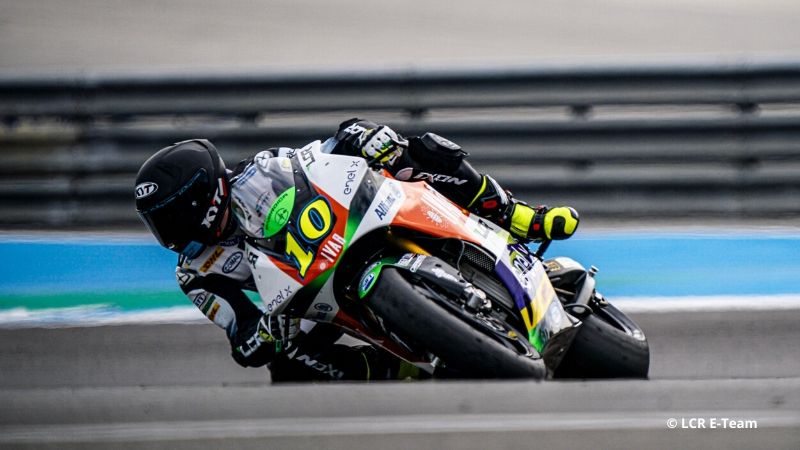 Xavier Simeon - # 10
"Today has been quite better than yesterday, I rode one second faster than the first day and improved in the overall classification. In the last session, we made quite a big modification on the bike, that I felt was better. I could ride more aggressive and more constant and did better lap times, so I was quite satisfied with that. For sure, we still can improve because they went five tenths faster than us, so there is room to improve. And we will try to work to make this improvement. At the moment, I am enjoying and trying to improve in every session."
Here you can find the results of all sessions of the second day of testing.
To be updated on the MotoE World Cup, subscribe to Epaddock's Whatsapp broadcast and get all our news on your mobile in real time: find out how here.