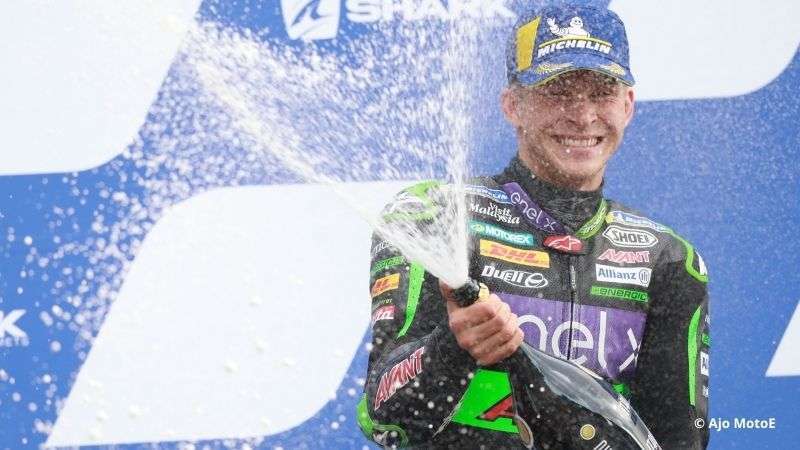 The Avant Ajo pilot MotoE wins the second race of the French Grand Prix, the season finale of the electric motorcycle competition.
Avant Ajo MotoE and Niki Tuuli completed the FIM World Cup MotoE 2020 with victory in the second race of the French Grand Prix. The Finnish driver prevailed in a seven-lap race, having had to contend with his closest rival to the end. The final weekend of the electric motorcycle race as a whole was a great success for the team, having started with a third position on Saturday.
Niki Tuuli started from the front row of the starting grid, thanks to the results of Race 1. The Finn had a great start that allowed him to take the hole, and even if he lost a place later, the Avant driver Ajo MotoE resisted the race leader's attempts to escape. The fight for the top spot continued until the final lap, when he held out for the win. Tuuli's victory was the second in MotoE and the third podium.
At the end of the second season for the pilot with the Avant Ajo MotoE at the FIM World Cup MotoE, Niki Tuuli closes the campaign in sixth place in the overall standings with 53 points.
Niki Tuuli
"Yesterday I felt very good, but today my feeling was even better. I rode with confidence from the start, although I was very cautious because the tires were cold. In the first two laps I didn't push hard, but when I saw that the leader was running away I changed my driving style a bit and took risks until I chased him.
It is great to be able to finish the season like this; I am satisfied about it. I want to thank the team and all the sponsors who have supported me during these tough year".
Here the report of race 2 at Le Mans
To be updated on MotoE World Cup, subscribe to Epaddock's Whatsapp broadcast and receive all our news on your mobile phone in real time: find out how here.