Podium Advanced Technologies is the technical partner selected by Ducati to develop and supply the high voltage batteries mounted on the prototypes for the MotoE World Cup.
Ducati has selected Podium Advanced Technologies to develop and supply the batteries of the "V21L", the prototype of the bike that, from 2023 on, will compete in the FIM MotoE World Cup. Ducati is the motorcycle manufacturer selected by Dorna as the sole supplier of the 18 MotoE bikes of the MotoGP electric series.
The project MotoE has strategic relevance for Ducati as it allows it to develop skills for its future and to experiment with technological solutions in the world of racing, up to transferring them to motorcycles destined for production.
Starting from scratch in the design of an electric prototype, Ducati has decided to rely both on internal skills of the Volkswagen Group, to which Ducati belongs, and on the know-how of partner companies and leaders in the electric mobility sector. This is the case of Podium Advanced Technologies, an engineering company based in Pont-Saint-Martin in Valle d'Aosta, which has been collaborating with Ducati's e-Mobility department for over a year. The role of the Valle d'Aosta company is to carry out development activities and supply high voltage batteries for the MotoE of Borgo Panigale following the design and project specs defined by Ducati.
The battery of the Ducati MotoE has a capacity of 18kWh and is composed of 1152 cylindrical cells of the '21700' type with a voltage of 800V. The weight of this component is 110kg including the protective carbon casing. The cooling is by water through a closed cooling circuit similar to that of a traditional motorcycle. Ducati has not yet disclosed the features of the coolling system inside the battery, but it is very likely that the water, through a series of plate heat exchangers, cools the cells.
The design of this component is more sensitive than the automotive equivalent because, on a motorcycle, the battery significantly impacts the structure and must accommodate the geometry of the central area of the vehicle. Furthermore, developing a high-voltage (800V) architecture on a motorcycle represents something never addressed before.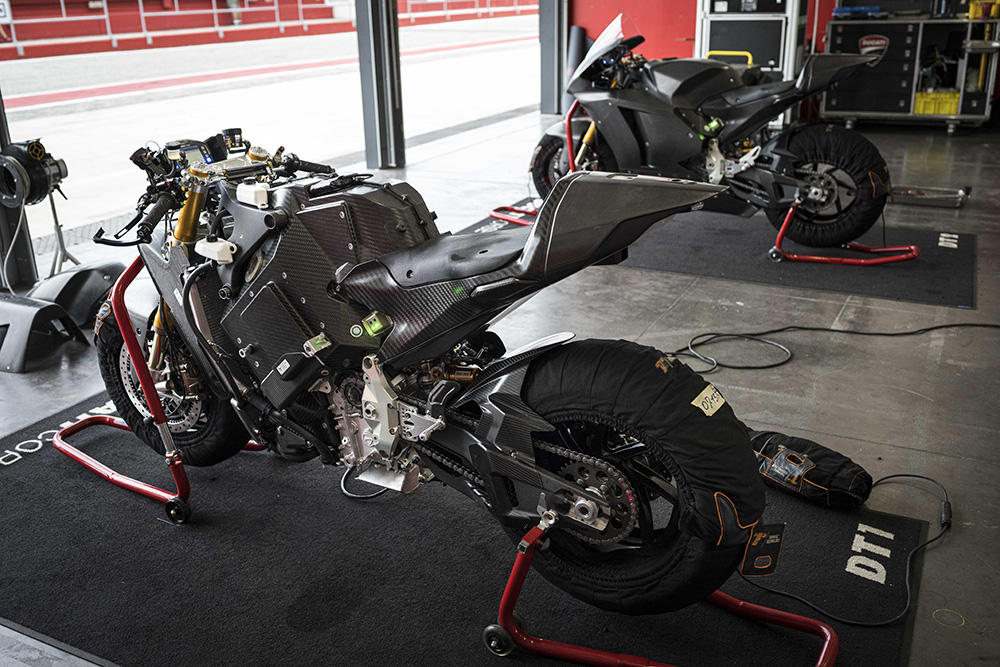 Roberto Canè, Ducati e-Mobility Director
"Our collaboration with Podium Advanced Technologies is truly extraordinary. We started discussing electrification in Ducati a little more than a year ago, starting from a blank sheet. It was clear after a few months that working with such a knowledgeable partner we would quickly fill the know-how gap required in order to be able to set up electric vehicle prototyping activities. We set challenging targets which we want to hit together and which we have already partly reached. There is still a lot to do, but I am extremely confident that we will be able to achieve our goals by continuing along this path."
Francesco Monti, CEO and head of Business Line Battery Systems in Podium Advanced Technologies
"The transition from 4 to 2 wheels has been part of a natural process for us. Supporting the Ducati e-Mobility R&D team, designing and bulding a critical component that can meet the toughest requirements in terms of performance, weight and size is part of our DNA. Joining forces with a company like Ducati in the pursuit of increasingly efficient and effective solutions and supporting them in the challenges they will face in the coming years is a great responsibility. We are proud of all what we achieved to date by our technical team. Working with Ducati's engineers is an exciting and rewarding experience."

Podium Advanced Technologies is an innovative engineering company founded in 2011 by three researchers from the Polytechnic University of Turin. It specializes in prototype development, motorsports and small series automotive solutions as well as being a pioneer in hybrid and electric powertrains and high performance battery systems.
The company has been included for five consecutive years (2018-2022) in the Financial Times' ranking of the "Europe Fastest Growing Companies", the 1.000 fastest growing European companies.
The company is currently structured on three business lines: Road cars, Battery Systems and Racing cars and Motorsport.
In particular, the Battery Systems team is dedicated to the development of hybrid or all-electric propulsion systems in order to design, build and test high voltage battery packs with high power-to-weight and energy-to-weight ratios.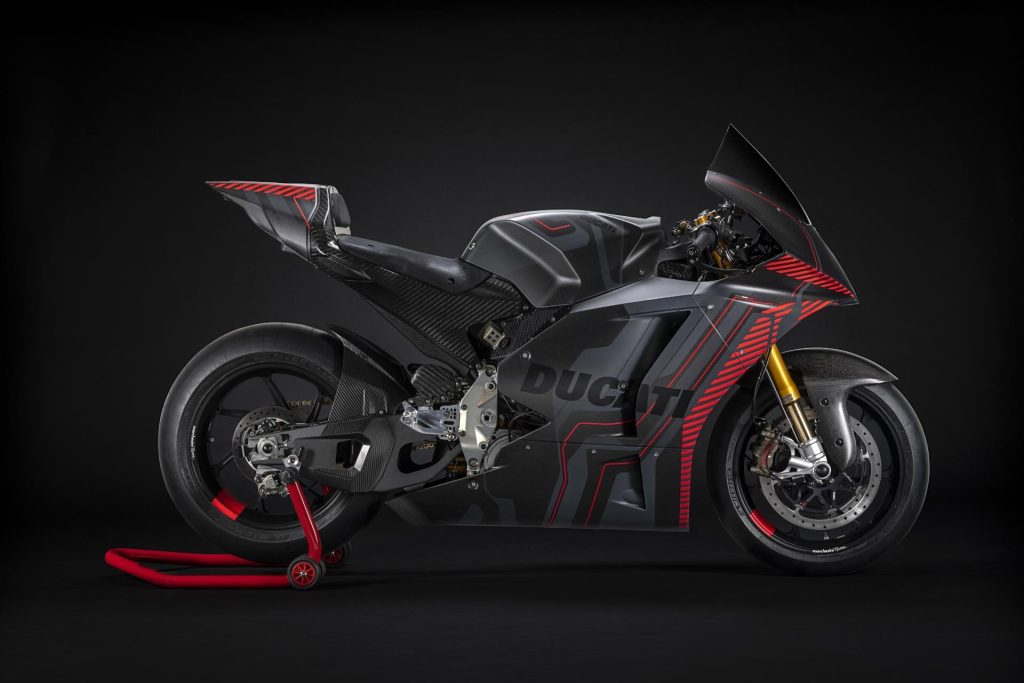 Photo and video: Ducati
To be updated on MotoE World Cup, subscribe to Epaddock's Whatsapp broadcast and receive all our news on your mobile phone in real time: find out how here.