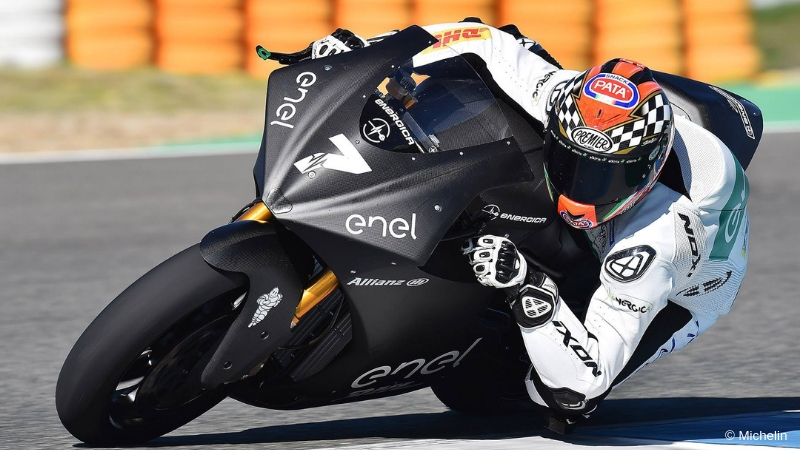 Committed to trying to regain the title in the World Endurance Championship won in the 2017, a test for the Yamaha Superbike team, but also a debut pilot in the world championship MotoE: Niccolò Canepa already had a tight schedule, but he didn't want to give up on this adventure. Because he made some interesting meetings. And he breathed "desire to win".
The electric bike seemed surprisingly manageable, and he even discovered that a "voice" has it, just knowing how to listen. Niccolò Canepa, 30 years, Genoese, world champion Endurance EWC 2017, is preparing to debut also in the championship MotoE, as an LCR E-Team driver: for now the challenge seems to appeal to him a lot.
1 - How was the choice to run born MotoE?
It was born above all from a meeting: the one with Lucio Cecchinello (link), which I hold in high esteem. I've known him for a long time and, when we talked about this possibility, it immediately seemed like a very nice thing to do together. So we started on this adventure, new for both. That first meeting paved the way for other decisive meetings: Lucio presented me with the plan for a team that included Paolo Cordioli (former head technician for Cecchinello when he was running, ed) and the couple formed by Luciano and Thomas Betti. It is a combination that, frankly, has no equal in the championship and is perfectly proportioned to Lucio's desire to achieve results. So I chose to come to the LCR team because I saw this motivation, this exceptional desire to win.

2 - What impressions have you had when driving the first time MotoE during the Jerez tests?
The bike surprised me a lot! In positive. I didn't think I'd find such a high-performance bike: I was a little afraid of the weight, but instead I found myself with a very agile vehicle. It is a bit more difficult to stop than traditional bikes, of course, because the braking mass is felt: however it is really a lot of fun to ride and offers performance that I didn't expect.
3 - What was your job?
We have not been able to work very hard on the bike: having to alternate on the bike with Randy (De Puniet), we had to find an "endurance style" compromise, in the sense that we left the bike with a very neutral set-up and we rode more than anything else, to try to get as much feeling as possible. Certainly in the near future there will be work to do, I have already talked about it with Cordioli and with the Bettis: there is a lot of room for development.
4 - What can you focus on to make a difference?
It will be essential to know all the tracks well, and on that I would say that we are all right! Have a strong ability to adapt, to be able to push immediately. Aim to be fast from the first laps. The difference will be made so much by the sensitivity of the driver, to be able to find the best setup, among those possible, in the shortest possible time.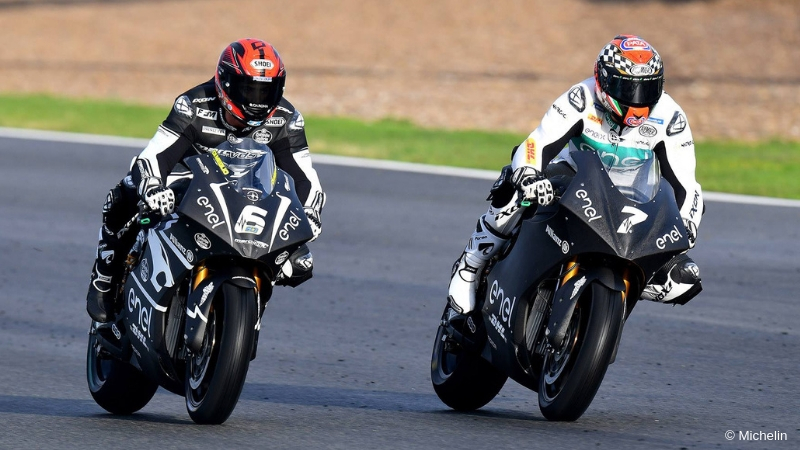 5 - For a professional driver the noise of the engine is important, what is it like running with such a silent bike?
Well, it's not completely silent! When you're up there, it makes a mechanical noise, which makes it possible to understand that the bike is "taking turns". Obviously it is much, much quieter than a normal bike, but the sound it produces is enough to activate all the mechanisms that a driver is used to. The problem, in the limit, could be in overtaking: each of us counts, even unconsciously, on the fact that the opponent in front of him feels it coming. But with this bike, hearing others is almost impossible: doing and undergoing overtaking will require more attention.
6 - Some pilots have proposed to move the rear brake on the left half-handlebar, which is free since there is no clutch lever. What do you think about it?
The handlebar brake is a solution I know, because I already use it in Superbike, and the same goes for my teammate: I think it's an interesting choice. In Superbike, even the clutch is not used, as indeed in MotoGP, if not at the start. So we keep a very high clutch lever and a brake lever instead of a normal height, to be well balanced when braking. It is a configuration that I like and am comfortable with, so I would be very supportive of having it in MotoE: it would be a step forward for the guide.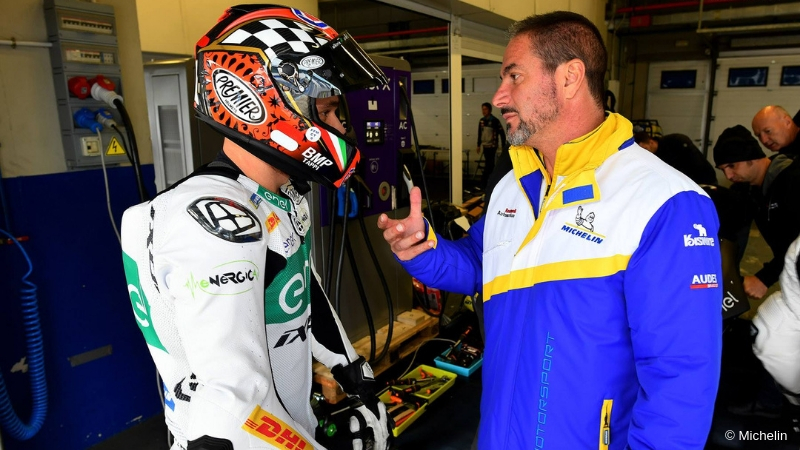 7 - What a judgment from the tires that Michelin has prepared for the MotoE?
It was the first time, for me, with Michelin tires and I found myself really well: they brought really high performance tires. They are easy to understand, they give a nice feedback, I liked them a lot: they don't seem to require much development, they are already at a high level (here the description of the tires prepared by Michelin for the MotoE).
8 - In the LCR box you will find Luciano and Thomas Betti, two veterans of the electric motorcycle races, what impressions did you exchange during the tests?
Luciano and Thomas are first and foremost two exceptional people, whom I got to know for the first time here, in tests at Jerez. It is fascinating, as well as very advantageous, to have two people like them on the team: they can give an extra gear, they know electric bikes more than anyone else, as I said their experience is one of the reasons that convinced me to come to LCR.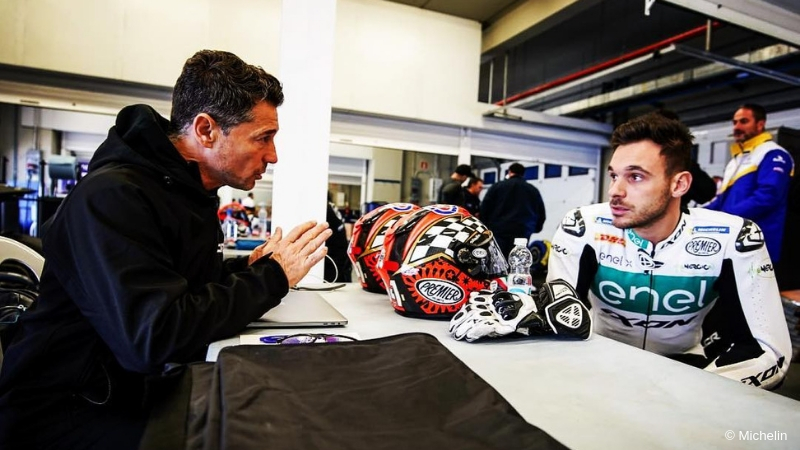 9 - During the tests in Jerez we saw Cecchinello always present in the pits talking to you and De Puniet: what did he say to you?
Lucio is great! Look, I've changed a lot of teams and worked for a lot of different manufacturers, but it's great to have a team manager who has been a rider, because he knows what a rider wants and he also knows how to get it. He knows how to give you the right motivation, talking to him is nice because he really shares the feelings and emotions you have on the bike. Lucio is always ready to give the right advice and has enormous experience, which is also reflected in the practical organization: in Jerez, for example, he was able to manage a bike with two riders in an impeccable way, without ever creating disparities. I hope he will be able to be there also during the races, despite the many commitments, because his presence really brings something more.
10 - In addition to the MotoE, what other commitments will you have this year?
I will continue to race in the Endurance World Championship, where I am currently second in the World Championship, because we already have the first race in September. I'm a Yamaha Superbike tester. Among other things, I will follow the World Superbike championship also as a coach together with Alex Lowes, rider of the official Superbike team: I will follow him on the track, so let's say it will be a very full calendar. But it will certainly be nice to have all these experiences in all these different categories: I think it will be a very exciting year.

Here you can see how the tests went MotoE in Jerez last November (link).