Podium Advanced Technologies è il partner tecnico scelto da Ducati per sviluppare e realizzare le batterie ad alta tensione montate sui prototipi per la MotoE World Cup.
Ducati ha scelto Podium Advanced Technologies per sviluppare e produrre le batterie della "V21L", il prototipo della moto che a partire dal 2023 gareggerà nella FIM MotoE World Cup, di cui la Casa motociclistica bolognese sarà partner come fornitore unico con 18 moto in pista nel corso di ogni weekend di gara.
Il progetto MotoE ha una rilevanza strategica per Ducati poiché le consente di sviluppare competenze per il proprio futuro e di sperimentare soluzioni tecnologiche nel mondo delle competizioni, fino a trasferirle sulle moto destinate alla produzione.
Partendo da zero nella progettazione di un prototipo elettrico, Ducati ha deciso di affidarsi sia a competenze interne al Gruppo Volkswagen, a cui Ducati fa capo, sia a know-how di aziende parnter e leader nel settore della mobilità elettrica. È il caso della Podium Advanced Technologies, azienda di ingegneria di Pont-Saint-Martin in Val d'Aosta, che collabora da oltre un anno con il dipartimento e-Mobility di Ducati. Il ruolo dell'impresa valdostana è quello di svolgere attività di sviluppo e fornire batterie ad alta tensione per la MotoE di Borgo Panigale seguendo il design e le linee di progetto definite da Ducati.
La batteria della MotoE di Ducati ha una capacità di 18kWh ed è composta da 1152 celle cilindriche di tipo '21700' con una differenza di potenziale di 800V. Il peso di questo componente è di 110kg incluso il casing protettivo in carbonio. Il raffreddamento è ad acqua attraverso un circuito di raffreddamento del tutto simile a quello di una moto tradizionale. Ducati non ha ancora divulgato come avvenga il raffreddamento all'interno della batteria, ma è molto probabile che l'acqua, attraverso una serie di scambiatori a piastre, raffreddi le singole celle.
La progettazione di questo componente è più delicata rispetto al corrispettivo automobilitsico perchè su una moto, la batteria ha un grande impatto sulla struttura e deve assecondare la geometria della zona centrale del mezzo. Inoltre lo sviluppo di un'architettura ad alta tensione (800V) su una moto rappresenta qualcosa di mai affrontato prima.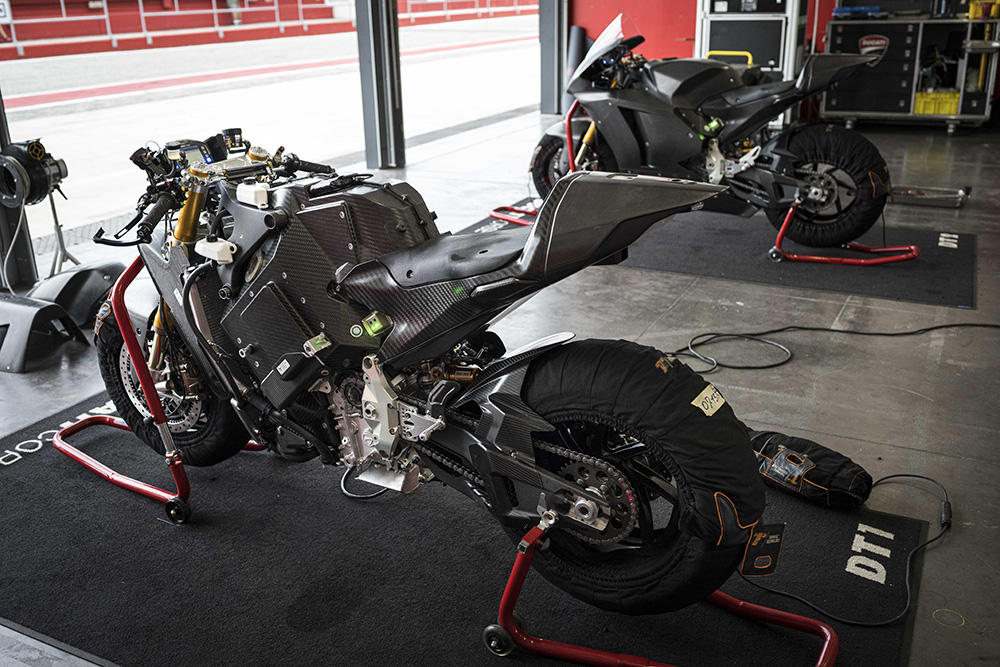 Roberto Canè, Ducati e-Mobility Director
"La nostra collaborazione con Podium Advanced Technologies è davvero straordinaria. Abbiamo iniziato a parlare di elettrificazione in Ducati poco più di un anno fa, partendo da un foglio bianco. Dopo pochi mesi è stato chiaro che lavorando con un partner così competente avremmo rapidamente colmato il gap di know-how necessario per poter avviare le attività di prototipazione di veicoli elettrici. Abbiamo fissato obiettivi impegnativi che vogliamo raggiungere insieme e che in parte abbiamo già raggiunto. C'è ancora molto da fare, ma sono estremamente fiducioso che, continuando su questa strada, riusciremo a raggiungere i nostri obiettivi."
Francesco Monti, CEO e Head of Business Line Battery Systems di Podium Advanced Technologies
"Il passaggio dalle 4 alle 2 ruote è stato per noi un processo naturale. Affiancare il team di ricerca e sviluppo di Ducati e-Mobility, progettando e costruendo un componente critico in grado di soddisfare i requisiti più difficili in termini di prestazioni, peso e dimensioni, fa parte del nostro DNA. Unire le forze con un'azienda come Ducati nella ricerca di soluzioni sempre più efficienti ed efficaci e supportarla nelle sfide che dovrà affrontare nei prossimi anni è una grande responsabilità. Siamo orgogliosi di tutti i risultati ottenuti finora dal nostro team tecnico. Lavorare con gli ingegneri Ducati è un'esperienza entusiasmante e gratificante."

Podium Advanced Technologies è un'innovativa azienda di ingegneria nata nel 2011 da tre ricercatori del Politecnico di Torino. È specializzata nel campo dello sviluppo di prototipi, degli sport motoristici e delle soluzioni automobilistiche di piccola serie oltra ad essere un'azienda pionieristica per i propulsori ibridi ed elettrici e per i sistemi di batterie ad alte prestazioni.
L'azienda è stata inclusa per cinque anni consecutivi (dal 2018 al 2022) nella classifica del Financial Times tra le "Europe Fastest Growing Companies", le 1.000 aziende europee in più rapida crescita.
L'azienda è attualmente strutturata su tre linee di business: Road cars, Battery Systems and Racing cars and Motorsport.
In particolare, il team Battery Systems è dedicata allo sviluppo di sistemi di propulsione ibridi o completamente elettrici al fine di progettare, costruire e testare pacchi batteria ad alta tensione con elevati rapporti potenza/peso ed energia/peso.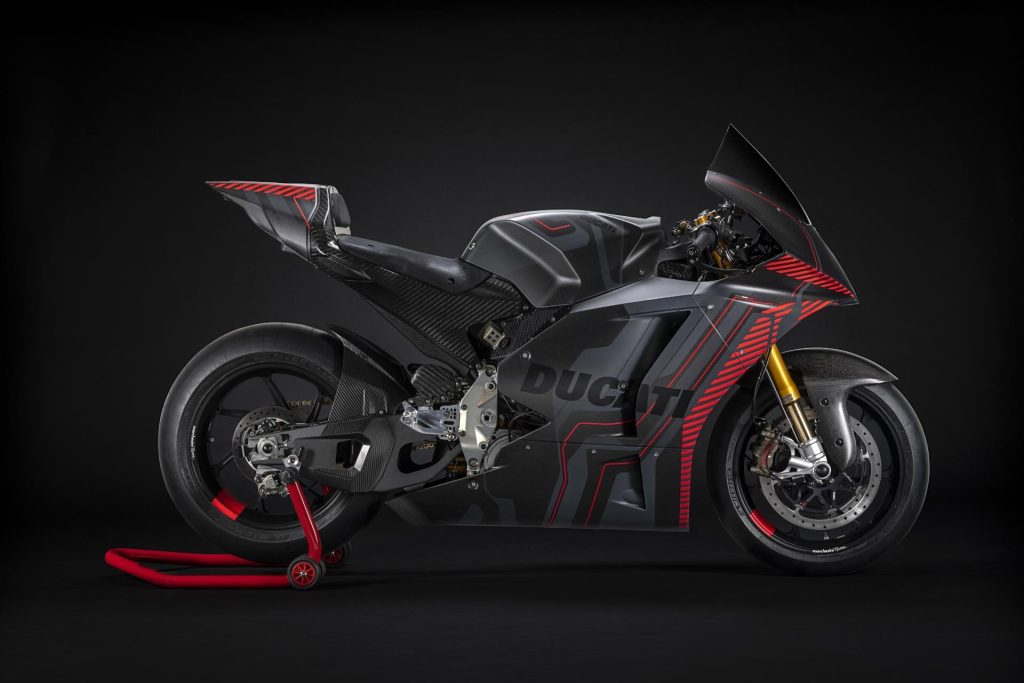 Foto e video: Ducati
Per essere aggiornato sulla MotoE World Cup, iscriviti al broadcast Whatsapp di Epaddock e ricevi sul tuo cellulare in tempo reale tutte le nostre notizie: scopri qui come.