Lightfighter LFR19
La Lightfighter LFR19 nasce dall'idea di due progettisti appassionati di moto elettriche che vivono nel nord-ovest degli Stati Uniti: Brian Wismann, californiano, e Ely Schless, dall'Oregon.
All'inizio del progetto Brian e Ely si sono chiesti: quale deve essere la priorità nella progettazione di una moto elettrica: la ciclistica o la capacità della batteria? Per ottenere buoni tempi sul giro nell'uso in pista è meglio una moto agile e leggera o una più potente ma pesante? Nel primo caso il design privilegia la geometria delle sospensioni e del telaio mentre la capacità della batteria (e quindi il peso e le dimensioni) viene vincolata dallo spazio disponibile nel telaio. Nel secondo caso si punta ad una batteria più grande per avere più potenza a disposizione ma la ciclistica, soprattutto la dimensione del forcellone e la geometria della sospensione posteriore devono cedere a dei compromessi.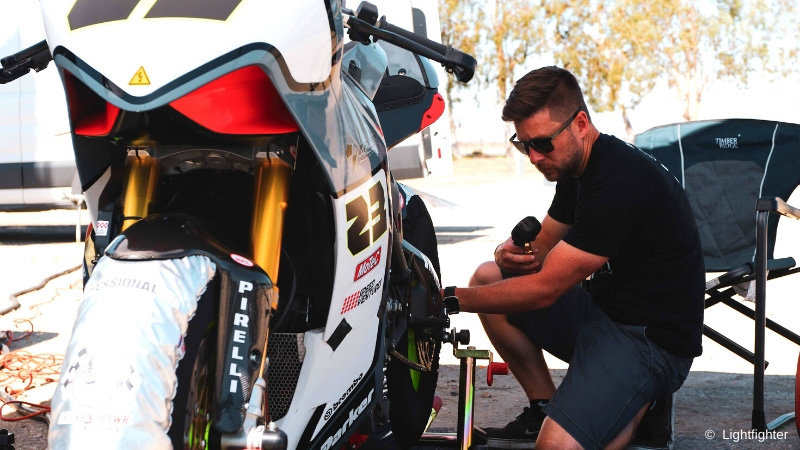 Brian Wismann, co-ideatore e progettista della Lightfighter LFR19, è anche Vice President della divisione "Sviluppo Progetti" presso Zero Motorcycles

Ely Schless, è un pioniere nel mondo dei veicoli elettrici e per oltre trent'anni ha lavorato a sviluppare sempre più i mezzi elettrici e le loro batterie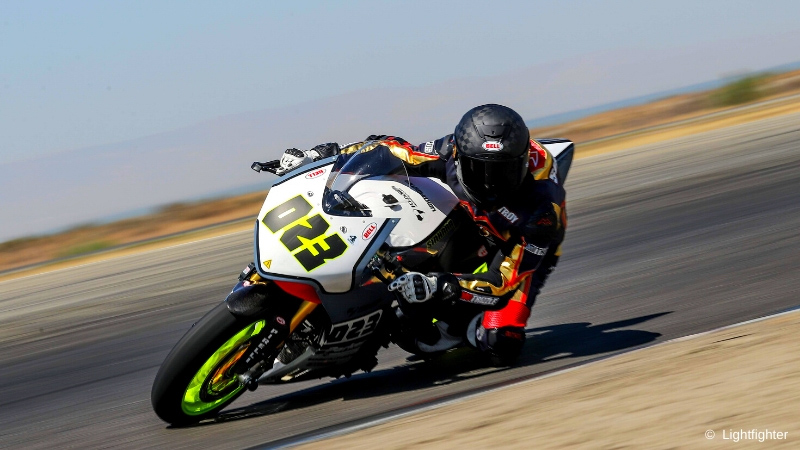 La maggior parte dei prototipi di moto elettriche nell'ultimo decennio sono stati destinati ad eventi come il TT Zero all'Isola di Man o il Pikes Peak negli Stati Uniti, e il design ha portato a realizzare moto grandi e potenti, ma anche pesanti. Brian e Ely invece hanno deciso di prendere la strada opposta per la Lightfighter. Partendo dal numero di giri per ogni gara (tra sei e dieci a seconda del layout della pista), hanno minimizzato le dimensioni e il peso della batteria per lasciare spazio all'ottimizzazione della ciclistica della moto e al design delle sospensioni. Il Lightfighter prende il nome esattamente da questa idea: prima la ciclistica per avere una moto leggera e agile rispetto alle altre moto da corsa elettriche.
Brian ed Ely sono partiti dal forcellone e dalla sospensione posteriore, acquistando su eBay quelli di una Yamaha R1 2015, e hanno costruito il resto della moto attorno a quello che ritenevano essere l'elemento essenziale. Le carene e il telaietto reggisella sono frutto della collaborazione con la Kramer Motorcycles attraverso il loro distributore nordamericano, Joe Karovonen. L'unità motore/riduttore (MGU) è stata sviluppata da Schless personalizzando un motore a magneti permanenti GVM Parker-Hannifin e aggiungendo gli ingranaggi per la trasmissione. Anche la batteria agli ioni di litio è stata sviluppata da Wismann e Schless utilizzando celle della Farasis Energy. L'inverter proviene dalla Cascadia Motion, ex Rinehart Motion Systems, anch'essa con sede in Oregon.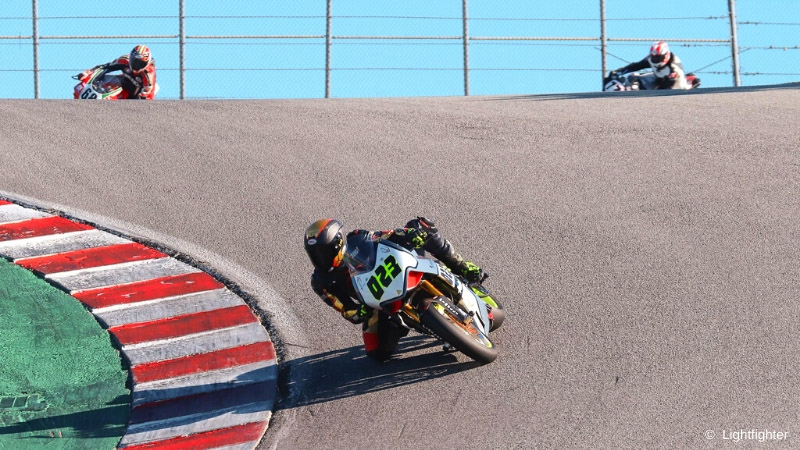 Durante la stagione 2019, la Lightfighter ha corso nelle gare dell'AHRMA (American Historic Racing Motorcycle Association). Il debutto in gara è avvenuto sulla Buttonwillow Raceway nell'agosto del 2019 all'interno della Formula Thunder. In questa classe gareggiano moto a benzina da 1000cc ed è tipicamente dominata dalle Ducati Pierobon e Panigale Rs. Troy Siahaan, il pilota scelto per la Lightfighter, è arrivato primo sul traguardo anche se la vittoria non gli è stata assegnata poichè la moto era elettrica. Tuttavia, grazie all'eccezionale risultato, la Lightfighter ha strappato la concessione per correre nelle classi Sound of Thunder 1 e Formula Thunder nelle gare successive per lottare alla pari con altri 1000cc e V-Twin. La Lightfighter ha corso l'ultima gara a febbraio 2020 a Laguna Seca, prima del lockdown globale dovuto al coronavirus. Troy Siahaan ha portato la moto alla vittoria sia tra le moto elettriche che tra quelle a benzina della classe Sound of Thunder 1. In attesa della fine della crisi causata dal Coronavirus, Brian ed Ely sono al lavoro sulla "versione 2" della moto che sperano di portare in pista quest'anno.
Lightfighter LFR19
Prestazioni
– Velocità massima: 235 km/h
– Potenza (picco): 105 kW / 140 Hp
– Coppia (al motore): 162 Nm
– Coppia (alla ruota): 966 Nm
– Accelerazione (0-100km/h): 3.0 sec
– Peso: 170 kg
– Interasse: 1400 mm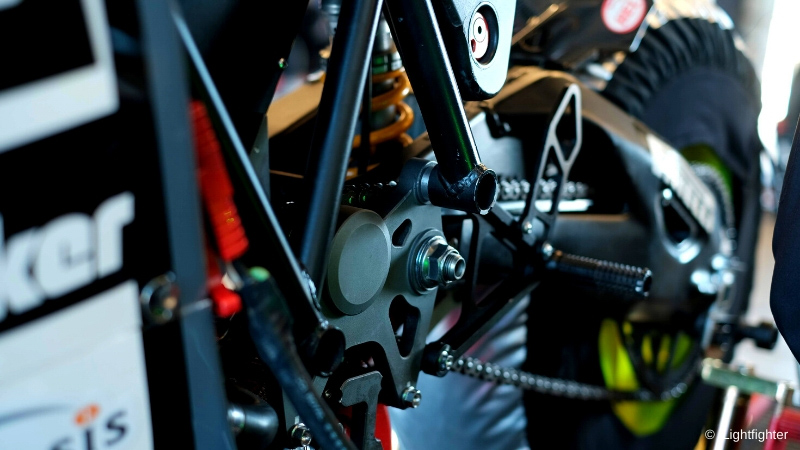 Specifiche tecniche
– Motore: sincrono a magneti permanenti (PMAC) Parker GVM-210 da 12000 rpm
– Batteria: a ioni di Litio tipo NMC della Farasis Energy
– Capacità batteria: 11 kWh
– Voltaggio batteria: 360 Vdc nominal
– Peso batteria: 61 kg
– Durata della batteria: circa 15min di gara
– Cambio: No
– Raffreddamento: batteria ad aria, motore e inverter ad acqua
– Telaio: a traliccio di tubi in acciaio al cromo-molibdeno
– Trasmissione finale: a catena
Per ulteriori approfondimenti sulla Lightfighter LFR19 vi segnaliamo questi due link alla rivista Motorcycle.com:

Riding, And Racing, The Lightfighter LFR19 Electric Motorcycle – Parte Uno

Riding, And Racing, The Lightfighter LFR19 Electric Motorcycle – Parte Due