Mike Di Meglio (EG0,0 Marc VDS), Xavier Simeon (Avintia Esponsorama Racing), e Bradley Smith (One Energy Racing): after a series of overtaking, falls and twists, the drivers on the podium of the MotoE they are the same ones that started from the front row. Here their statements at the end of the race.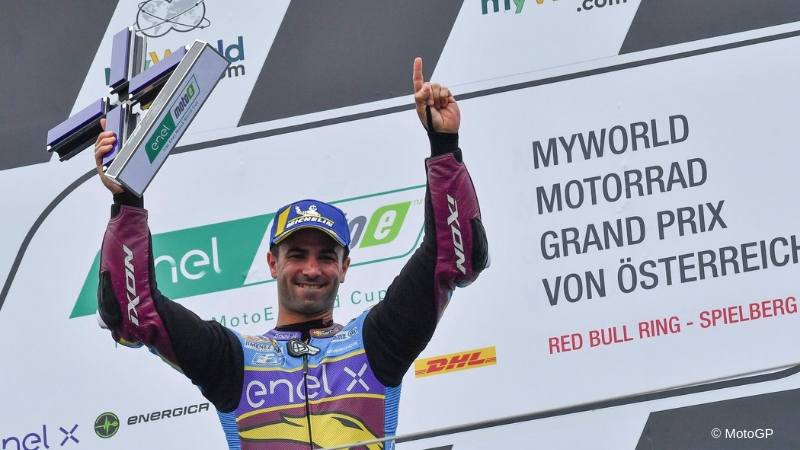 Mike Di Meglio
"I'm very happy. We've done an incredible weekend and an incredible race. We had just two sighting laps and I felt very good on the bike. I tried to push and I saw then I was faster than everybody. I knew [Eric] Granado would be there because during the test at Jerez he was very fast. When he passed me I tried to stay behind, and I was quite OK there. But when he crashed I knew the limit was not so far away. After I tried to manage the race, made a small gap to the others but on the last lap I saw [Hector] Garzo was coming back to me. At turn four I braked very late because I knew I was strong there. My front was jumping around and I nearly went out of the track. Then I saw the screen at the next left and he was not there. I knew my strategy worked well! I want to thank the team because we worked well, I'm leading the championship and we need to continue like this."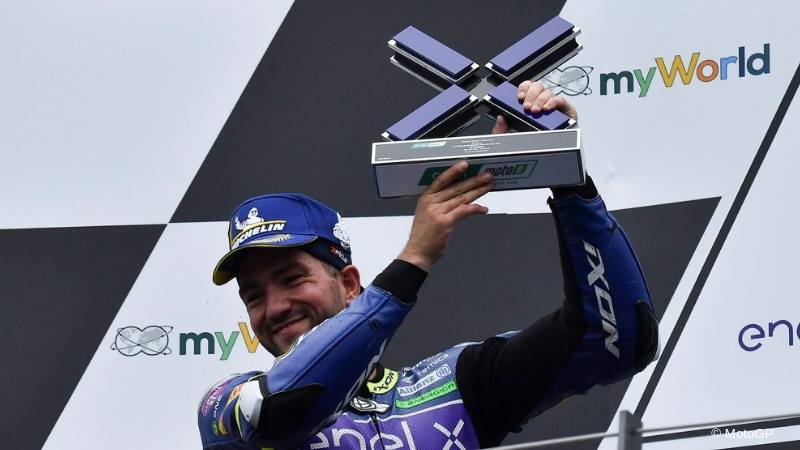 Xavier Simeon
"It was a very difficult race for me because I had never ridden this bike on the wet. Without being able to try it and starting immediately for a sprint race in attack, it was very hard. I tried to take advantage of my experience in riding in the wet.I thanks to the Michelin rain tires that are excellent and give a great feeling. I tried to run without making mistakes. I saw a lot of overtaking from my teammate Granado and from Garzo too but then they fell. I'm really happy of this podium. I didn't expect to be competitive with the MotoE . It's a funny category where you have to push from start to finish, both in qualifying and in the race. There are no strategies, you don't have to think about tire degradation. In a month we go to Misano, I hope to be competitive there too."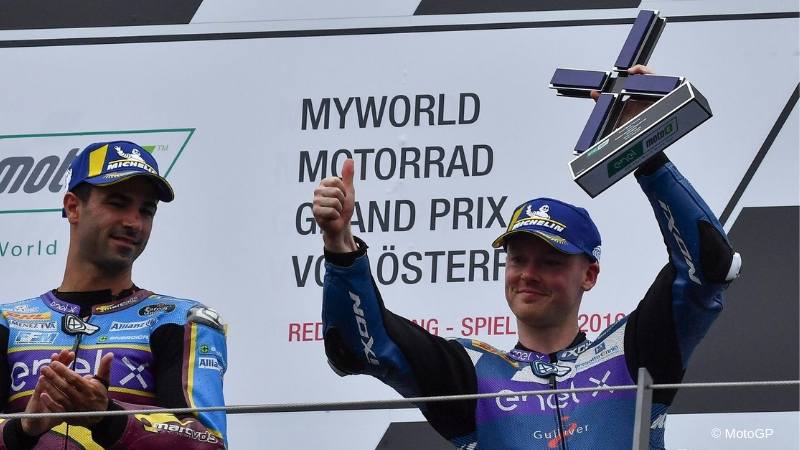 Bradley Smith
"After a tricky start, we were able to limit the damage. I went wide on the descent on the first lap and riding during the initial stages of the race was tough because of the conditions. When the track started to dry a little, I regained my good feeling and I fought back to finish on the podium. These are the days that make a difference at the end of the season in Valencia. These points that I have earned today are very important, as it would have been easy to stay in the top five and not take a risk, but I had to finish as far as possible so as to not get too far behind in the overall standings. Thank you very much to the team for their great work this weekend; we are satisfied with what we have done."
At this link you can download the race results file (link)