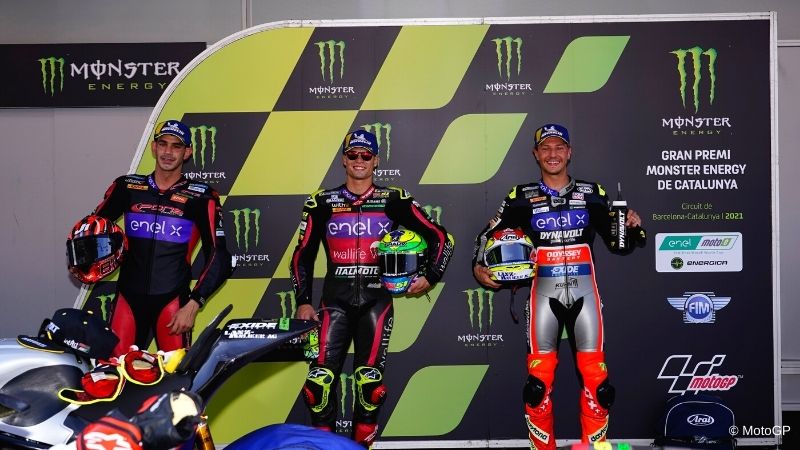 The rider that will start from the first place in the starting grid of the GP of Catalonia will be Eric Granado (One Energy Racing). At his side in the front row Jordi Torres (Pons Racing 40) and Dominique Aegerter (Dynavolt Intact GP).
In the second row they will be Miquel Pons (LCR E-Team), Lukas Tulovic (Tech 3 E-racing) and Alessandro Zaccone (Octo Pramac MotoE). Here are the statements of some of them.
The Catalan Grand Prix will start on Sunday at 16.00 (local time).
Eric Granado
"I'm very happy. We have improved in every session so far this weekend and I feel very good on the bike. The team have helped me a lot to improve the bike as well. This is a new circuit for us, and we have worked very hard to find out which direction we should take. I tried to do a clean lap to avoid any penalties, and I am happy to have taken pole for the third time in a row, but the important thing is that we get a good result tomorrow. My strategy is to not make mistakes and to reach the end of the race, in order to achieve the maximum number of points."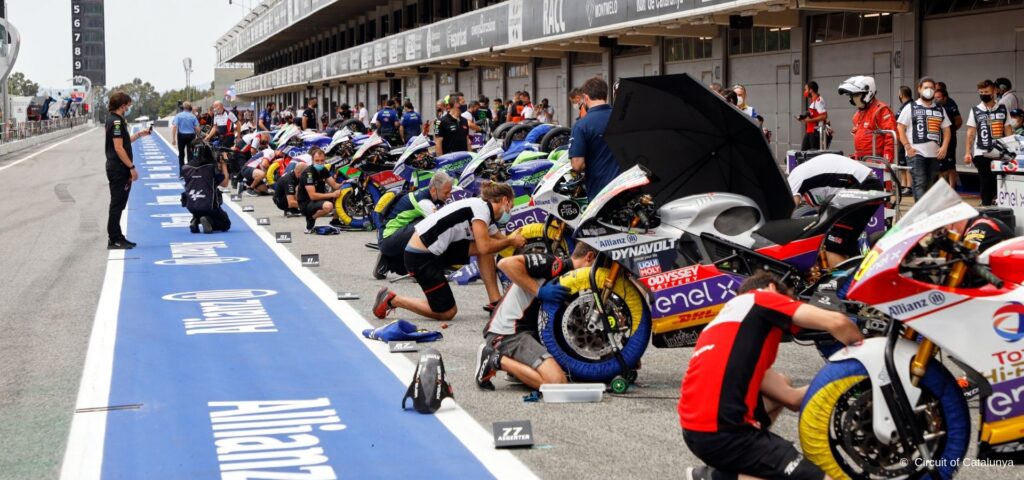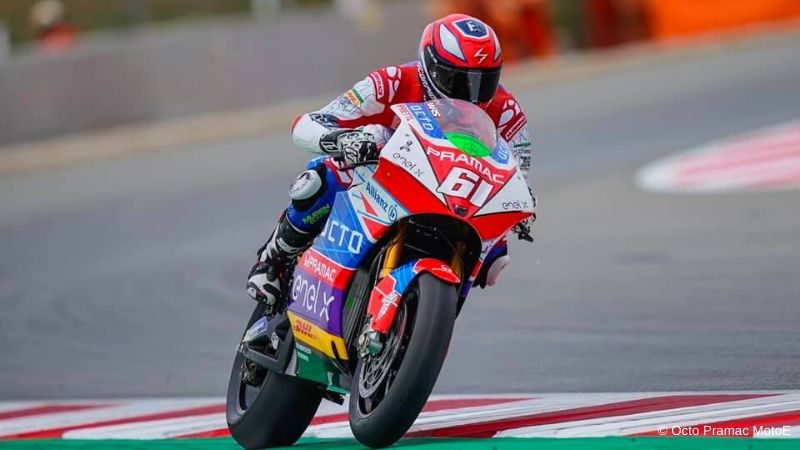 Alessandro Zaccone
"Very happy about the second row, I didn't expect it. We made a big modification on the bike that fitted perfectly, above all expectations. I am very happy because I was in difficulty until this afternoon and now I am competitive again."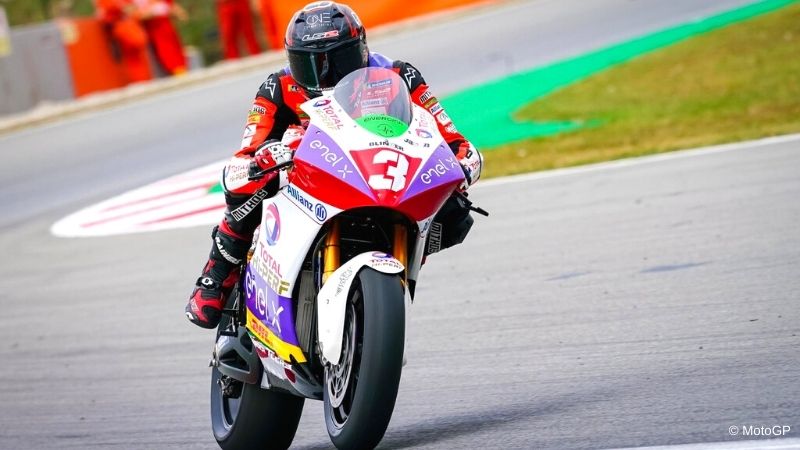 Lukas Tulovic
"Today in FP3 I expected a little bit bigger improvement, to be honest. We tried something on the setup that was no big step, but we came back to the setting we had before, as I know it and I feel good with it. This weekend for me it was pretty difficult so far, because I was riding alone all the time.
I made decent lap times, but now it was tricky to improve on my own. So, I'm optimistic for the race tomorrow, that when I'm in the group with some riders, I can see some things and I can be as fast as them. Only a small mistake in the last corner stopped me from being in the front row. It's a shame not to be there, but fifth position is a good place to join the fight tomorrow in the race."
Matteo Ferrari
"We improved session by session and today we made a pre-qualifying change that worked very well. We don't usually change anything before the EPole, but this time the risk paid off and tomorrow we will have a good starting position. We still have to work because we need a little bit to be with the first riders."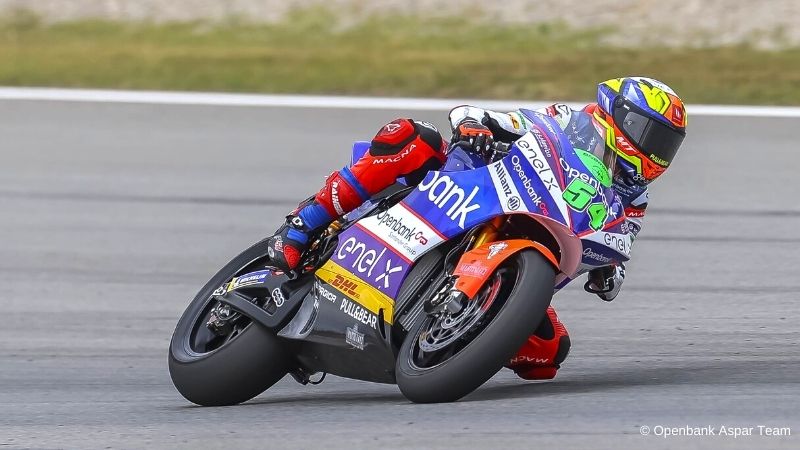 Fermin Aldeguer
"I was a bit cold when I had to start the ePole lap, and I have not been able to fight for front row. In the morning we had achieved the best time, but in the ePole it was difficult for me to set the perfect lap and go faster. We have a good pace for tomorrow, we will try to make a good start and get to the front positions to see how the race unfolds."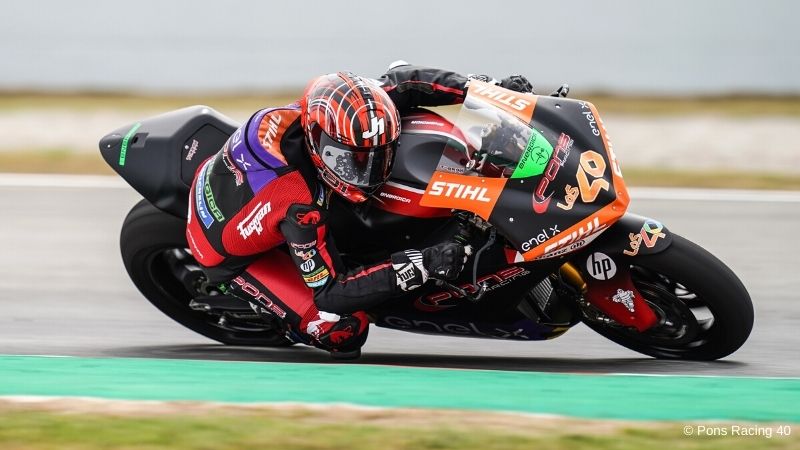 Jordi Torres
"In general I am happy and satisfied with this second position. Yes it is true that I would like to have an extra to go calmer but hey, we are fine. In the E-Pole I made a mistake in the first corner but I corrected it during the rest lap. I can't wait to see what tomorrow's race brings us."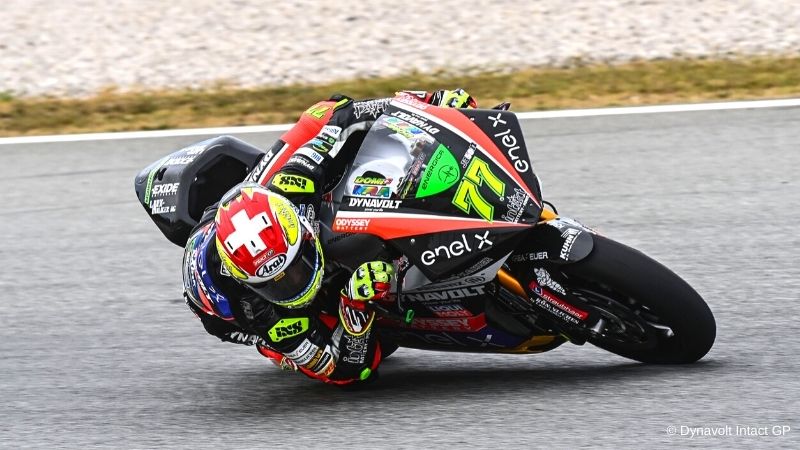 Dominique Aegerter
"I am happy to start from the front row tomorrow with nobody right in front of me. In the FP3 I was struggling a bit to be fast. We made some changes to the bike and also adapted my riding style a little differently. This way we constantly improved in each practice. The team did a great job developing the bike further throughout the weekend. In teams with two riders, it's always easier because you get to compare the data. We are by ourselves so it's even more impressive what my crew achieves. I am expecting a tight fight just like in Jerez and Le Mans. I am sure it will be intense, but also to improve the pace or keep the positions. In the last few races, I was not in an ideal place when going into the last lap in order to fight for the win. I'm trying to make a good race and focus on bringing myself in a better position for the final fight. I got to say it's great to finally see some fans back in the grandstand, I even saw some Swiss flags so its great to slowly get back to normal."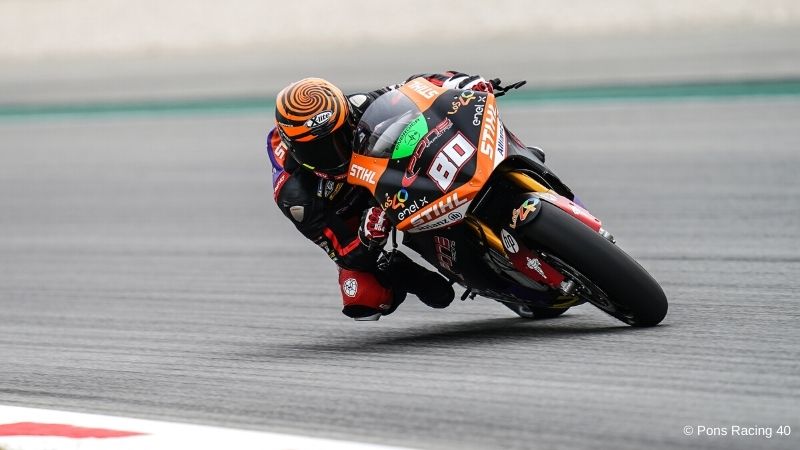 To be updated on MotoE World Cup, subscribe to Epaddock's Whatsapp broadcast and receive all our news on your mobile phone in real time: find out how here.