"Corner 1 is very technical and difficult because it is a fast curve to the left. You have to exit with good speed to be fast on the next straight, but you don't have to touch the green zone; it is essential to find the exact point where to insert the bike in to the corner. Corner 2 is very important for overtaking and it is essential to have a good line especially in the first laps to avoid contact with other riders.
Through the fast Corner 3 you reach Corner 4 which is a key point of this circuit. Valencia is scheduled for November and when we run here it is often cold. We reach this corner after the final straight and many curves to the left, so the temperature on the right side of the tyres drops well below the optimal level. This creates a problem for both the front tyre and the rear tyre: in both cases there is a risk of crash because of loss of the front or for high-side."
"Corner 5 is not critical but Corner 6 is because it is right before a straight. A good exit line is essential to have high speed in the straight until the braking point of Corner 8. From there you enter into a very fun section formed by the Corners 9 and 10, a very quick left-right. Just after Corner 10, it is time to brake for the hairpin turn on the right of Corner 11 where in the first test we saw many high-sides. At the exit of Corner 11, riders twist the throttle as soon as possible but there is the risk to end the corner up in the air."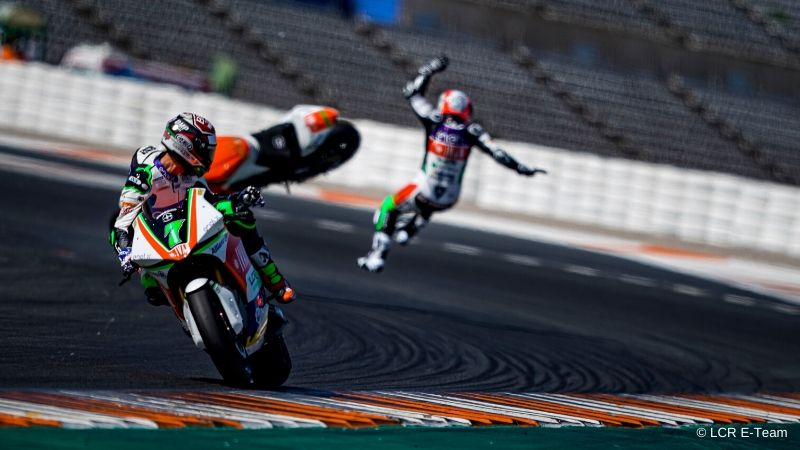 "Corner 12 leads to another special point of Valencia track, its famous fast downhill corner which is beautiful with the MotoE because you are at full throttle and at the limit; when the tyre starts to drop in performance, it smokes all the way through the corner. It is a spectacular and very fun point to ride. Corner 14 is the last: it is another key point and here you can see a lot of overtaking. If you ride in the right way, you can gain a lot of speed on the long final straight of the finish line."
Here you can find more information about the performance of the MotoE on the Valencia track
To be updated on the MotoE World Cup, subscribe to Epaddock's Whatsapp broadcast and get all our news on your mobile in real time: find out how here.