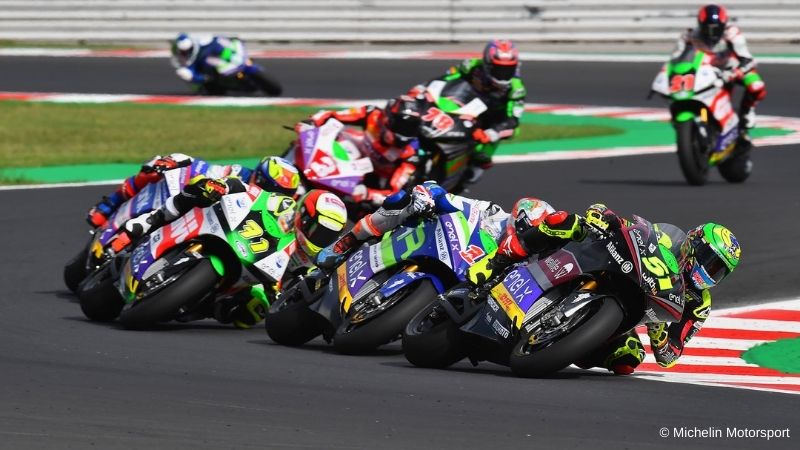 In this post we have collected some statistical curiosities related to MotoE 2021, and we made a comparison with the same data recorded in the previous two seasons. Here is what emerged.
Race distance
Between 2019 and 2021 some technical solutions were introduced with the aim of extending the duration of the races of the MotoE World Cup. The two components that made it possible more than others to achieve this were the battery cooling system, developed by Energica, and the loaders on the starting grid, made by Enel X.
The average race distance in the first edition of the MotoE in 2019 it was 25.8km, the figure rose to 28.0km the following year, to reach 29.9km in 2021.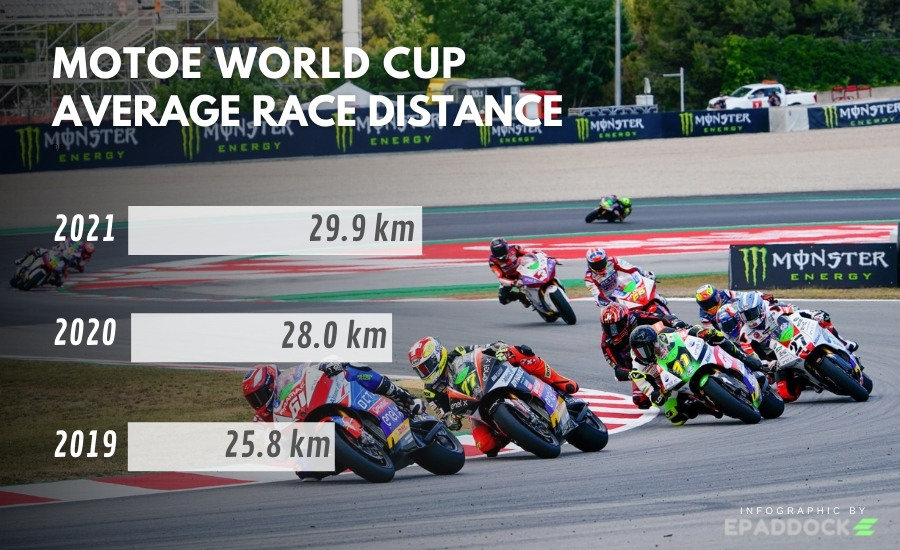 Gap between the riders
In these first three years of the MotoE, it was not only the Ego Corsa that evolved, but also the line-up of the riders. While in the first season the Team Managers were not yet clear on the characteristics that a rider must have to go fast in MotoE; in the following seasons the teams have focused more and more on young riders eager to show off in the paddock of the world championship.
This meant that the performance of all the riders improved by reducing the lap time gap. The parameter that is most often considered is the average gap in the race between the winner and the tenth classified; this figure has dropped from just over 12 seconds in 2019 to 9 seconds in 2020 to 8.5 seconds in 2021.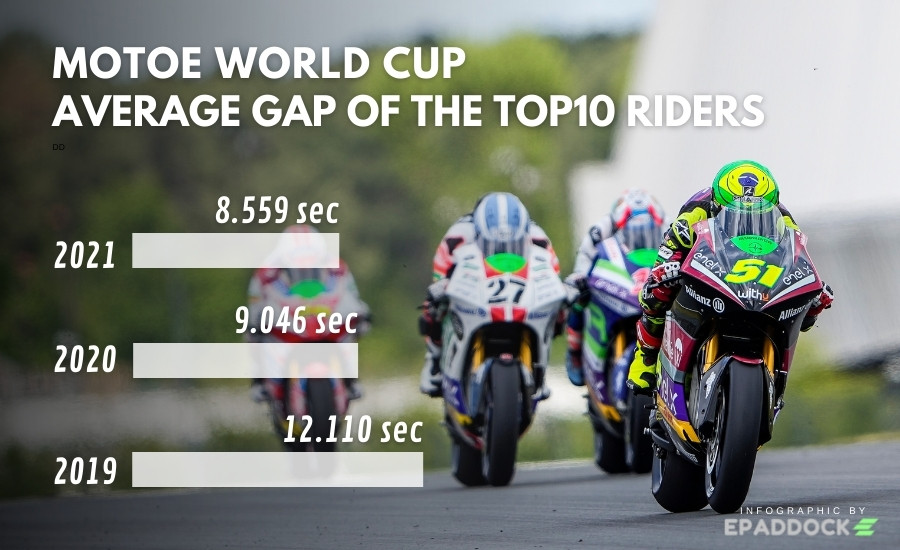 Km per season
From 2019 to 2021, the average race distance increased but the number of races held during the season also increased. As a consequence, the total km covered by the 18 riders of the MotoE World Cup increased compared to the past seasons.
The km covered in the four rounds of the 2019 World Cup were 10.010km, the following year there were five rounds for 12.273km up to 16.567km for the six rounds of 2021.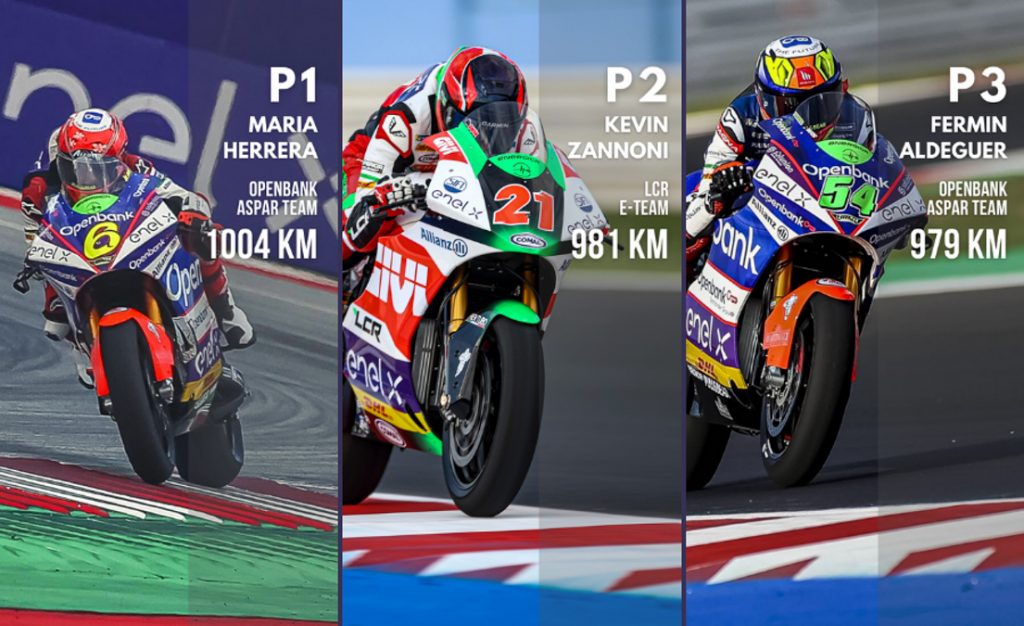 Comebacks
Among the significant statistical data of the MotoE there is also that of the best comebacks in the race. As proof of the increased competitiveness and spectacularity of the MotoGP electric class races, the three best comebacks took place in the season that has just ended.
In the French GP at Le Mans, Mattia Casadei recovered 13 positions in the race, Matteo Ferrari recovered 12 in the Spanish GP in Jerez while Eric Granado on the Austrian Red Bull Ring circuit recovered 11.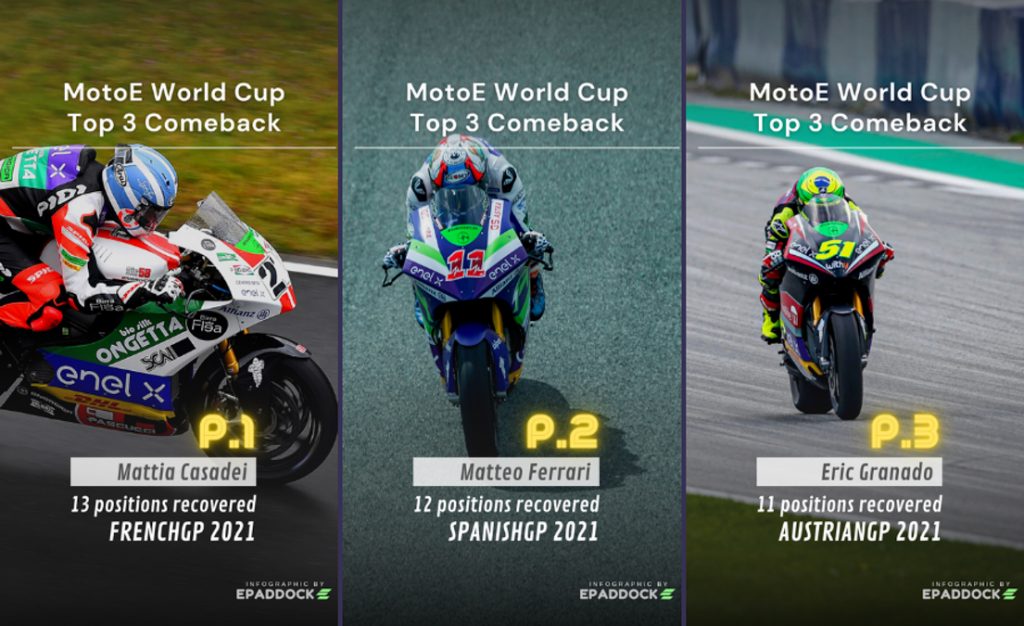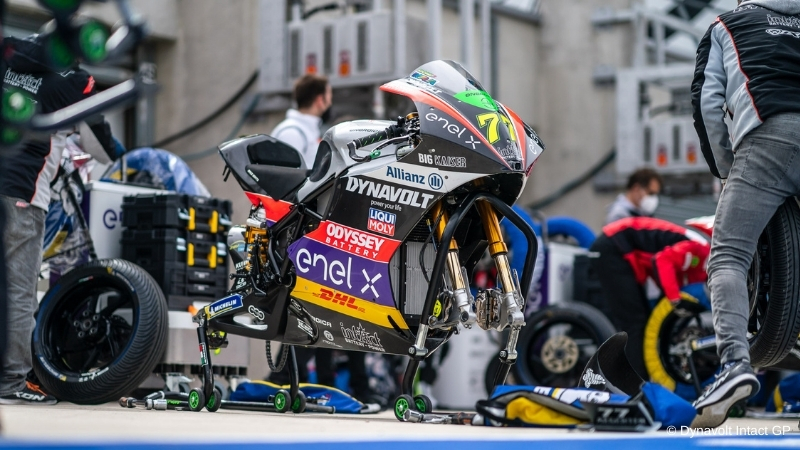 To be updated on MotoE World Cup, subscribe to Epaddock's Whatsapp broadcast and receive all our news on your mobile phone in real time: find out how here.