The two free practice sessions of the Emilia Romagna GP of the MotoE World Cup 2020 took place today at the Marco Simoncelli circuit.
Tomorrow the eighteen riders of the world championship will be involved in the Epole and, at 16:05, in Race 1. Here the riders words at the end of today.
Eric GRANADO - Avintia Esponsorama Racing
"I am very happy with today, we have taken a big step forward both in the morning and in the afternoon. I am happy with the feeling I have with the bike and it is very important for the confidence with which I will face the E-Pole. Tomorrow I will try to guarantee one of the front positions that is our priority for tomorrow."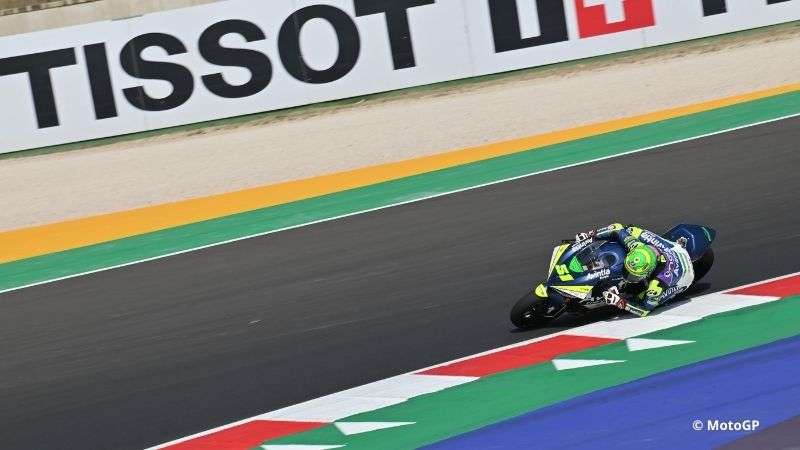 Alex DE ANGELIS - OCTO Pramac MotoE
"I am really very happy with this day, we are continuing on the right path. Today I didn't change the set-up too much, the feeling with the bike is really positive. Tomorrow I'll have to be very focused on E-pole because it's a flying lap, but I'm optimistic!"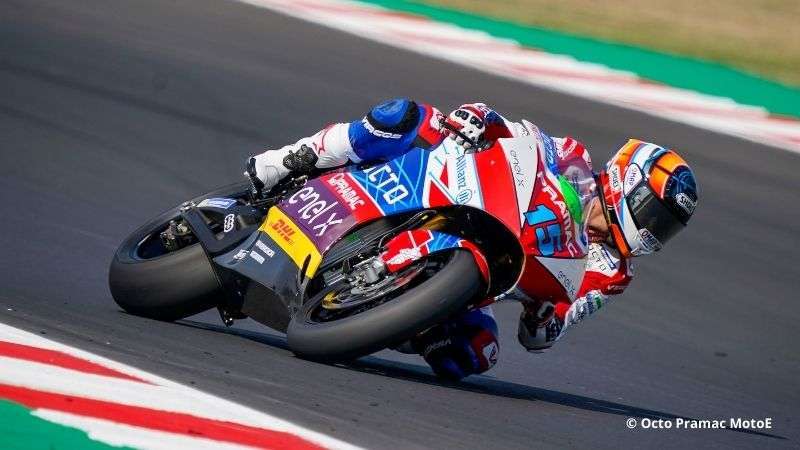 Matteo FERRARI - TRENTINO Gresini MotoE
"We started very well, improving by about half a second on last week's times and let's say that we are all quite at the level regarding the laptime. We did a great lap, which unfortunately De Angelis also took advantage of, but never mind. Tomorrow we want to do a good Epole, it is essential to do well in the race. With the set-up we are fine and the pace in the race is also excellent."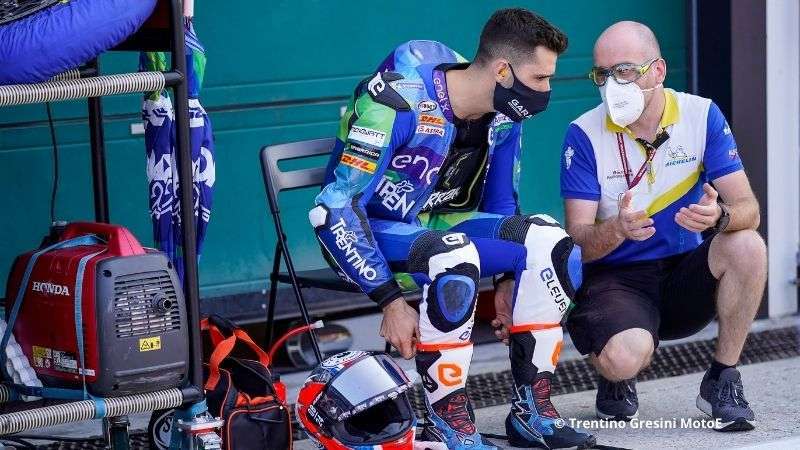 Jordi TORRES - Join Contract Pons 40
"Today has been a positive day. In the morning we have taken it easy and we have introduced some changes to see if they would work for us or not. They have not worked but that is positive because in the afternoon we have already discarded it and it has gone very well. We have qualified in fourth position and tomorrow we will have to give it our all in the E-Pole and the first race of the weekend. It is a more compressed weekend but we are ready."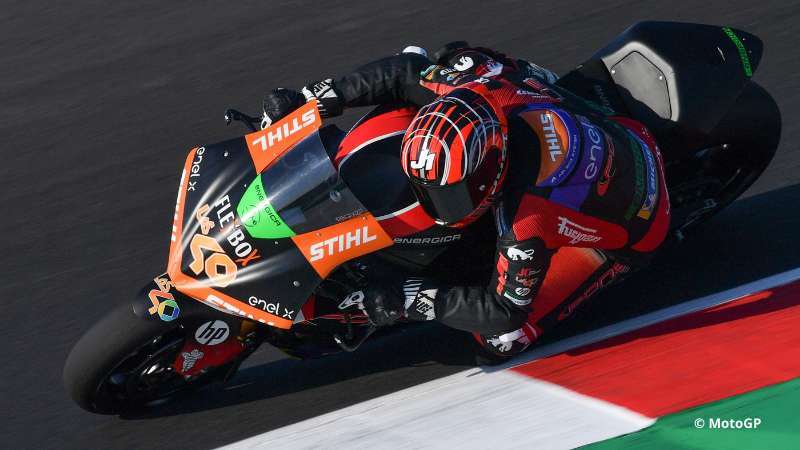 Xavier SIMEON - LCR E-Team
"This morning went very well; we were directly faster than last week which proves that the setting of the bike is quite ok. This afternoon, we wanted to try a small change on the bike to improve. Unfortunately, I crashed during my second fast lap, quite a big crash and a little strange but I think we could have done good lap times. Anyway, I will try to focus only on what I did this morning and try to make good E-Pole tomorrow".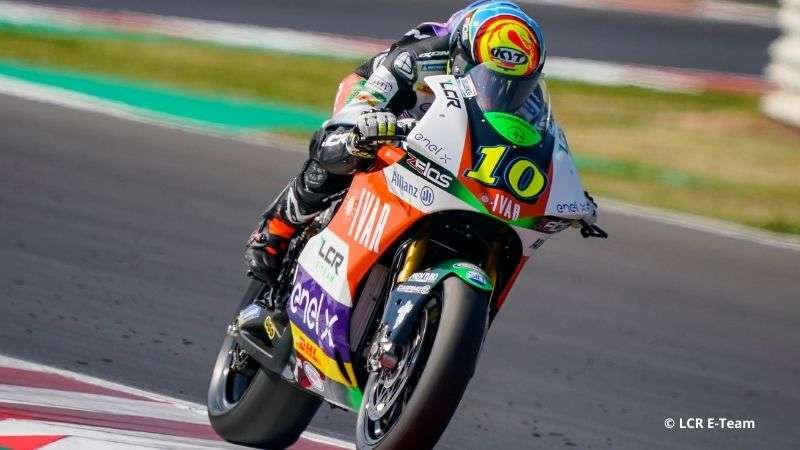 Tommaso MARCON - Tech3 E-racing
"This morning the FP1 was a kind of a warm-up for me, as we haven't run for four days. In the FP2 I started with used tyres. I was working on my riding style in order to improve for the race. Later, I put in new tyres, we did a small change on the bike, I managed to ride a bit smoother and finally, the time came. Now we need to stay focused for tomorrow's EPole and the first race. A huge thank you to my guys for their great work."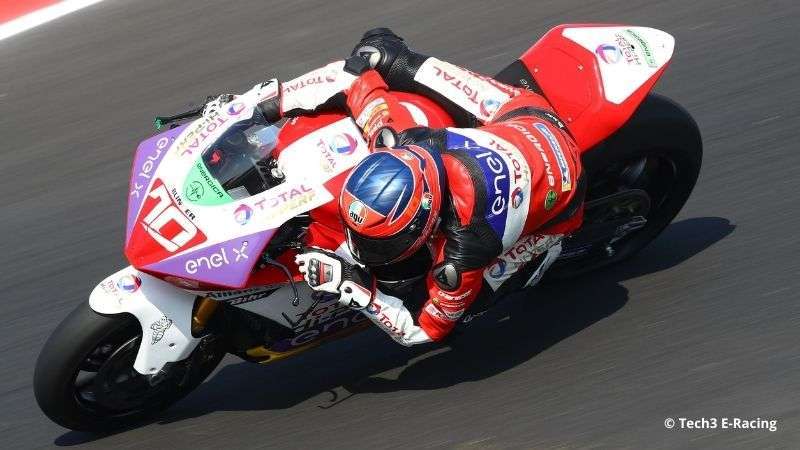 Dominique AEGERTER - Dynavolt Intact GP
"We started off better than last week. In the first practice, we only lost a tenth of a second. We then tried something for second session, which unfortunately didn't make us any faster. The others, however, could improve a little. Still, I'm consistently at the forefront, but not exactly where we want to be. With third place in FP1 and seventh in second free practice, we're not where we should be. Of course, we do everything to improve. Today we worked a lot, tomorrow morning the E-Pole will follow, which is the first important session of the weekend. The first race follows in the afternoon, which is of course important because of the championship points, but also because the results will decide the starting positions for the race on Sunday."
Mike DI MEGLIO - EG 0,0 Marc VDS
"It was a good day. We started well this morning. In the afternoon we tried a different set up in the first exit. It was not a good way. In the second exit we tried another setting and it wasn't bad! Still I need to make up some time to the front guys but I can make my lap times alone. What is important is the Epole tomorrow and to start at the front. If we can do that I am sure we can have a nice race."
Lukas TULOVIC - Tech3 E-racing
"I'm not really satisfied about today. We made a progress, also in lap times and managed to get the 1: 43s as we had set out, but in the end it wasn't enough. I felt, I could do more. So there is still potential and I'm a bit angry to not be faster and making small mistakes in many corners, which cost me the better lap time. For tomorrow for the EPole and the first race it's really important to bring everything together, to focus, not do mistakes, to be faster and just improve overall."
Alessandro ZACCONE - TRENTINO Gresini MotoE
"In the first round we made too heavy changes, while in the second session we retraced our steps a bit and things went much better. We still have to improve something in braking; we hope to be competitive tomorrow. "
Niccolò CANEPA - LCR E-Team
"We changed something on the bike that didn't work well and we lost some positions but we'll try to figure out what to improve for tomorrow's EPole".
Niki TUULI - Ajo MotoE
"I'm happy, because although we can still improve in terms of our position, the feeling today was very good. I feel comfortable on the bike again, and can position it wherever I want. We have also managed to significantly lower our times compared to last week. In general, it was a positive first day".
Alejandro MEDINA - Openbank Aspar Team
"This morning, with the wet track, I tried to adapt, but with the water it is not the same as in the dry. I still need to know the correct line. Tomorrow we have the ePole, we will have to do our best on that lap and try to be as far ahead as possible for the first race."
Joshua HOOK - OCTO Pramac MotoE
"This morning went quite well, we did a good job and we improved a lot compared to last week. The feeling was really positive, I got a very good impression. During the second session I struggled a little, but we understood a lot. We still have some work to do but we are in the right direction."
Maria HERRERA - Openbank Aspar Team
"In the first free practice we have taken a step forward, we have started straight with the pace with which we finished the race. In the second free practice I improved a bit in braking, but I need to be able to turn the bike better, because we lose a lot with others in the changes of direction. Tomorrow we have the ePole session in the morning and the first race in the afternoon. We are going to try to improve as much as possible so that we can be in the group and fight hard."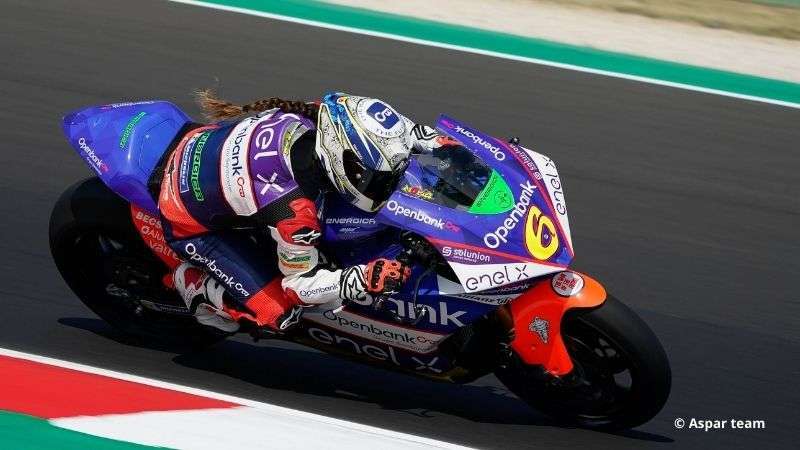 Xavier Cardelus - Avintia Esponsorama Racing
"It has been a little strange day, of which I am not very satisfied. The changes we have made help me on some points, but in others hurts me, despite this I have managed to make a decent lap. I think we should have taken a big step and it has not been so, by tomorrow we must take some changes."
The EPole is scheduled for tomorrow at 11:45 (local time). Here you can find the time-schedule of the GP of Emilia Romagna in Misano scheduled for this weekend.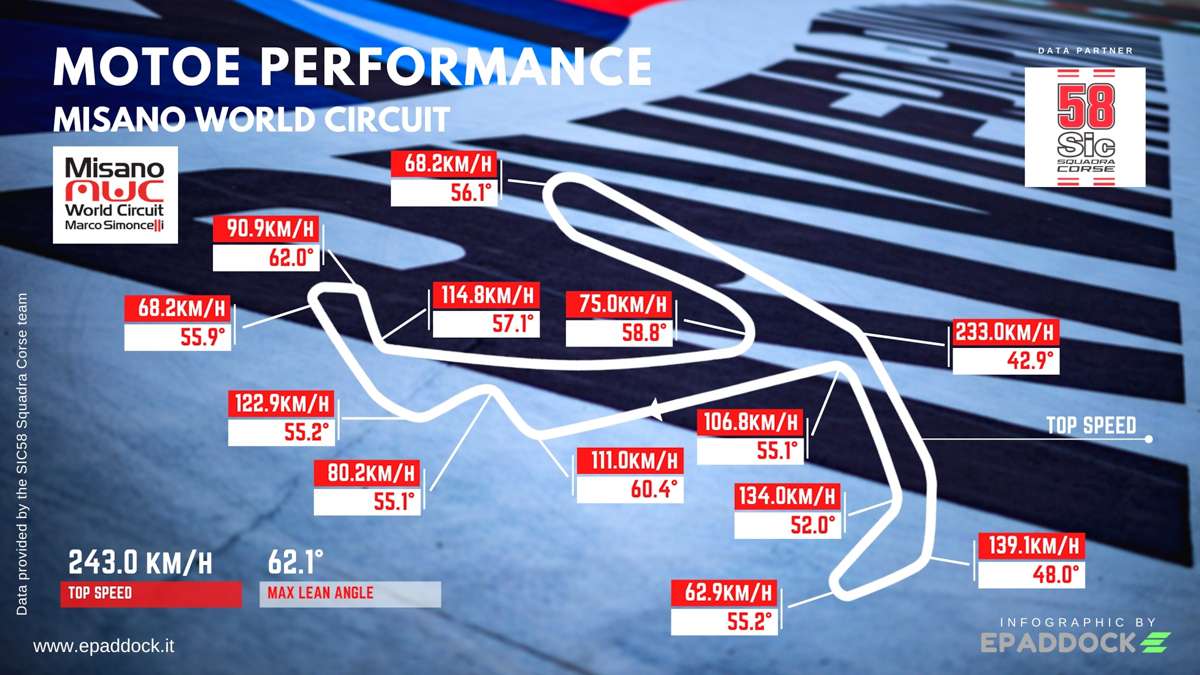 In the "Numbers and Data" section, many infographics are available which describe the performance of the MotoE on the Misano circuit.
To be updated on MotoE World Cup, subscribe to Epaddock's Whatsapp broadcast and receive all our news on your mobile phone in real time: find out how here.