Race 1 of the Emilia Romagna GP of the MotoE World Cup 2020 took place today at the Marco Simoncelli circuit. Race 10 starts on Sunday at 05:2. Here's what the riders said at the end of today.
Dominique AEGERTER - Dynavolt Intact GP
"It's never easy to win but I managed to have a really good race, especially in the last lap when I could overtake my opponents. They had a strong speed, but right from the beginning, I was fighting hard with Simeon so I tried to stay concentrated and not make any mistakes. I pushed really hard in order to take the victory. This last lap was crazy though. I tried to overtake Torres and Ferrari earlier but they pushed back so I needed to find the best spots to overtake and make the pass in the right moment. It turned out to be a perfect last lap. Torres as well as Ferrari were great battle partners as it was always a fair fight. Physically it was more demanding to race in the afternoon as it was very hot but the bike was working pretty well. I think the lap times could be even faster in the cooler morning race. We have both settings ready so we are perfectly prepared in order to do it again. We will try to increase the gap in the championship but my main focus is the race. A huge shout out to my team that has worked hard and tirelessly. They kept me calm as I wasn't super fast yesterday but during E-Pole we made a good step forward. For tomorrow's race, we will have the best starting position with P1 . I hope to show the same strong performance again and stay focused to simply have another great race. For sure it will be a strong and entertaining battle".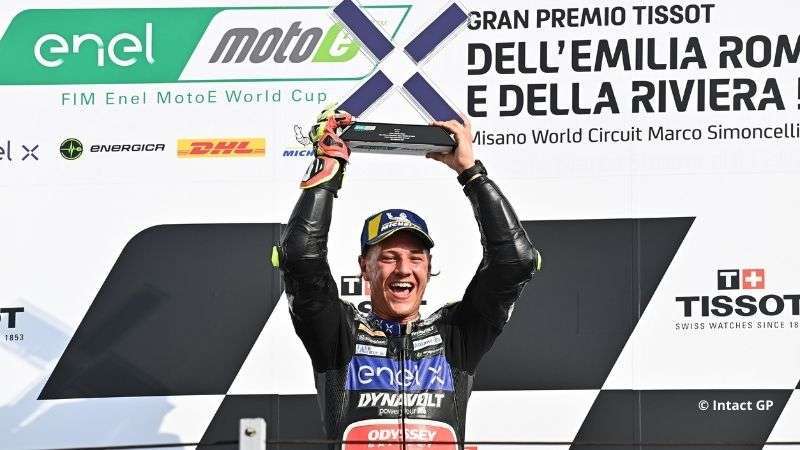 Jordi TORRES - Join Contract Pons 40
"Today the E-Pole went very well, and I thought it could have given something more, but that lap helped us to get the first position. Later, already in the afternoon race, just starting Ferrari overtook me and I felt very comfortable behind him, having that extra to attack on the last lap, but Aegerter arrived, with a lot of confidence in his attack and with determination that perhaps I was lacking today and took the victory. We got a good second position and tomorrow we will have to do everything that we needed to do today to achieve victory. We will start from second position and try to be a bit more aggressive to fight for victory and the championship."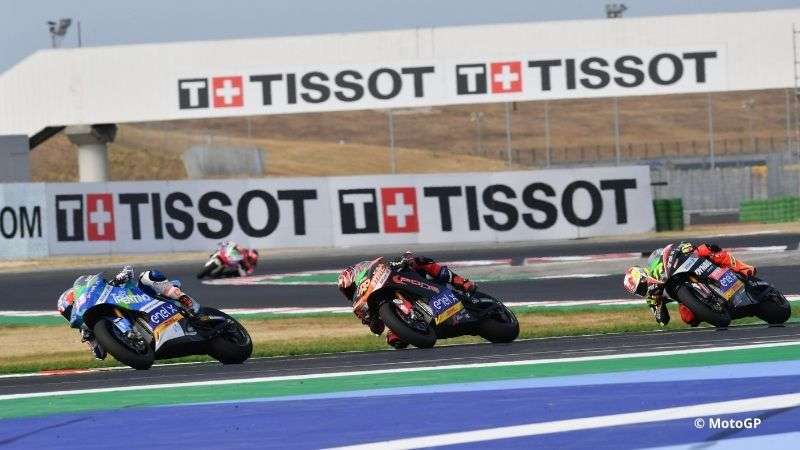 Matteo FERRARI - TRENTINO Gresini MotoE
"I did the whole race at the front with a great pace ... Unfortunately I lost a position in the last lap and ended up on the green ... Let's say that it is a disappointing third place in terms of the championship, but tomorrow we will start again from the front row and there are still two races between now and the end of the championship. We will have to take advantage of all the opportunities we have."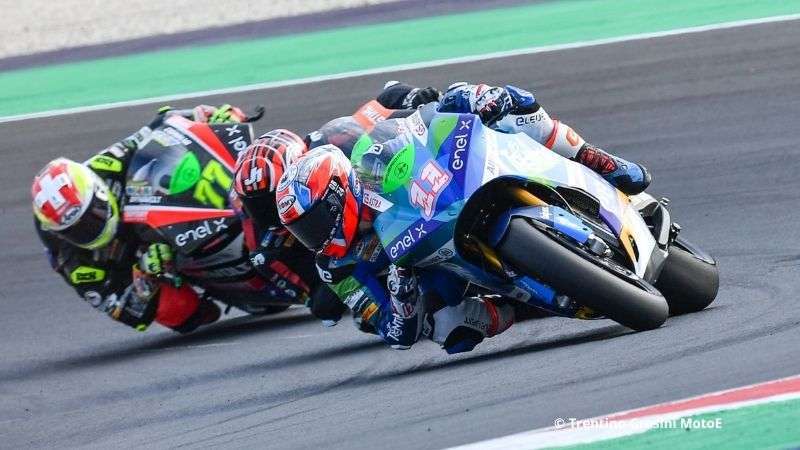 Mattia CASADEI - Ongetta SIC58 Squadra Corse
"The race went well! Unfortunately I was unable to stay with the top three, bue we are close to them and tomorrow we will do our best to find what we missed today."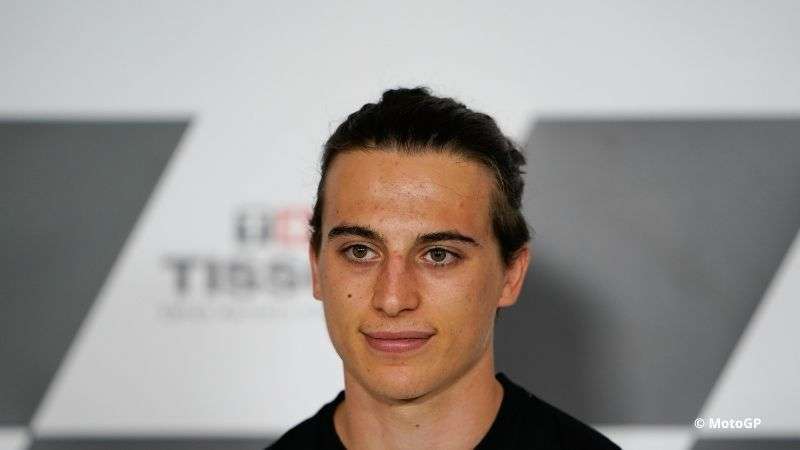 Tommaso MARCON - Tech3 E-racing
"This was quite a crazy race. It was very easy to crash and at the start, I had a problem with another rider and after two corners my teammate crashed. Later on, I found my pace, two more riders went down in front of me and I managed to see the flag in fifth position. Today's target was to finish the race, because it very hard. Tomorrow we will start from the second row."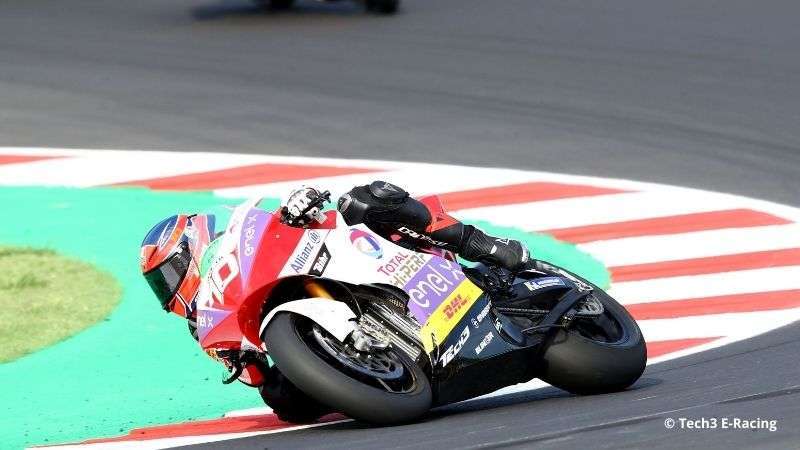 Niccolò CANEPA - LCR E-Team
"I am really happy about the final result because I started in P13 and I didn't expect I could pass so many riders. Of course we were lucky because of all the crashes but I had to fight hard to get to come back to XNUMXthplace and I am really happy, especially for tomorrow's race because we'll start from the second row. I know that I am still missing something from the pace, and we need to improve a little bit our lap time but for sure it will be helpful to start with the fast guys in front of me so I can try to stay with them and fight with them".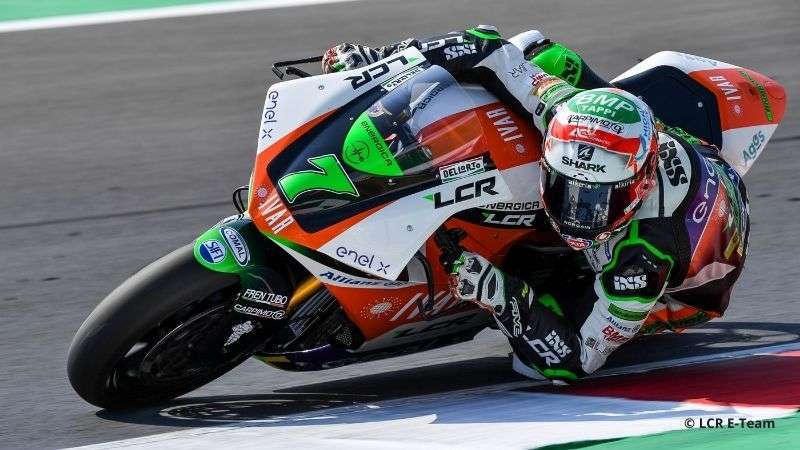 Alejandro MEDINA - Openbank Aspar Team
"I started well and in the first two corners I recovered some positions, but I saw that the track was not in the same condition as in the morning and many riders crashed. I had problems with the rear grip and it was difficult for me to keep up with a rider in front, because my rivals turn the bike more and it is more complicated for me. We have to be positive, tomorrow we start from seventh and we will try to take advantage of it".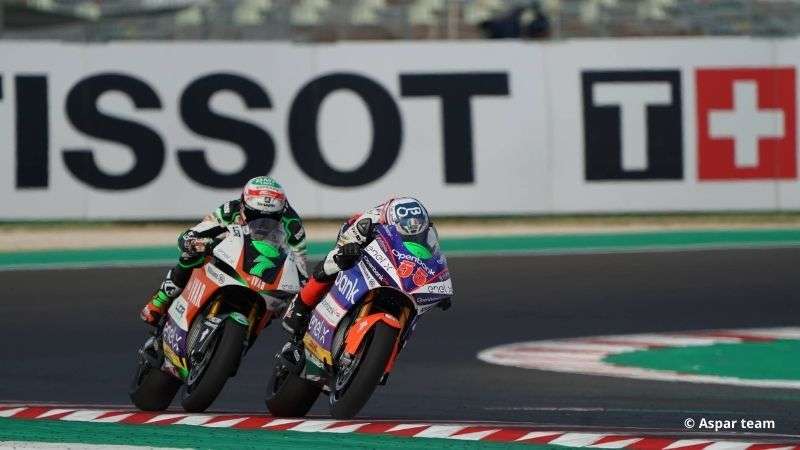 Joshua HOOK - OCTO Pramac MotoE
"We made a big step forward with the bike and the lap time has improved significantly. We have worked hard and I am very happy with today's race. We hope to make a good start tomorrow to do even better."
Alessandro ZACCONE - TRENTINO Gresini MotoE
"The only positive note of the day is that tomorrow we will be in the fourth row. Today we were behind but we started well, unfortunately at the second corner Tulovic had an highside and I practically had to stop to avoid both him and his bike. I found myself last with a gap, I recovered also thanks to the crashes and tomorrow we will try to do a very different race".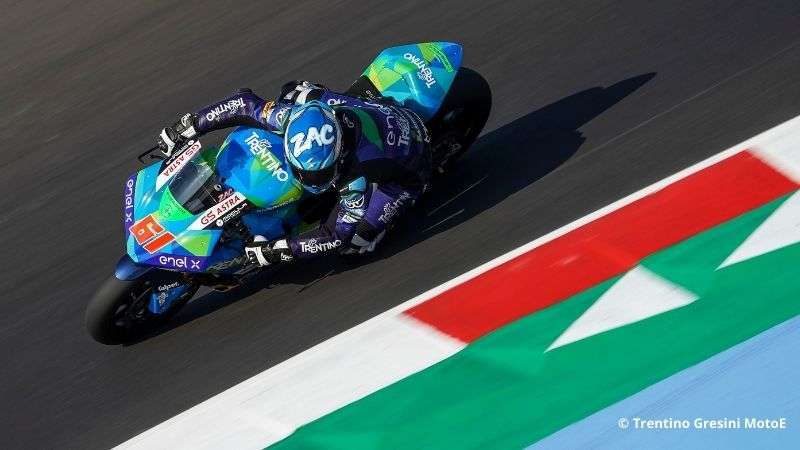 Maria HERRERA - Openbank Aspar Team
"I started quite well, but Tulovic crashed in front of me and I couldn't stay in touch with the group. I had to recover, but I had the same pace as them and I was unable to contact them. I think that tomorrow we can take a step forward because the eleventh position is better for us. We still have to improve the set-up a bit so that the bike allows us to turn better and thus we can ride faster".
Niki TUULI - Ajo MotoE
"It's a shame, as today we had a good chance of getting a great result. I made a mistake on the grid because it seemed to me that another rider was already moving, so I moved forward early. That has never happened to me before. The first part of the contest was difficult, as there were quite a few incidents. I tried to regain concentration after everything that had happened, but the two long lap penalties left me with no chance of fighting with those at the front. I dedicated the rest of the race to gathering as much information as possible for tomorrow's round, in which I hope to have a great performance".
Xavier SIMEON - LCR E-Team
"The race was going very well, I did a very good start, I was third and I was feeling very good on the bike but Granado tried to pass in one corner a very difficult with this bike because it is quite heavy. He closed the front and took me with him. My race was finished at that moment which is a big pitty because of the new rule of the starting grid for Race 2. Tomorrow we will have to start from the back of the grid tomorrow, so it will be tough to fight for the podium. For sure I will try to give my maximum, try to make a good start, a very good first lap as I am normally able to do. My target is to comeback in the Top 5 tomorrow even though I know it will be very very difficult".
Alex DE ANGELIS - OCTO Pramac MotoE
"A mistake at turn fourteen unfortunately ended my race, I was almost able to recover the leading group and I felt really good. A real shame to see such an opportunity slip away. "
Mike DI MEGLIO - EG 0,0 Marc VDS
"Today's race was not what we expected at all. I was trying to make a strong first lap, but it was difficult with some aggressive fighting. I went into the final corner a little bit wide and when I braked I lost the front. It was my mistake and I am very sorry to the team. We will try and return stronger tomorrow and put up the same fight that I did here last weekend".
Lukas TULOVIC - Tech3 E-racing
"Honestly after the race I don't care so much about the result, I'm just super happy, that nothing more happened. After another amazing start, I entered turn one in the inside and in turn two I was on the inside. One or two riders passed me there and I didn't want to lose any more positions, so I was a bit next to the line and I opened the throttle a lot, but not totally crazy. I didn't expect that this would make me crash, but suddenly the rear locked and I had no possibility to stay on the bike. Anyway, I was really, really lucky. I had a highside in turn two, looked behind and saw the other riders coming and I was just hoping and praying, they can avoid me. I'm really thankful that I'm more or less ok. I'm of course sorry to the team for the result and the damaged bike. I will have to wait tomorrow morning to see how the pain will be on my hand, my ankle and the hips".
These are the results of Saturday's race (link to results).
Race 2 is scheduled for Sunday at 10:05 (local time). Here you can find the time-schedule of the GP of Emilia Romagna in Misano scheduled for this weekend.
To be updated on MotoE World Cup, subscribe to Epaddock's Whatsapp broadcast and receive all our news on your mobile phone in real time: find out how here.