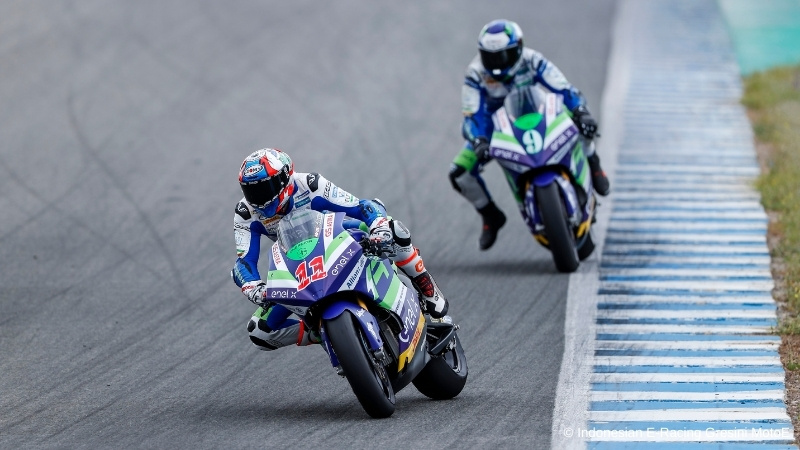 During the just-ended season of the MotoE World Cup, we received from the Indonesian E-Racing Gresini MotoE team many data recorded by the telemetry sensors installed on the motorcycles of Matteo Ferrari and Andrea Mantovani. These data are not normally disclosed by the teams and for this we thank the Italian team for having collaborated with Epaddock.
With the Gresini team, the analysis focused mainly on the braking of the MotoE. Among the various infographics we have created, there are some that compare the performance of the Brembo braking system of MotoE with the one of the MotoGP.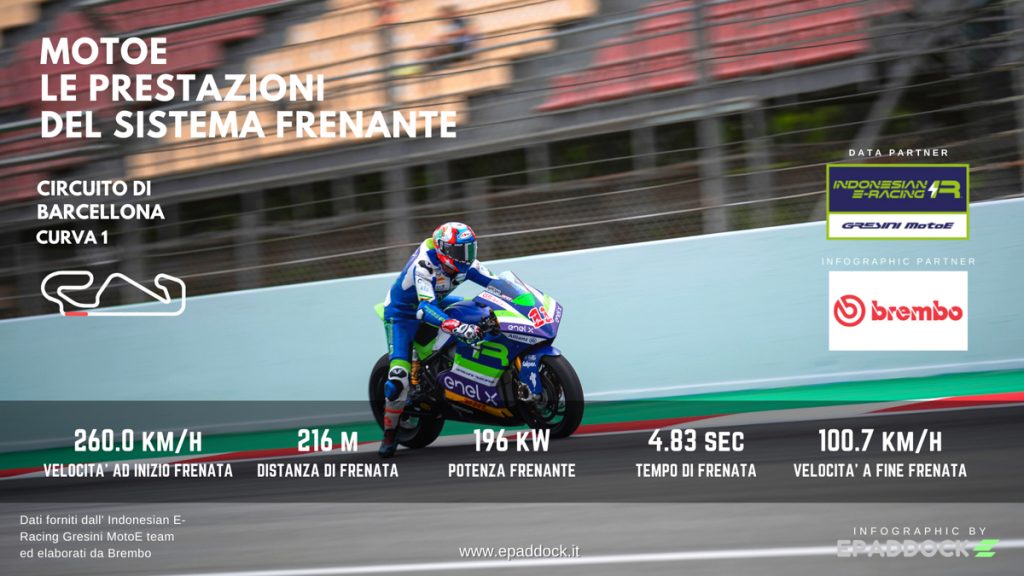 Turn 1 of the Barcelona circuit is where it was recorded the greatest energy absorbed by the braking system of MotoE. To bring the speed of the bike from 260km/h to 100,7km/h in 216 meters, the calipers of the front discs applied a maximum torque of 892Nm absorbing an energy equal to 408kW. The maximum recorded deceleration was 1,37 times the gravity force.
Another very critical braking point is turn 4 of the Austrian Red Bull Ring circuit. In that case the bike slows down from 234,1km/h to 83,1km/h with the additional difficulty of downhill.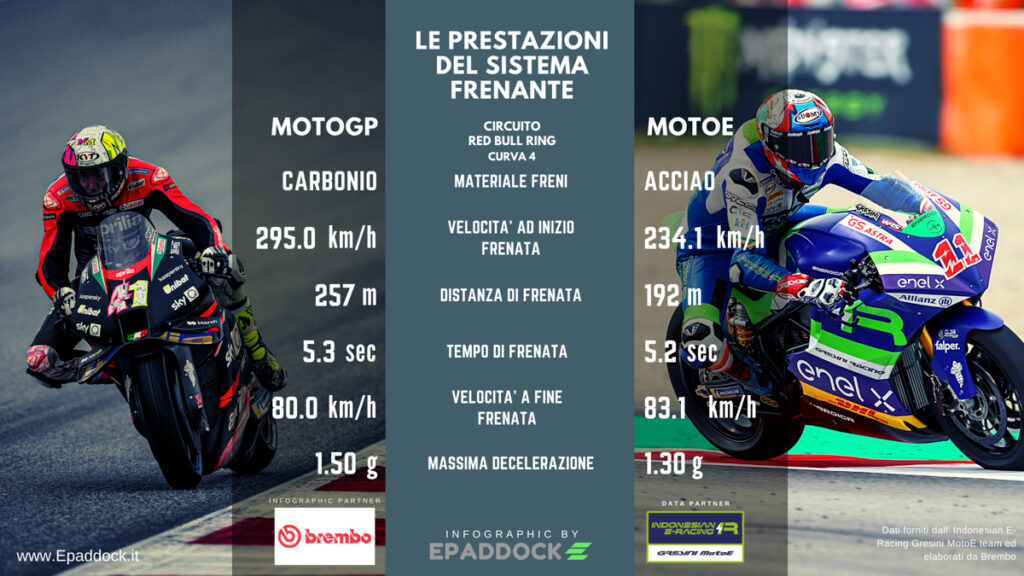 The braking system of the MotoE
The braking system of the MotoE it is derived from MotoGP and Superbike and has been adapted for use on the Ego Corsa. The discs are of the "T-Drive" type in steel while the calipers are the GP4-PR; let's see the details. The front discs are the steel "T-Drive", have a diameter of 336 mm and a thickness of 7,1 mm with a configuration specifically designed for MotoE.
The front caliper is machined from solid aluminum monobloc, model GP4-PR. It is the caliper already used in the MotoGP championship with steel discs up to the 2017 season, when discs of this type were used in the case of wet races. It has 4 titanium pistons with differentiated diameters of 32-36 mm and is operated by a radial pump with a diameter of 19 mm and a displacement of 18 mm.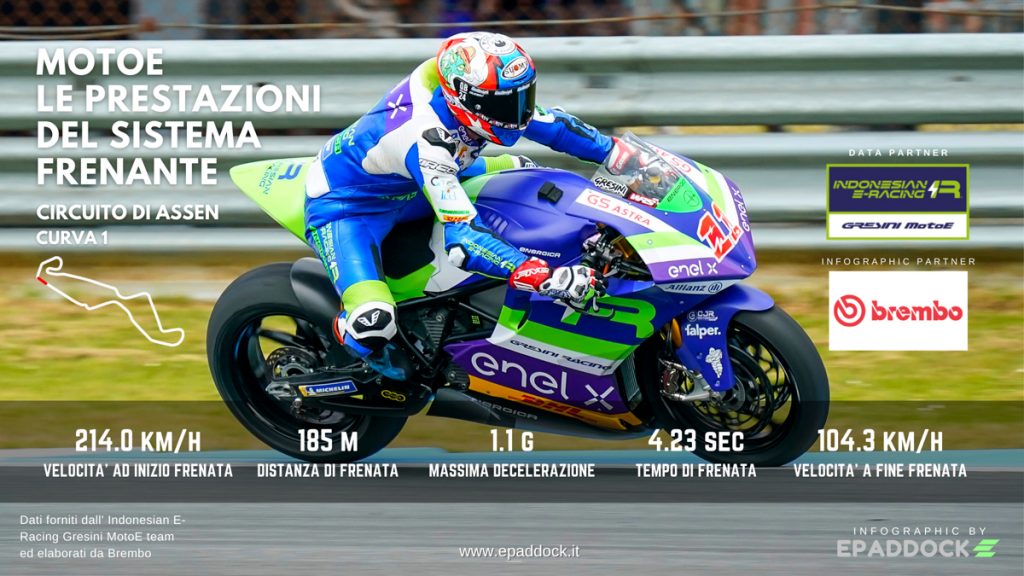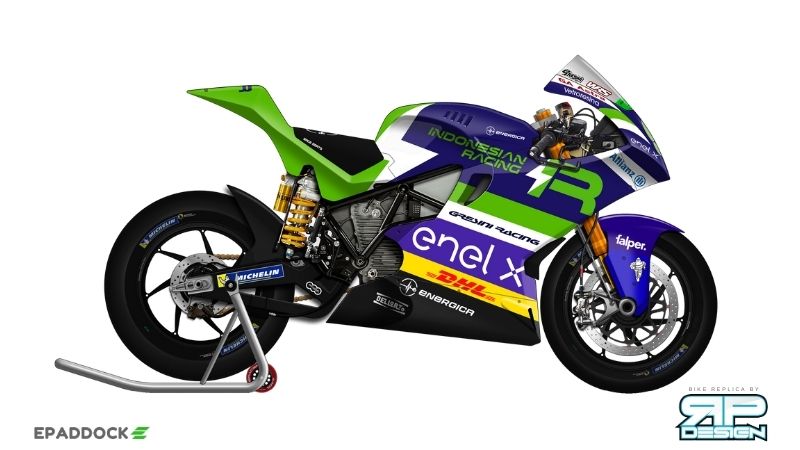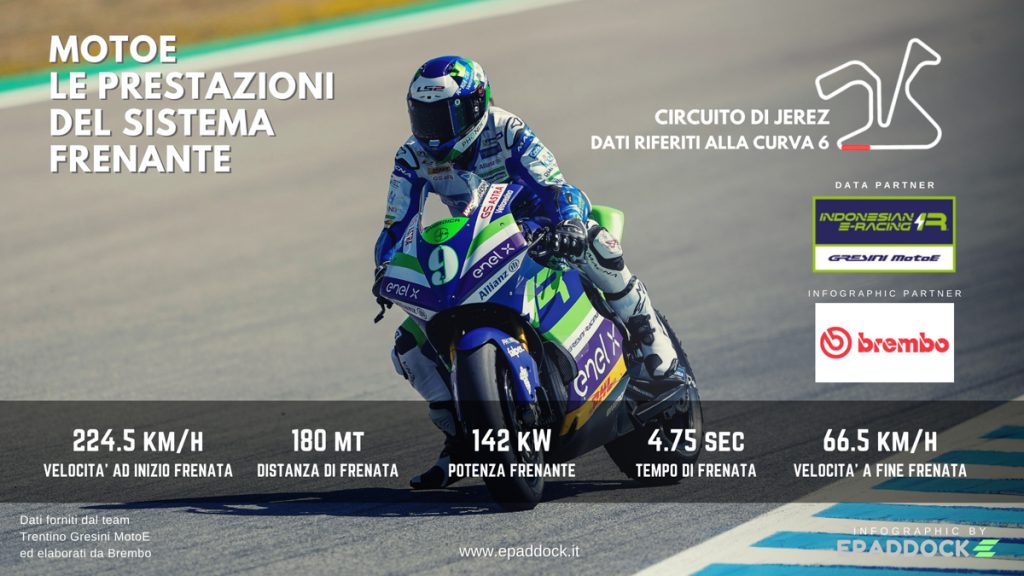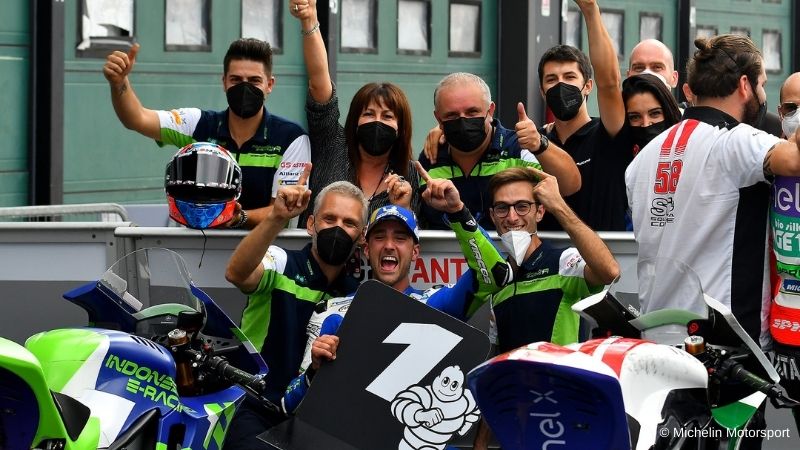 To be updated on MotoE World Cup, subscribe to Epaddock's Whatsapp broadcast and receive all our news on your mobile phone in real time: find out how here.