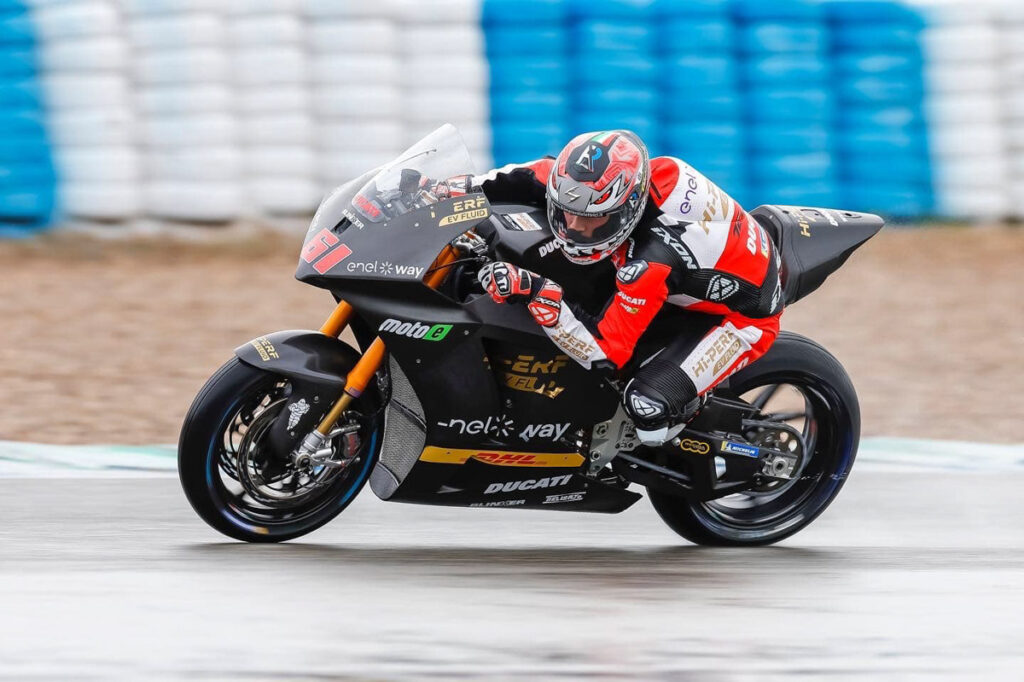 The Tech3 E-Racing team went to Jerez in Spain for the first official test of the MotoE 2023, with the two new riders, the Japanese Hikari Okubo and the Italian Alessandro Zaccone.
A new adventure has begun for the Tech3 E-Racing team with the Ducati V21L, the new official bike of the FIM Enel MotoE World Championship 2023. In the first test, which took place at the Jerez de la Frontera circuit, the two new riders of the French team, Okubo and Zaccone, obtained the sixth and thirteenth fastest laptimes.
Monday was the first day of school for the team with the new electric Ducati. Both Alessandro Zaccone and Hikari Okubo began their testing program in the morning, using as much track time as possible before heavy rain in the afternoon prevented them from continuing. At the end of the first (wet) day, Zaccone finished in tenth place in the combined standings (1'57.747) and his new teammate in thirteenth with a best lap of 1'58.415.
Tuesday started with some rain and overcast skies, but in the morning the weather started to improve and slick tyres were put on. The times immediately dropped in the afternoon. Even the sensations became more natural with the new bike, especially for Okubo, who managed to set the fastest lap in 1'47.526 during the final session. At the end of the second day the Japanese was sixth in the standings. The fourth and final session of the day, completely dry, meant that all the riders pushed for a fast lap, and Zaccone was no exception and recorded a lap in 1'48.219, which allowed him to get the thirteenth position.
The third and final day of Wednesday started again with rain, which meant not many riders took to the track in the first session. The track conditions improved during the day but without drying out like the previous day. The Italian Zaccone finished the day in seventh position with a lap in 1'48.395, while Okubo was not far away, ninth, with a best time of 1'48.468.
This is the combined standings of the MotoE in the three days of testing in Jerez:
| POS. | N. | Nat. | Rider | Team | Time |
| --- | --- | --- | --- | --- | --- |
| 1 | 51 | | Eric GRANADO | LCR E-Team | 1,47.053 |
| 2 | 11 | | Matteo FERRARI | FELO Gresini MotoE | 1,47.310 |
| 3 | 29 | | Nicholas SPINELLI | Pons Racing 40 | 1,47.478 |
| 4 | 40 | | Mattia CASADEI | Pons Racing 40 | 1,47.504 |
| 5 | 3 | | Randy KRUMMENACHER | Dynavolt Intact GP MotoE | 1,47.524 |
| 6 | 78 | | Hikari OKUBO | TECH3 E-Racing | 1,47.526 |
| 7 | 81 | | Jordi TORRES | Openbank Aspar Team | 1,47.548 |
| 8 | 34 | | Kevin MANFREDI | Ongetta Sic58 Squadra Corse | 1,47.638 |
| 9 | 4 | | Hector GARZO | Dynavolt Intact GP MotoE | 1,47.695 |
| 10 | 77 | | Miquel PONS | LCR E-Team | 1,47.810 |
| 11 | 53 | | Tito RABAT | Prettl Pramac MotoE | 1,48.043 |
| 12 | 23 | | Luca SALVADORI | Prettl Pramac MotoE | 1,48.159 |
| 13 | 61 | | Alessandro ZACCONE | TECH3 E-Racing | 1,48.219 |
| 14 | 21 | | Kevin ZANNONI | Ongetta Sic58 Squadra Corse | 1,48.620 |
| 15 | 19 | | #AT | #AT | 1,48.795 |
| 16 | 8 | | Mika PEREZ | RNF MotoE Team | 1,49.737 |
| 17 | 72 | | Alessio FINELLO | FELO Gresini MotoE | 1,49.881 |
| 18 | 6 | | Maria HERRERA | Openbank Aspar Team | 1,49.934 |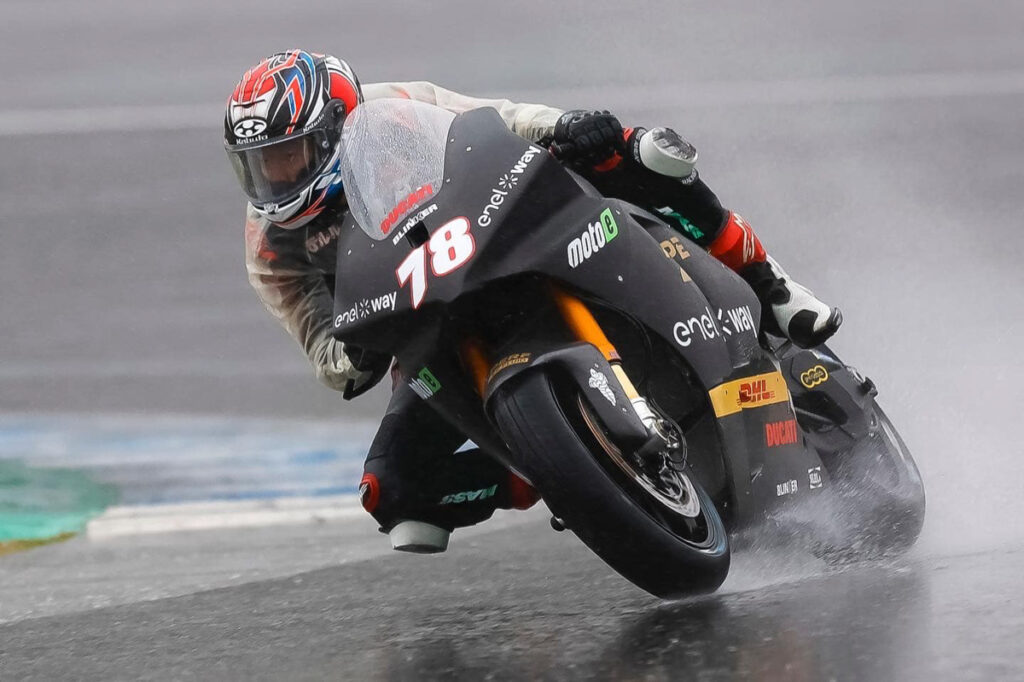 Alessandro Zaccone (Tech3 E-Racing)
"We finished our first three days of testing in Jerez with the new Ducati bike. The weather has not really been on our side, with a lot of rain, mixed track conditions, making it difficult to go through our entire testing program. From my side, I need to get used again to the electric bike, the tyres, the data, and many other small things that will come back again with a few more days on track. We did our best work today on the final day, but I think that we still have a lot of margin to improve, which we will exploit at the next test in Jerez. I feel good with the team, they are a good bunch of people working well, and I am sure that we can have a great season together. See you at the next test in Barcelona!"
Hikari Okubo (Tech3 E-Racing)
"I am very happy about my first three days with the Tech3 E-Racing team. They have welcomed me with open arms and I already feel like I have a family here. We did our first three days in Jerez with the new Ducati bike, and there are a lot of differences compared to the bike we had the previous year. We need to understand and learn about these differences before being able to be the fastest. The weather conditions were not ideal either: it rained a lot and it left us with very little dry track time, so we did the best we could. We have a good basis to work from for the next test in Barcelona early April."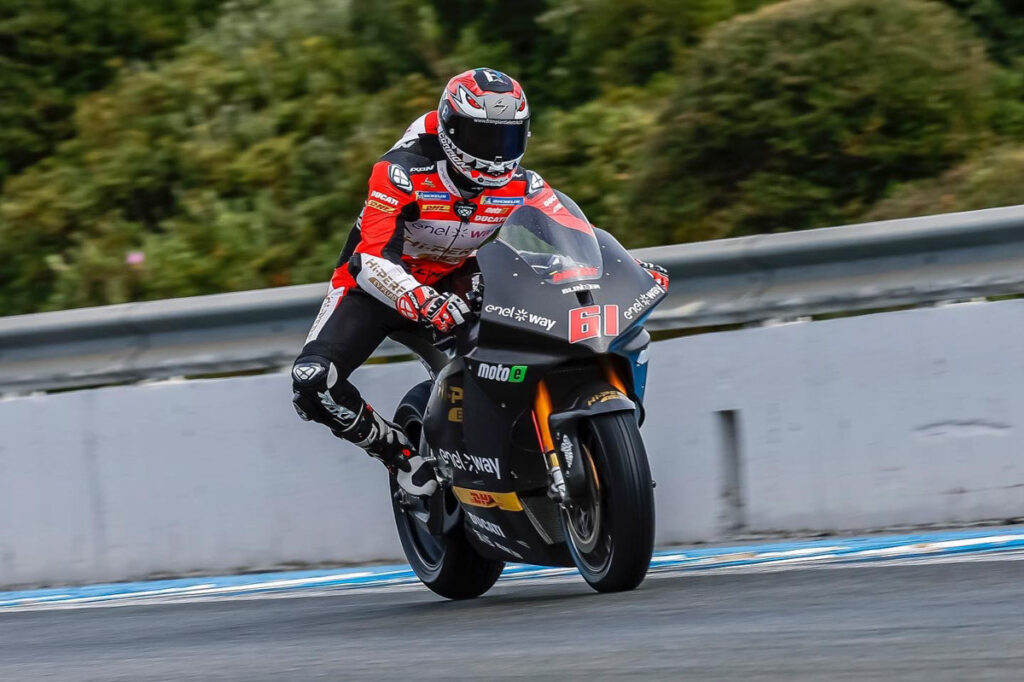 Hervé Poncharal (Tech3 E-Racing)
"2023 is set to be a very important year for the FIM Enel MotoE World Championship as a new supplier in the name of Ducati comes on board. Tech3 E-Racing was waiting impatiently for this first test in Jerez to try the new bike, and we are leaving the Circuito Angel Nieto very happy and optimistic about the upcoming season.
The weather did not do us any favour, but we still managed to understand the new bike, to get to know the Ducati supporting staff, and the wet conditions meant that we were able to gather a lot of information for Michelin. Our two new riders Hikari Okubo and Alessandro Zaccone were able to try the bike in a lot of different conditions, which in the end will be fruitful for us.
Both riders have been feeling really well within their new team, and it is definitively a mutual feeling from Tech3 E-Racing end.
The lap times were good and we can already tell that the new Ducati machines will be very fast. We still have to exploit more of its potential, and for this we need dry track time, which hopefully we will have next month in Barcelona.
We are happy with this Jerez Test and feel like we have completed our mission. We can't wait already for the next test in Montmelo early April. We believe that we will have a great 2023 MotoE championship this year."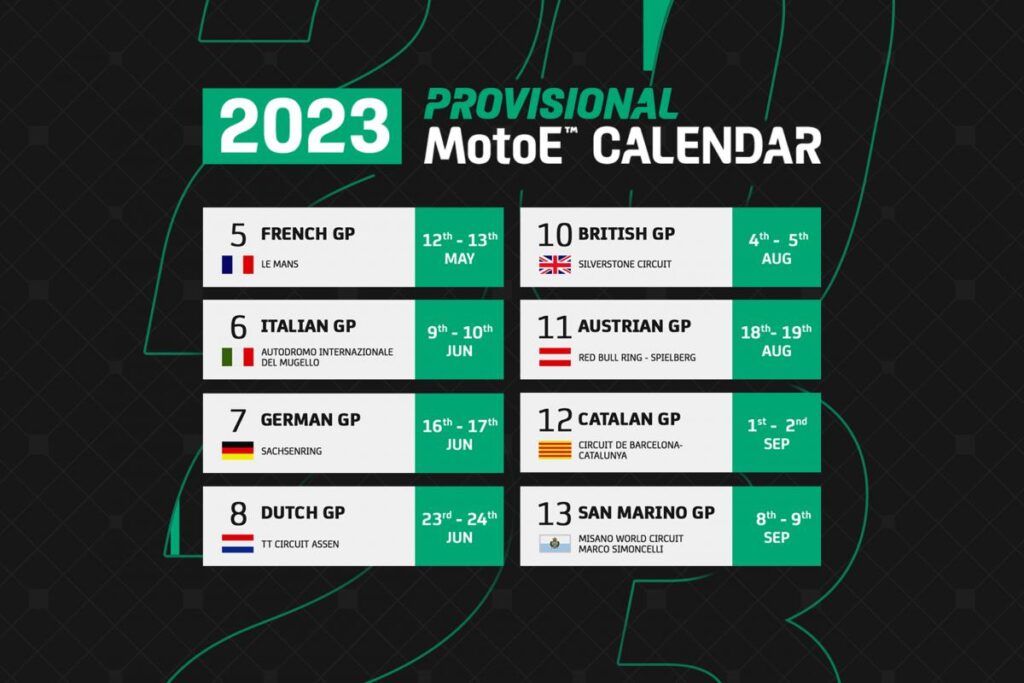 Photos: MotoE

To be updated on the MotoE World Championship, subscribe to Epaddock's Whatsapp broadcast and receive all our news for free on your mobile phone in real time: find out how here.