The home rider Matteo Ferrari dominates in Misano winning the second race of the MotoE on the Marco Simoncelli circuit of Misano too. Ferrari (Trentino Gresini MotoE ) won ahead of Hector Garzo (Tech 3 E-Racing) and Mattia Casadei (Ongetta SIC58 Squadra Corse).
At the race start Alex De Angelis (OCTO Pramac MotoE ) moves from the pole to the first position immediately followed by Ferrari. Bad luck for Xavier Simeon (Esponsorama Racing) that in the change of direction between curve 2 and 3 loses the rear and landed to the ground. The group following Ferrari is composed by Maria Herrera (Openbank Angel Nieto team), Hector Garzò, Niccolò Canepa (LCR E-Team) and Mattia Casadei.
Ferrari immediately attacks De Angelis, passes it and puches until he has a second advantage over his pursuers. De Angelis remains in second position for a long time but an error leads him to 6a position at the end of the group that is led by Garzò.
Niccolò Canepa and Maria Herrera engage in a duel of overtaking ato gain the third place. Alex De Angelis at the 13 corner and Sete Gibernau (Pons Racing) at the 14 fall just a few laps from the end. Both are forced to withdraw without any physical consequences. In the final Matteo Ferrari manages the advantage over Hector Garzò and cuts the finish line first by winning the second race in two days. The Spanish rider of the Tech3 team conquers another second place after Saturday while the fight for third place sees Canepa, Herrera and Casadei fighting curve the curves.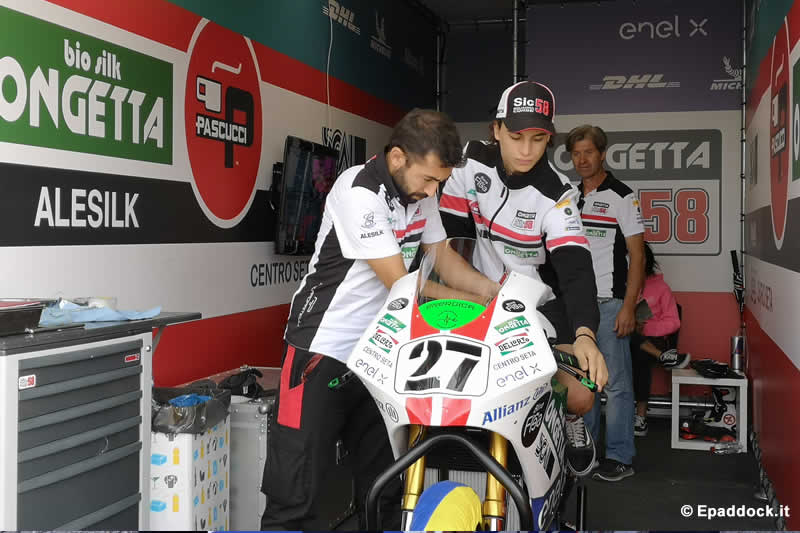 To get the better is Mattia Casadei with a beautiful overtaking at the Carro curve. For the rider of the SIC58 Squadra Corse is the first podium in the MotoE . Immediately behind him Canepa and Maria Herrera. Behind them at around 5 seconds from Ferrari comes Eric Granado (Esponsorama Racing), author of a great recovery from the last row on the grid and Jesko Raffin (Dynavolt Intact GP). Bradley Smith (One Energy Racing) and Mike Di Meglio (EG 0,0 Marc VDS) finish a couple of seconds from the Swiss rider.
For the other positions, please refer to the order of arrival below.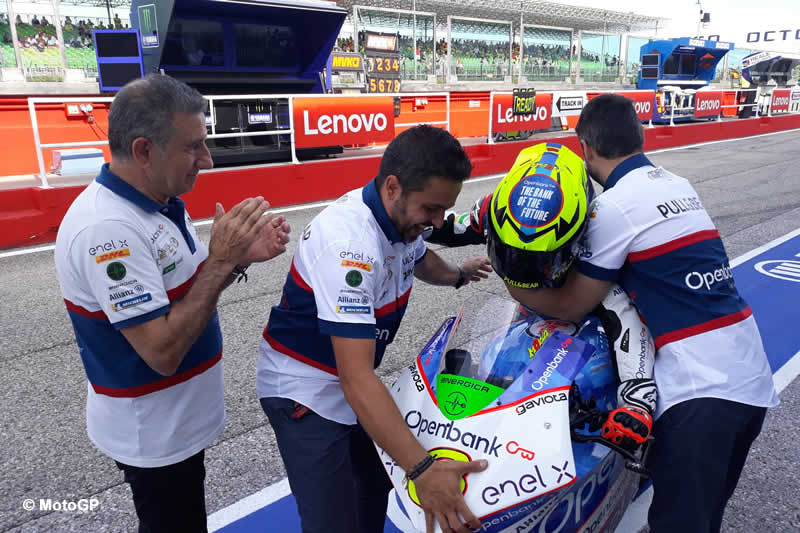 In the overall standings Ferrari now leads with 72 points ahead of Garzo 53, third Smith with 48 points, followed by Di Meglio at 47 and Simeon at 45 ..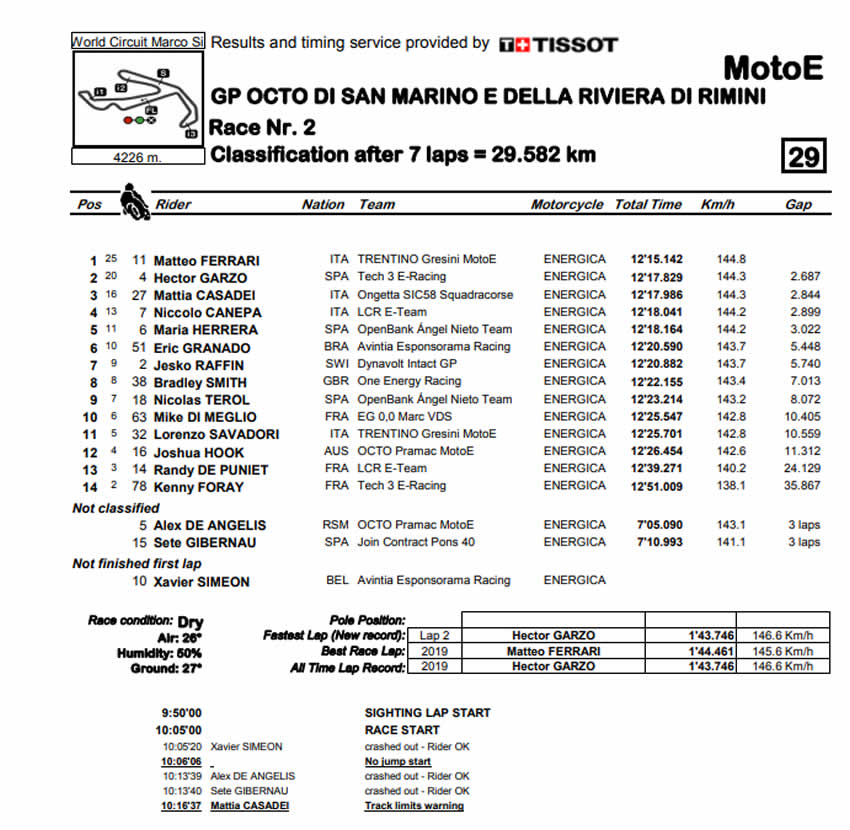 At this link you can download the results file of the first race of the San Marino GP. (link)