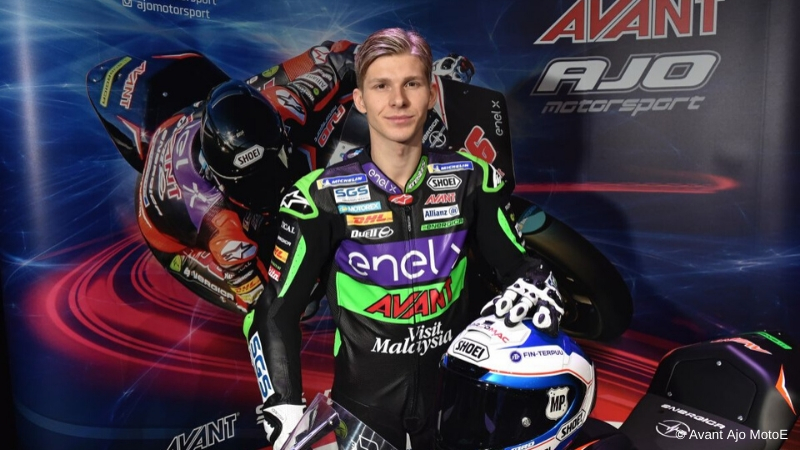 Avant Ajo MotoE and Niki Tuuli together again for the second consecutive year to aim to win the MotoE World Cup 2020. The XNUMX-year-old will continue to race for the Finnish team, which this year will take on a different name and new colors, thanks to its main partner: Avant Tecno Oy.
Niki Tuuli has adapted well to the electric class in its inaugural season, winning the first ever race for the electric motorcycle competition at the Sachsenring. Tuuli had an excellent start to the season, but a serious injury in the third round of the World Cup prevented him from participating in the final part of the Championship. With Tuuli completely recovered, the Avant Ajo MotoE team hopes to continue winning with the young Finn in the second edition of the series.
Aki Ajo - Team Manager
"We are very happy to start the second season of the FIM MotoE World Cup, especially because we will have Niki Tuuli and all our sponsors with us again. The beginning of last year was very good for us, but at the end of the World Cup the situation changed due to Niki's injury at Misano. We feel that 2019 was very positive, and we begin 2020 with the aim of fighting for the top positions in the championship.We are delighted to continue working with all our partners and we want to thank all of them. We are thrilled to be starting the upcoming season, a new stage for the Avant Ajo MotoE team."
Niki Tuuli
"First of all, I want to thank the team and especially Aki Ajo for giving me another opportunity to show my potential. I'm very happy. The target now is to repeat the great start to the season that we had last year. I feel good, but we know that there is still work to do in order to be 100% recovered from the injury I suffered in 2019. We will work hard in 2020 to have a mistake-free year, in which we can continue picking up results that allow us to fight for the top positions in every race."