Braking system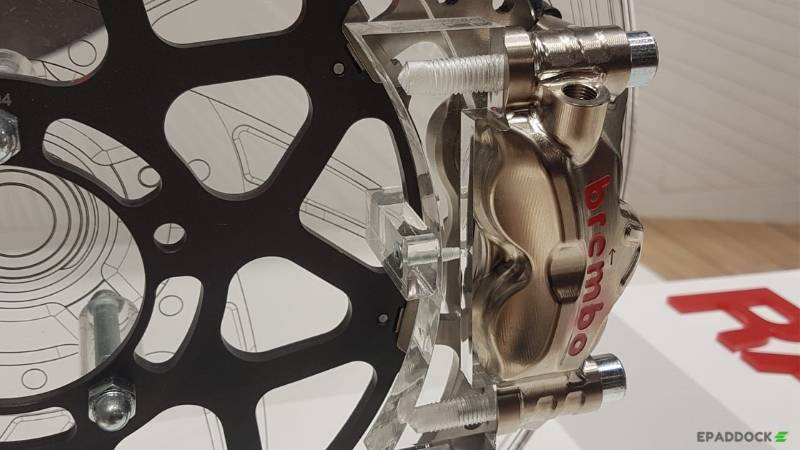 The braking system for the MotoE by Brembo
The braking system of the MotoE is derived from MotoGP and Superbike and has been adapted for use on the Ego Corsa. The disks are of the "T-Drive" type steel made, while the calipers are the GP4-PR; let's see the details.
The front discs are the steel "T-Drive", have a diameter of 336mm and a thickness of 7,1mm with a configuration specifically designed for MotoE. Each disc is made up of eight "T" pins obtained on the disc and eight shapes on the bell, which allow the elimination of the drag pawls. According to Brembo, this particular shape allows the braking torque to be transmitted more effectively, through a specific study of the machining tolerances.
The "T-Drive" offers high resistance to thermo-mechanical stress, especially in the most extreme conditions of use, such as braking a motorcycle of 260kg. The "T-Drive" system allows both radial and axial floating and allows reducing the overall weight of the disc, bringing a consistent advantage in rideability. The rear disc is also steel-made and it is of 218mm diameter.
The front caliper is machined from solid aluminum monobloc model GP4-PR. It is the caliper already used in the MotoGP championship with steel discs up to the 2017 season, when discs of this type were used in the case of wet races, and is equipped with quick couplings for bleeding and feeding. It has 4 titanium pistons with differentiated diameters of 32-36 mm and is driven by a radial pump with a diameter of 19 mm and a distance of 18 mm.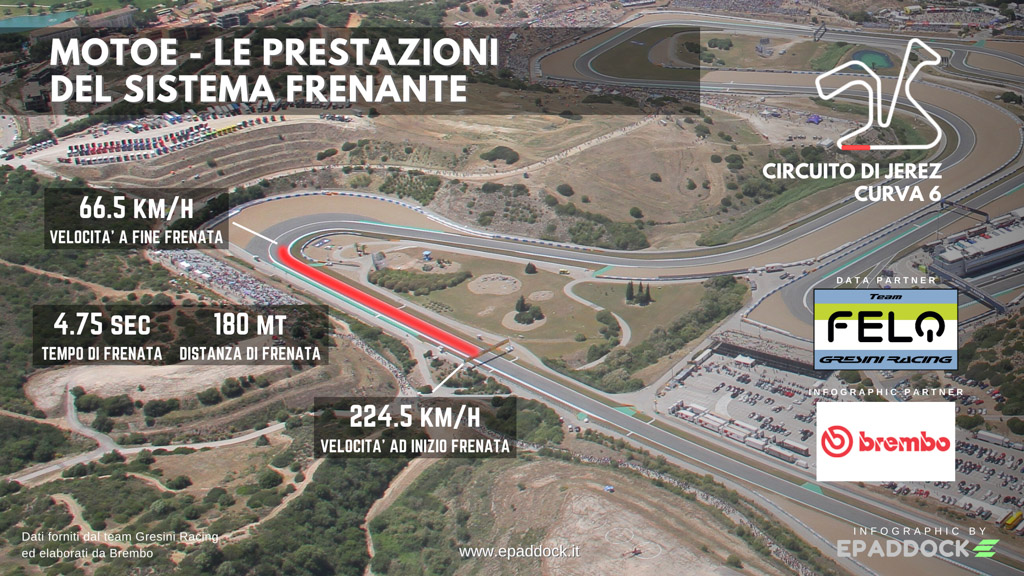 The brake lever was not originally expected because the MotoE is not equipped with a clutch, however, after the first tests a brake lever appeared on the left handlebar. This solution has been requested by many riders to operate the rear brake with the left hand as an alternative or in cooperation with the control by the right foot.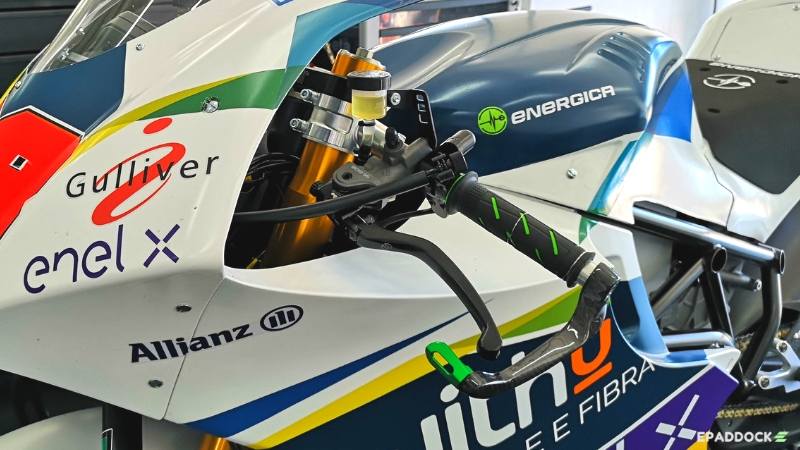 The pads used are the Z04, already used in the Superbike championship races, in the SuperSport championship and in Moto2. They are characterized by high friction and constant performance even with high disc temperatures; their design guarantees uniform braking for the entire duration of the race, making the fading effect less likely.
Here you can find the interview in which Roberto Pellegrini, Brembo's Sales Manager for the motorcycle racing market, explains how the braking system of the MotoE.
(www.brembo.it)
To be updated on MotoE World Cup, subscribe to Epaddock's Whatsapp broadcast and receive all our news on your mobile phone in real time: find out how here.