During the Misano weekend, races 31 and 32 of the MotoE cup will take place. Livia Cevolini, the CEO of Energica Motor Company, shared her thoughts, views, passion and wishes before the decisive weekend of the season. It would also be the end of the first and important chapter of the championship as it would be, at least for now, the last round for the Ego Corsa, the collaboration between Energica, the sole manufacturer of the cup and Dorna.
This interview was given by Livia Cevolini to Tammy Gorali, journalist of Sport5 broadcaster, who authorized the publication in full on Epaddock.
"It is a combination of very different emotions: on one side it is the end of something that has been very important for our company, a journey full of challenges, joy and complex situations, which we faced with determination and awareness of our potential, while overcoming any difficulties and obstacles. We're very proud with what we have achieved up until now", says Livia Cevolini when she is asked how she feels in view of the conclusion of this very important chapter that lasted four seasons.
"From that point of view, it is sad because it was a very important and very strategic chapter of our life, of our story. However, from the other side, it was really the time to carry on to something else; it was time for us to move forward and do something else.
This world, the racing world, is a big part of my heart. My heart belongs to this world, so I hope to be back sooner or later, but in a different way, and what is now was already done. We are the ones that are always creating something new, we did that, and now we have to do something different. We are happy to be moving forward because we are small, we can't do everything, we have to choose, and now we are able to choose a different path that we could not have otherwise, and we are happy to move forward."
Livia Cevolini talks freely. She knows what she is talking about and resonates with confidence in her voice and knowledge but does not sound condescending or disconnected. She is leading a movement with what she does as the CEO of Energica by combining her passions, and it is a joy to talk with her and listen to her views as she can be critical but not dismissive; she is seeing all that needs to be improved but does not miss what is being done or efforts of others involved.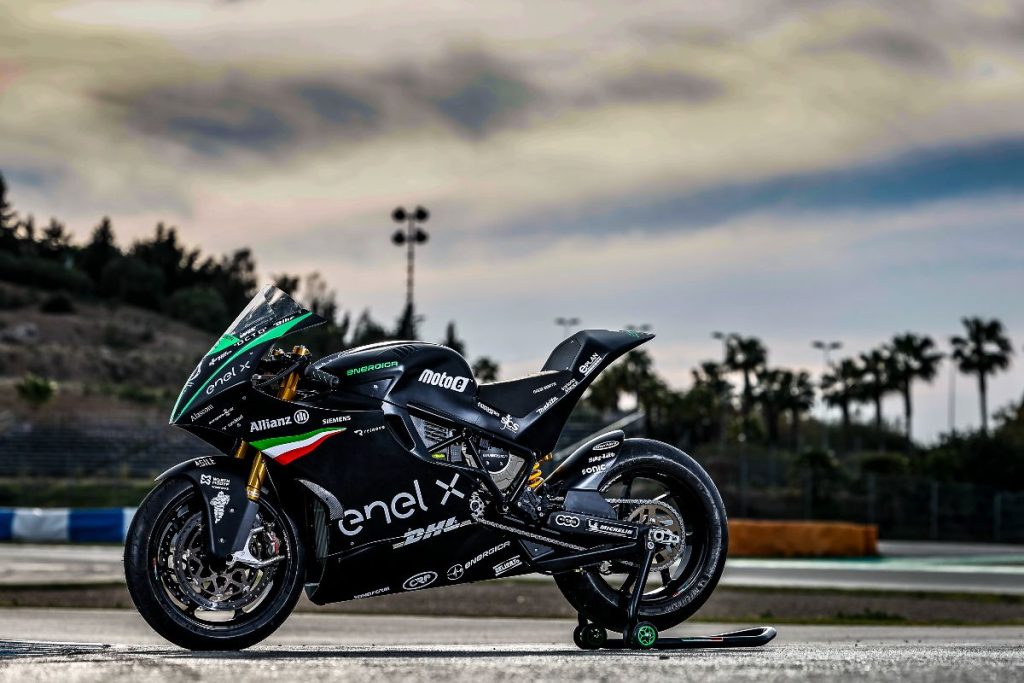 Season four is coming to an end now, but how many years in total have you been working on this project?
"Not so many, because when we started, when we were contacted by the championship in 2017, we were not sure of starting, so we didn't work on the bike until at the beginning of 2018, maybe even in the mid of that year. It was a sport bike but developed from our road bikes, so we obviously did a lot of development and research, but it was always linked to our road bike manufacturing products. So not so long, but we did not start from scratch but from a very good product that was already on the road for many years. We can say it was easier than starting from nothing."
When you look back at it, what was the biggest difficulty in the process you had to tackle during the project?
"There was really a lot of work to do because the requests from Dorna were really high. You cannot be sure if you are fully equipped to achieve your goals if you don't accept the challenge and that's why we chose to do it. Time was short, but thanks to the work of everyone involved we were able to provide Dorna with a competitive package, thanks in big part to the work done with the road bikes in the past and our previous racing experiences. One year to be ready for this project with no previous references was really a demanding task, but it taught us a lot and made us aware of what we're capable of. It was very good when we finally started to work with the official riders of the championship, and they started to say that it was a good enough bike; that was a perfect moment for us because we could say, OK, we worked one year alone, but we did well. Of course, it was difficult when in the beginning, we had the problem with the fire that had nothing to do with us but was impacting us heavily. We couldn't do anything to avoid it because it was caused by someone else's actions, but it affected us a lot. It was tough, but we demonstrated our abilities, that we were able to manage it, to recover from that and to recover the championship. When we reached the result, it was very satisfying to see that we were able to be back. At Sachsenring, when the championship was launched, we were as fast as we were three months earlier, before the fire. We were very happy, and it felt like every time there was something extremely difficult, there was always something extremely positive following, so I can't say that there is something that was absolutely difficult because there was always also the positive aspects."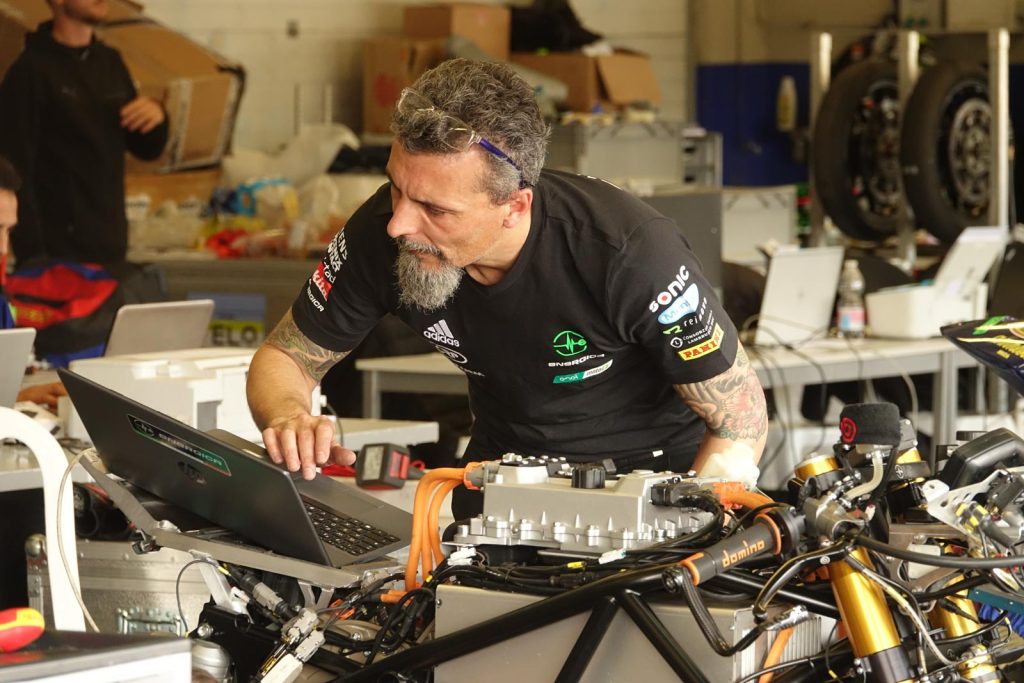 Were you surprised when Dorna reached out to you in the first place?
"We were a very small company trying to do our job. We were sure that they were in contact with other manufacturers, with big names, but somehow it was not so because it was just the beginning, and there were not so many other people around able to do what they were asking for. We were surprised, but on the other hand, knowing the market, we knew that there were not so many other options, some options, but not so many. So we said; well, of course, they need us because there are no others to choose from. Dorna had to choose, but we were not against so many big players."
From the outside it seems that one of the biggest difficulties was convincing people that this championship was a good idea
"You can never convince only with words; you can only do that with the facts. Once we started to race and the official, professional riders started to do interviews, their honest impressions, their own opinions, not ours, saying that this is a proper, real sport bike, a proper race bike and also the team manager was saying that they were very satisfied with what we did things started to change. Once the real racers, the biggest and the most important in the world, started to say good things about us, other people started to understand that this is real. It's impossible to convince anyone by ourselves; that's why it was such a strategic move for us because it was not only us talking about ourselves, it was someone else that is really credible, really professional, and recognized worldwide saying, OK, there are proper race manufacturers, and this is real racing and not just a joke. It's not a game; they are for real. And the races were really interesting with real battles on the race track, so it became a fact."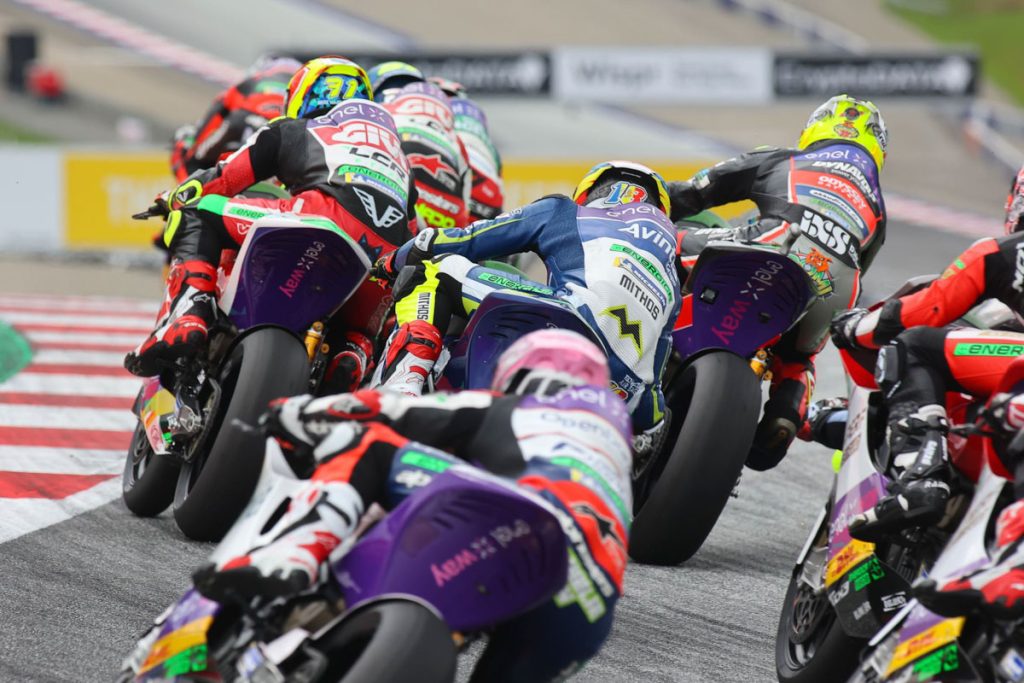 The first race was stopped for no not real reason, a red flag because a marshal got spooked. After that, we saw a big change in attitude. Were you surprised how riders, teams, and everybody got used to that?
"From our side, we were living in a world that was zero emission a long time before the race track, and so we could see that the world outside of it was moving at a much faster pace, so it was the opposite for us. It was so strange for us that the championship was so late to understand that the electric world was a reality. I think they were just recovering from the delay that they had in the real world; they were living in their little world. The race track community was thinking that was all there was, and then they started to understand that it was not, that there was a much bigger world outside and it was changing much faster than them, and it was time to catch up and to move at the same pace of the real world. I think that they just saw the truth, the facts, that the races were real races, that there were real overtaking, that there were challenges, that the riders were behaving on track as in other categories and other professional races, and it was the real thing, not a game."
Which rider impressed you more?
Which rider were you impressed by? "I can't… you know they are all... For many reasons, each one of them has something special; all of them put themselves into something completely unknown and trusted us and something that was completely new to them. They put their lives in our hands. I have been living in racing since I was a child, even before that when I was in my mom's belly, so the riders or drivers, two or four wheels are very important to me, it does not matter because they are putting their lives in our hands. They trusted us enough to race with our motorcycle, so each of them has something special because we were new and not only the motorcycle, we as a company, we as people, were all new. I can't just choose one - all of them, they are fantastic!"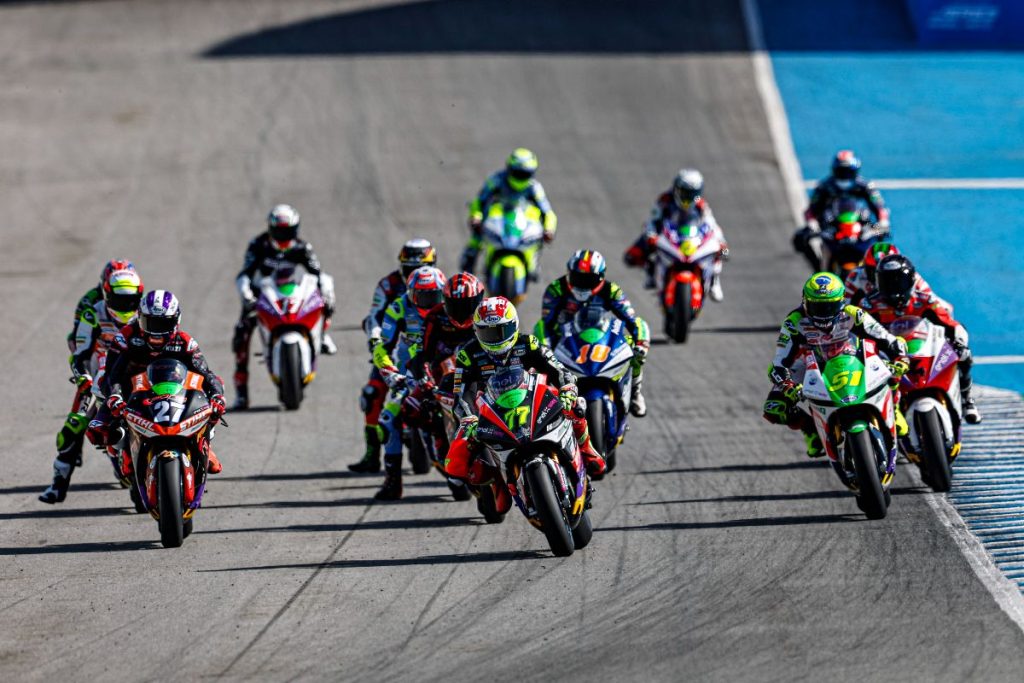 What is the moment you have seen in a race that you deemed unbelievable?
"Top riders continuously do incredible actions; I don't remember a single thing. Valentino did crazy stuff many times; the same is for Marc. I have been into racing since I was inside my mum; I watched the race on TV and then from inside the paddock since I was very young. I believe each rider does something fantastic, also on four wheels."
And in MotoE?
"The first time I saw them racing, and I saw them cornering; I couldn't believe that. Even though those bikes come from the road and are modified to be race bikes, the cornering was incredible. So I was very happy with our motorcycles."
In 30 races, we saw just one mechanical failure with Canepa in Austria; how proud are you of that?
"In a way, it's too much; we always ask ourselves for more. That was one of our targets, one of the challenges that we had was that all the motorcycles were the same from the beginning. It was really important for us from the first row on the grid to the last one. I was surprised that we had one even though it was after four years, and I am still not sure it was our fault, so we will see. Anyway, it has happened, and it had to happen; this is racing; every time you do something new and innovative, and there is research, it is normal to have failures, things to be improved, and so on; otherwise, it is boring... But again, we will see if it was our fault."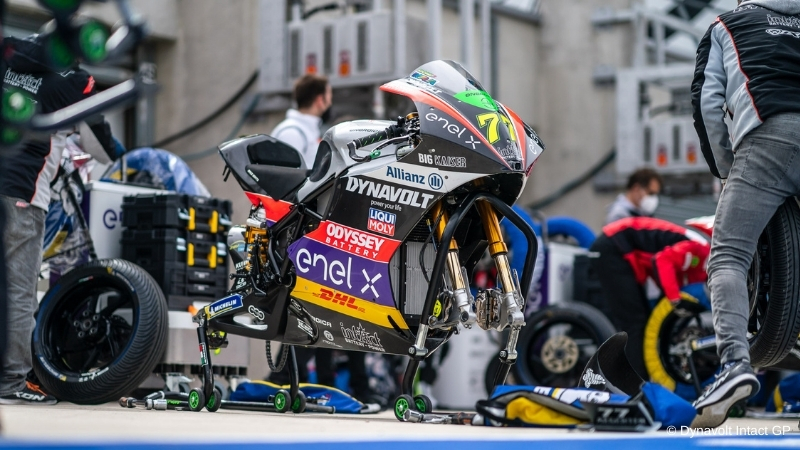 We usually hear from manufacturers that the racing is a testing platform for them; how was it for Energica?
"The problem is that we did the exact opposite. We started from the road, and we took the technology of the road bikes into the race track. The new battery was the only feature we developed on the race track before going on the road. We already started to work on that before 2019, but the development of the new battery for the road bikes had to take two years, and we decided to take it to the race bike. We had to do it in one year to be ready for the races. What is interesting in racing, as it is for petrol, for any type of vehicle is the opportunity to test in a very safe place even if it is dangerous, it is always safer than the road because you are in a safer condition, on a race track, with professional riders with a crew assisting them, it is a safer way to test extreme novelties and in extreme conditions. So let's say that it shortens the time to develop. Unluckily for us, the battery was only that time because, in all other cases, the new material was developed on the road and was brought to the race track. That's why I am saying it is time for us to move forward because when we return, if we are back, I want to do the opposite, to develop on the racetrack and bring it to the road like the petrol bike manufacturers are doing. In our case, it was impossible because it had to be fast. We had to develop a bike in one year, based on road bikes."
You must be proud of what you brought in and the changes you made. You also pushed Enel X Way to develop and Michelin to develop. So in a way, you also triggered Ducati. You pushed the industry a step forward.
"I'm never satisfied with myself. So I'll never say that I'm proud because I'm always looking forward. But you are right, and I'm very happy they looked at us and decided to join the game. I'm not afraid of competitors; I'm afraid of being alone because that is not a real market. So it's good that they finally looked at us and understood that this is real, the technology started to be real and that it is time to join the game.
At last, we are creating a real market. We are not doing this just for the fame, for the power or the money; we did not earn money from this; we are doing this because I want to do my part for this planet, I want to do something, and this is what we are trying to do. We are trying to convince people that the electric bike is sustainable technology and it is real. People can trust it. I hope that more manufacturers following Ducati will join the game because this will create more and more trust in this technology, and there will be a real revolution in the two-wheelers as well. I'm proud that in the end, we convinced the big ones to join, and this will convince common people, families and children that it's time to move forward because the planet needs to react to what we have done so far."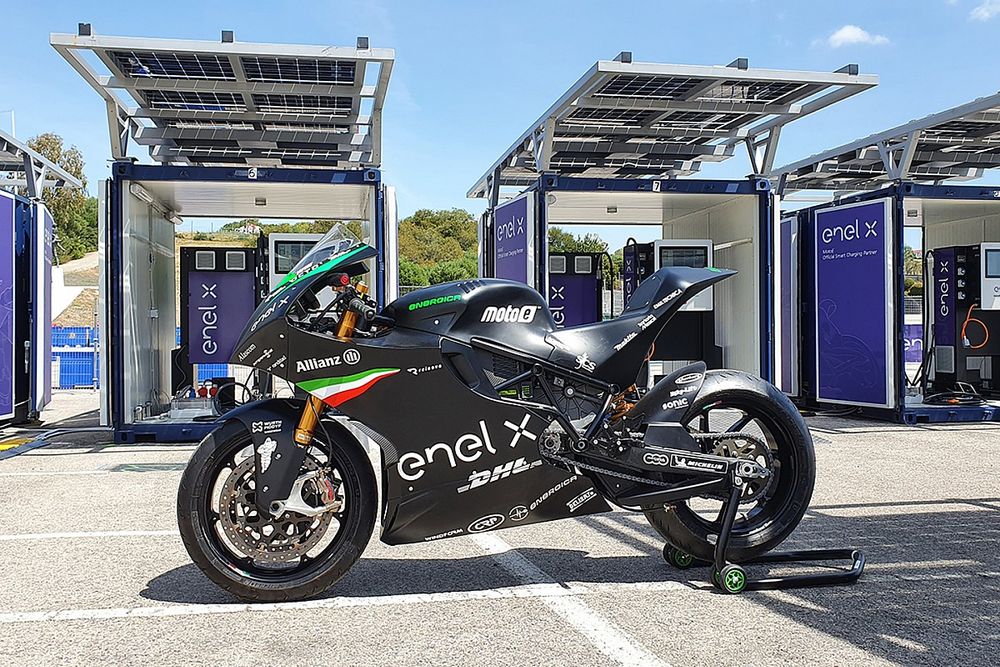 In the last four years, we saw a lot of change in Energica; Growth in sales by 91% in XNUMX, agreement with Ideanomics: how much has the racing exposure contributed to where Energica is now?
"A lot. You can talk a lot about yourself but what others say about you is more important. When credible people are talking of you, that is much more important. So that (racing) was a good decision for us because that gave…. the MotoGP, the whole business, the whole world of racing gave the visibility for Energica and its investors. Without investors and money, you don't go anywhere. If you have the best idea in the world but don't have the money to pay for stuff, putting the ideas into action is useless. So it was really important; now we have someone supporting all our ideas and wishing them into actions and acts. That is the only thing that matters.
We are constantly growing despite the shortages of materials, and we are not talking about electronics only; there is something new every day. That is impacting a lot on the sales. We are currently part of a game which is much bigger than us."
When you look back now, are there any regrets? Are the things you wish could have been done better?
"Everything was so difficult at the beginning that I am convinced we had already performed a miracle. Asking for more miracles from my guys was really impossible. If I had the investors and the money earlier, everything could have been done years in advance. Unfortunately, I didn't have them, so we made the best possible; we made miracles. When we started working in MotoGP, we were about 40 people; now, it's 130 of us, a different company. When I look back, I see what we did in production, in racing, all the stuff we have done… we developed three models, and we were 20 people at that time."
You mentioned a few times you might return to participate in the championship; what will it take?
"There is no perfect recipe; it's more about creating a real championship. Currently, the MotoE is called a 'cup', and it's not just because there are only a few races but because being a single manufacturer means that there is development but only by one identity, so there are no real technology challenges among the manufacturers on track but only among the riders. I would like to see a transition to a real championship with more manufacturers, and if not for the whole vehicle, then some parts like in the Moto2 class or some other four-wheels championships. What I want to see is that there is more engagement by the championship and by the manufacturers to be there, challenge on the technology side, power units, parts of the power units, on the engine, on the motor. I want to see growth, it has to become a real passing bench, and it currently isn't, as we are challenging only ourselves. I wish to challenge other manufacturers, but I don't know how many; there is no minimum; the goal is to see some improvement in the recipe and visibility.
Now the championship is there; it might become better after four years of testing; there is more knowledge on how to promote it and get more fan and media involvement.
The media would be more ready to be involved with the electricity as until now they were not really interested. So it was probably not promoted and pushed so much, and it was not as interesting for journalists as they were not taking it and considering it as real races."
"I have to mention that not because I like talking about it but because it felt like the media was not challenging itself as it does with the petrol championship. So I wish to see an improvement on that aspect to show the public that electric bikes are real racing from the promotion aspect, sports and show. It was more us pushing than requested by the media, so the public was there, and the ones that were interested were connected, but the ones that were not as knowledgeable or searching for information on race schedules for them, it was almost impossible to know there was a race. In Italy, you almost don't know there is a race after the MotoGP one. We were asked when the race was. It was not only in Italy but also worldwide. Our dealers were asking if there was a championship, and when we confirmed that it was running for four years, we were asked where...
It's not like that with MotoGP or the Superbike, and I would like to see visibility; otherwise, it is only useful to develop, but it is not a business."
"I know Dorna is doing some stuff, but I was talking to them only about Electric racing. I have enough with my own business. But they are the best, so I know they can if they want. They already started with the electric. In Italian, we say 'Lungimiranti', meaning they look into the future much further than anybody else. They put their face, an important brand, on this project, they are really amazing, but now we need to take the next step. I understand that I am not patient, and I want to move faster than anybody else around us; and they are more careful, but it's okay as they are careful because they have a very big business to take care of. But I have to rush everybody because the electric bike is my business. So again, I know they will do that, and I want to be back once they do."
After this Misano weekend, you will have many race bikes with no missions.
"No, they have a mission," she says while smiling. "We are working on several ideas; we started about two years ago. We are trying to understand what would be the best option; we had many requests and many opportunities, and we want to choose the best, not only for the race bikes but mainly for the company and the development of the market. MotoGP was crucial to be known and convince others to join the game; that's done. Now we use the same to do something else, maybe in some other markets, maybe in some other areas. We also started inside Energica, a business unit, to be able to work with other industries. We are using our know-how to get more know-how in aeronautical, agricultural, and other industrial sectors. There are many ideas on the table."
Where do the good ideas come to you?
"I like to do sports activities and travel; I need to get to know people different from me. I like talking with people with different ideas, with different cultures. I take inspiration from some things that are completely opposite to me, which is always very useful. It makes you grow. Travelling and getting in contact with people is always very important for me."
You are often compared to Elon Musk.
"He is an extremely intelligent guy, and it would be fantastic to be like him, but, on the other hand, I'm from Modena, which is Enzo Ferrari's place, which reflects my values. Let's say I'm very happy to be seen as similar to him, but I prefer my values, not because I don't like him but because I'm from here. I believe I'm more similar to those people (ed. Note: Enzo Ferrari and other key figures of the Italian Motor Valley) in the bad and good things. Enzo had some shadows, and I have mine. I think I'm more similar to people like him (Enzo)."
Creativity must be a very important part of your life..
"Every time you have something that you don't understand how to solve, and you have to make a decision, but you don't have enough information to take it, you have to be creative. Because you might not have the tools, you don't have anything to assist you in making a decision, but you have to take it, which happens to me a thousands times a day; creativity comes into play, and where I have to use it. In Italy, we say you need to have the nose to determine the right choice
When we started, no one was seriously making electric motorcycles, and now we are trying to do things nobody is doing. To produce small and light motorcycles, it's much more difficult to put all the stuff between a person's legs. It's the same challenge as with petrol bikes. I think this is where creativity is very important, when you need to make a decision and don't have the means."
It is hard not to talk about Livia Cevolini as an inspiration. She is leading in her field, leading a team of innovative people, creating racing while facing many struggles. However, when mumbling she is an inspiration, she ignores it but proves again that her mission is much greater than fascinating races; it's about the future of the next generations.
"I just hope some people understand we can do much more than we think. When I came back from the first meeting with Dorna, I said to my guys, "we will do MotoE" they replied that I was completely crazy: "we will never do it; we are not able to do it". I replied: "no, thrust me, you will do, not me. You will do it because you can". And then, every time they thought it was an impossible task, I told them that sometimes you really can't, but it's important to try. Let's start, and you will find the way. I pushed people to trust themselves more, which is crucial, particularly in the EV sector. We must give a chance to new technology even if there are many obstacles.
What I discovered while talking mainly with young people is that they are scared to dare. They are careful with everything. It's not bad, it's important, but you have to be careful while daring if you are not doing anything so extreme. Why are you being so careful? You are just scared, and it's useless if you are not doing anything strange or different."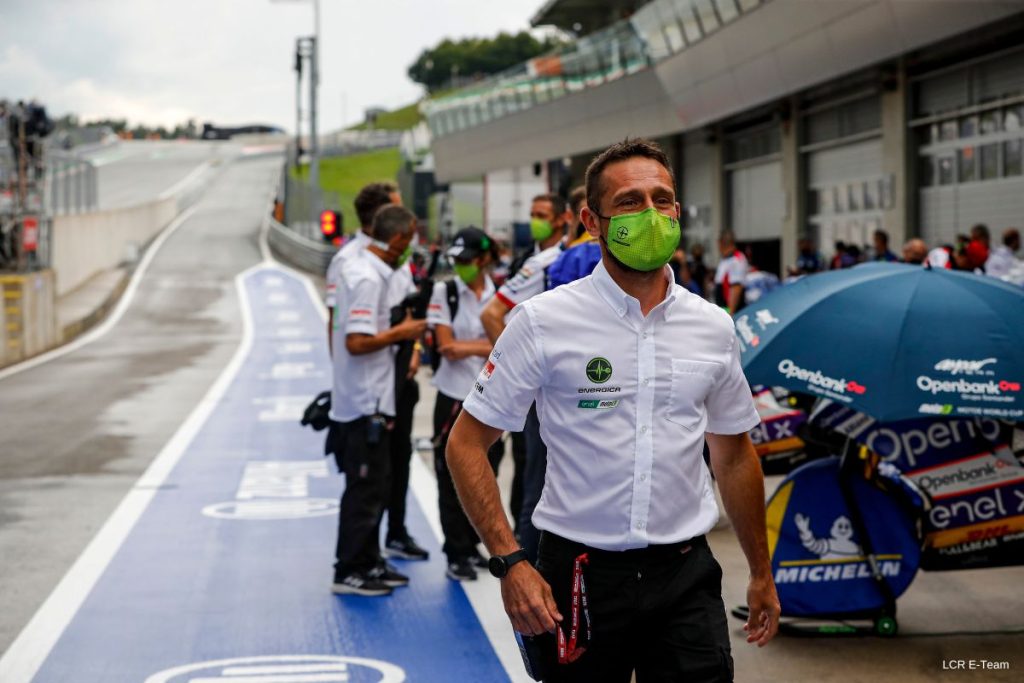 "This is a message I am trying to push with young people. I understand they had to go through difficult periods of the economy when they started school or careers during the big economic crisis like me and now with Covid. There are many things too big for them, I understand, but it should not change their behaviour whatever happens around you; you are first; you cannot just stay in your comfort zone and never change or do anything new. What are the reasons you are there? What are you doing? Just there? Surviving? You are not living; you are just there. You are not useful, maybe you're happy, but you are useless to the world, for the planet, for Society for all. So if you are a person that wants to try more, please try. This is the message, but maybe it's our fault!"
You talk like some riders
"It's completely different because they are risking their lives. Maybe we should have some races talk with the younger people because they are taking risks, trying to go out of the box, their comfort zone and trying to do something extra. This is what I love to see, and now it's not happening right now in the so-called 'normal life. So the lesson should be: let's try to involve more sports personalities who are always challenging themselves to do more, and let's have more young people talk with them. Facts and actions are louder than words. But people cannot listen and observe; they spend time on social media talking about stupid things instead of watching these guys make a difference. The riders do things even if they don't talk about it; they do more than others."
"I just wanted to get people's attention and keep their attention on this issue. I am very happy that Ducati joined the effort and the championship, as they are the right ones. Their customers are the toughest, so they will be the right brand to convince many people that this is real. Dorna will be forced in a way to give more visibility as there is a big brand involved, so it's good for the whole championship and the EV world. It is the same as when Harley-Davidson started to sell electric bikes, as it was a big manufacturer joining the game. Though it's great news for us as it could mean that it's growing, I am sorry that the championship will still be a single manufacturer until 2026, as it is a long time. After that, maybe things will start to change, and we will keep attention on this."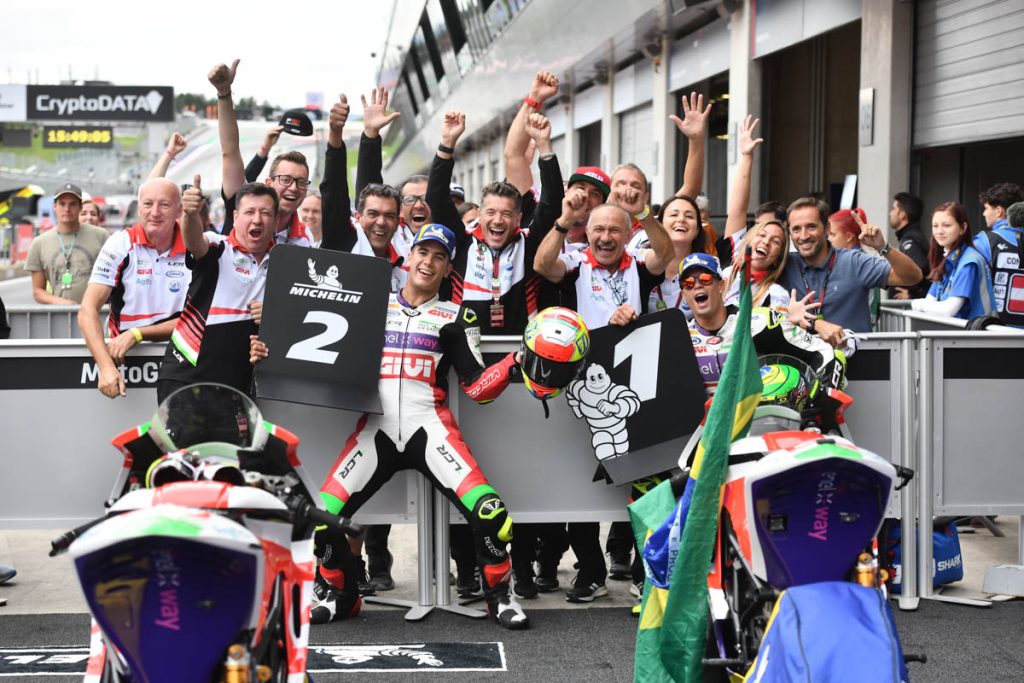 Livia refuses to share who she is cheering for, understandably so, but just before she returns to her busy day, we talk about the standing in the championship, Aegerter and Granado.
"I was very happy for Lucio when I saw the last result because he is a very good guy, and it is even more fantastic for me as it feels like the wheel is turning", she explains, and you can feel how emotional this is for her. "Lucio was very good friends with my father so now to see him winning with our bike, with our motorbike, it is fantastic. It's strange; it seems like destiny. We started as a company to work with Lucio on his Aprilia in 2004 and 2005 for his petrol racing motorcycles before we started to develop the EV in 2009."
"This weekend will be the last chapter: it will be important on one side and sad on the other. I hope my dad, who was really in love with racing, passed this love on to my brother and me; I hope he is happy with what we did with the company. I hope he somehow looks at us from there and says, "Well done. That's enough."
We are sure he is.

Photos: Energica Motor Company
To be updated on MotoE World Cup, subscribe to Epaddock's Whatsapp broadcast and receive all our news on your mobile phone in real time: find out how here.