The Openbank Aspar Team has started the season of MotoE with a three-day test on the Jerez - Ángel Nieto circuit. Fermín Aldeguer made his debut in the MotoE showing a great feeling with the Energica Ego Corsa. The young Spaniard, who will turn sixteen shortly before the start of the season, has shared the track for the first time with his teammate, María Herrera. Both have closed these three days of testing with good feelings and motivated before the new season.
Fermin Aldeguer led one of the sessions of this test and finished fourth in the combined standings, behind veterans in the category such as Eric Granado, Dominique Aegerter or Matteo Ferrari. Aldeguer finished the test with a total of 66 laps and a best lap time of 1: 48.234, 690 thousandths from Granado's record.
Her teammate María Herrera faces her third season in the category stronger than ever. The Spanish rider completed a total of 54 laps in this first pre-season test, setting a best time of 1:48.719. The next pre-season test will be from 12 to 14 April again at the Jerez - Ángel Nieto circuit, also the scene of the first race of the season in May.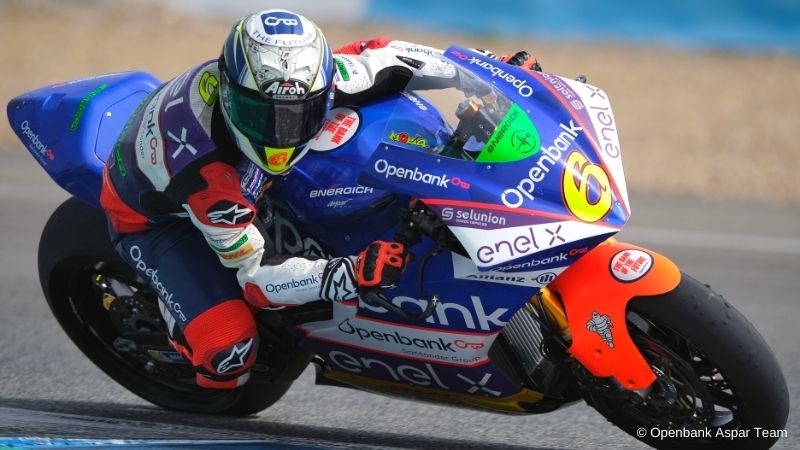 María Herrera
"I'm happy with this start, the feeling with the bike is quite good and I understand how to ride with these tyres. It's what I needed, confidence. In addition, the new forks are much better for me, they make the corner entry easier and provide stability. I hope to get even stronger for the next test. Fermín is showing himself to be a very fast rider and a good teammate, if we continue like this, we will both improve a lot. I want to thank the team for the support they are giving me, I am very motivated".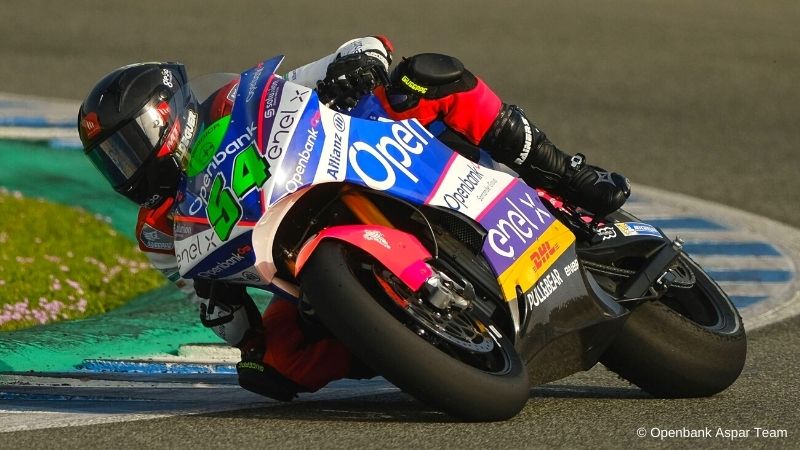 Fermín Aldeguer
"In this first test I felt very good, with great confidence with the bike and with the team. There is much to learn and work to do, but at the moment everything is going very well. The last day was more difficult because we did not do many laps. María and I have worked together and you can see it in the results. Today it was more difficult to improve the lap times, because the track conditions weren't the best. I did not think that I could be so high in the standings in my first test, but I felt very good with the bike from the first session and I already began to think that I could do it".
In the Openbank Aspar Team box, María Herrera and Fermín Aldeguer will count on the lead by Gino Borsoi, the team's technical director.
To be updated on MotoE World Cup, subscribe to Epaddock's Whatsapp broadcast and receive all our news on your mobile phone in real time: find out how here.