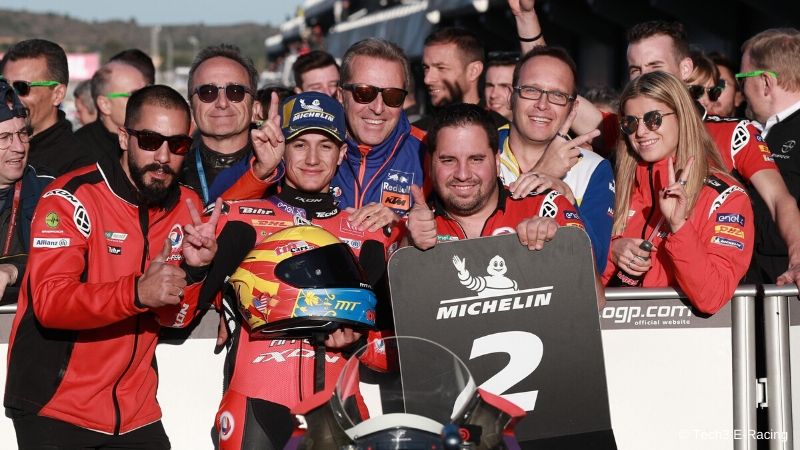 Insight, frankness and experience: with his nearly forty-year history in motorcycle racing, first as a rider and then as a manager, Hervé Poncharal is one of the key figures in the paddock. Because of this, his analysis of the next season of the MotoE World Cup and its predictions for the future are particularly interesting. Founder and team manager of the French team Tech3, but also president of IRTA (the International Road-Racing Teams Association, which the constant dialogue with Dorna constitutes the very heart of the great MotoGP circus), Poncharal has known all the classes and has worked with the best riders, from Nakano to Norick Abe, from Carlos Checa to Colin Edwards, from Cal Crutchlow to Andrea Dovizioso, from Bradley Smith to Johann Zarco. If he says that MotoE is on the right path, therefore, you have to believe him. If he declares that it is better to focus on young riders, even if they are inexperienced, we must pay attention to him. And if he says that every motorcycle manufacturer is working on electric mobility solutions for the future, you must trust him.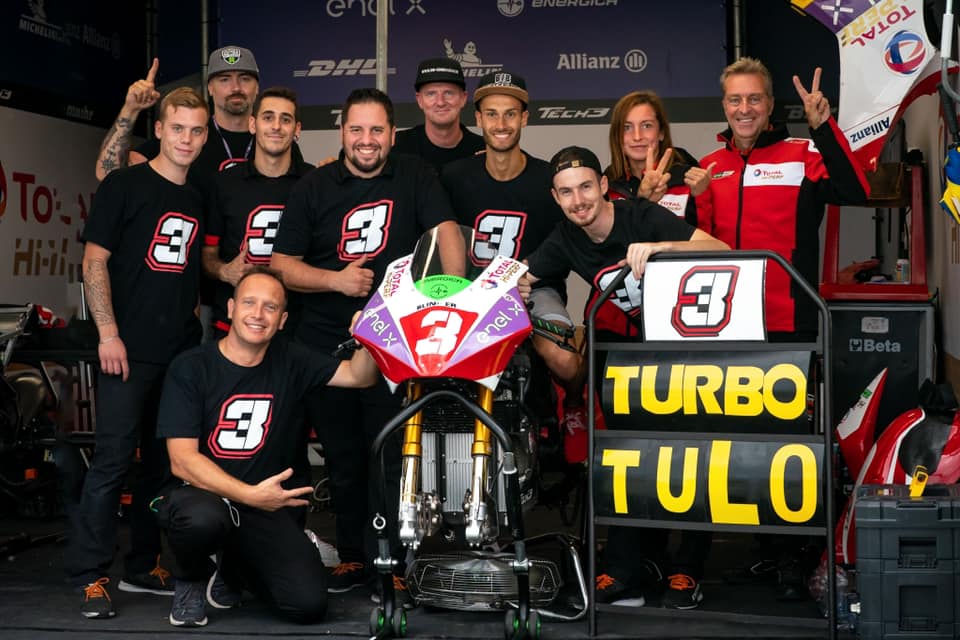 1 - In 2021, the Tech3 E-Racing team achieved its first win in Austria. After that, however, the 2022 line-up will be completely different; what's the reason?
"The reason was always to build up the best combination of riders for the team and a great line-up for 2022. Also, one reason we couldn't carry on with Lukas Tulovic was that he was planning to join the Intact GP team because he is already in the European Moto2 Championship with them, so he wanted to do MotoE and European Moto2 Championship together with Intact GP. Lukas told me that this was his wish, but unfortunately for him, the Intact GP team gave its priority to Dominique Aegerter (who was in the MotoE with the German team in the last two seasons), and when Aegerter knew that there would be no clash between the MotoE and WSSP Championship, he signed for the MotoE with the same team. So when Lukas called me to stay with us, it was too late; I had already signed with my two riders. I'm really happy with my 2022 line-up and think every year you try to learn and to have the best team for the next coming season."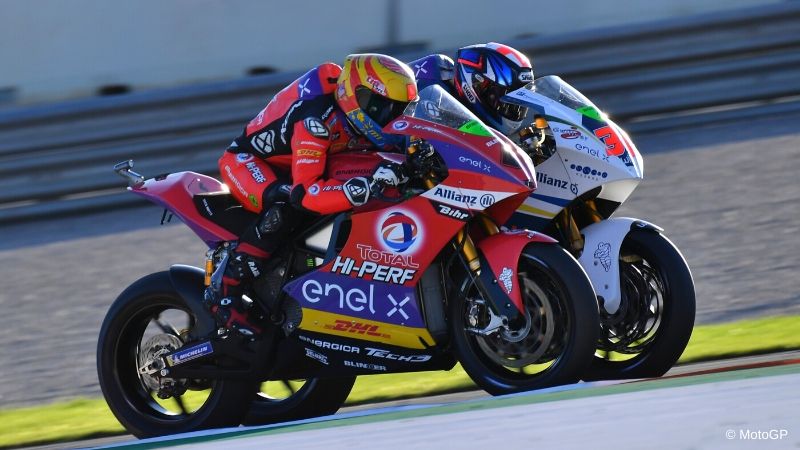 2 - A Tech3 rider will be Garzò: he was with Tech3 in 2019 and was very fast. Do you think he would be stronger in 2022? How has he improved over these two years in Moto2?
"I have huge respect for Hector Garzò. He did a few races with us in Moto2, replacing Xavi Vierge when the latter was injured, and instantly he showed incredible potential. Then he did two years with our Mistral Moto2 bike in the European Championship, where he won some races, and he was always very fast fighting with Edgar Pons. Then in 2019, in MotoE, he should have been champion, but unfortunately, there were not so many races, and he crashed why taking the lead during the last lap in Austria, and that was the turning point of the championship. Nevertheless, he was very, very fast. At the end of 2019, he had an offer to move to Moto2 World Championship, and I completely understood that it was his dream, and I wanted him to fulfil it. I'm so happy he is coming back, and I believe that we will be even stronger than in 2019. His weak point in 2019 was that he was crashing too much; that was also sometimes his problem in Moto2 World Championship. However, we have been talking a lot, and I think Hector has a bigger talent than the results he got. He has to understand that it's important to be fast, but he also needs to finish the races and stay calm on the bike. If we manage to do this, I think Hector Garzò will be a title contender in the MotoE World Cup, and I really want to give Hector the possibility to fight for the win of a very important championship."
3 - The other one is Escrig; why did you choose him? The background of Escrig is similar to Fermin Aldeguer, who was very fast in the second part of the MotoE 2021 but made several mistakes in the early rounds. How did you come to choose Escrig?
"I have chosen Alex because I like young riders with high talent and what I was really happy with Alex is that he contacted me through his manager, who is a good friend of mine, and this is not so often. You know, sometimes the riders do MotoE, but it is not their best choice or the main priority. So I was very happy when Alex contacted me and told me he believes in MotoE and wants to do the MotoE World Cup. Of course, the comparison with Fermin Aldeguer is appropriate: both riders have the same kind of profile, and when you see what Fermin did in MotoE, I think that if Alex does the same with us, it will be very nice. Maybe we will help him make fewer mistakes. Now Fermin is a full-time rider in the Moto2 World Championship, and if the same happens to Alex, it will be a great achievement."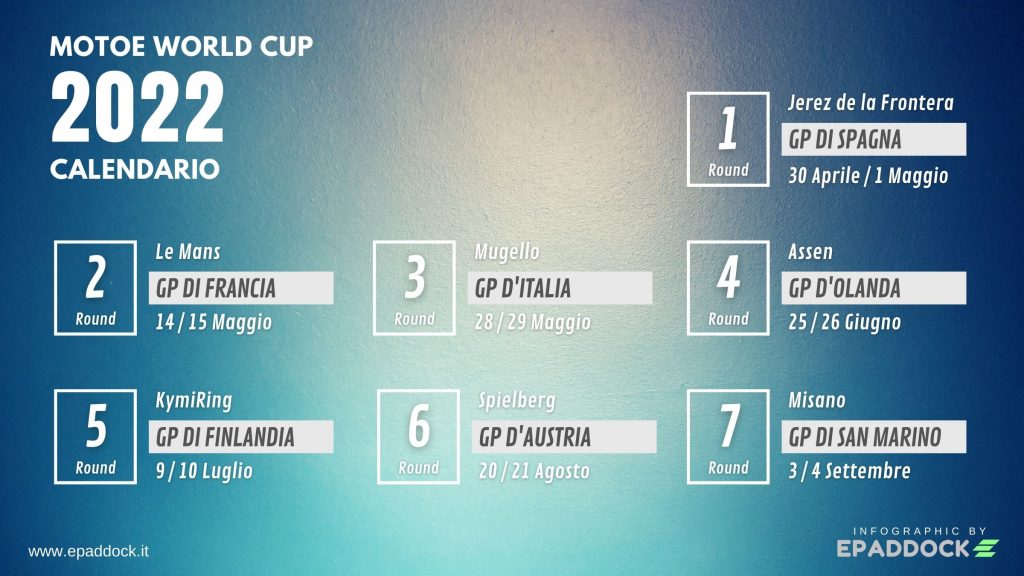 4 - The format of the MotoE will change a lot in 2022: seven rounds, fourteen races, Q1 & Q2. Are these the right changes to grow? Are these in line with the requests of the teams?
"I'm really happy because we need more races if we want the MotoE Championship to grow. Fourteen races are going to be very interesting, and also, when you have only six or seven races, if you fail to score at one race, you are almost out of the title fight. So with fourteen races, it will be more of a world championship, and even you have one or two 'do not finish', you can still hope to fight for the championship.
I was a fan of the EPole, Lukas Tulovic was always doing very well, and also Hector Garzò; but I believe now Q1 and Q2 are preparing yourself more if you want to join the world championship of internal combustion engines. Also, you learn more when you do the proper qualifying. So clearly, these changes are what we needed to have the MotoE World Cup grow, and I think this is in line with the requests of the teams, the riders, the sponsors, and the media. So I'm really happy about how the championship is moving up."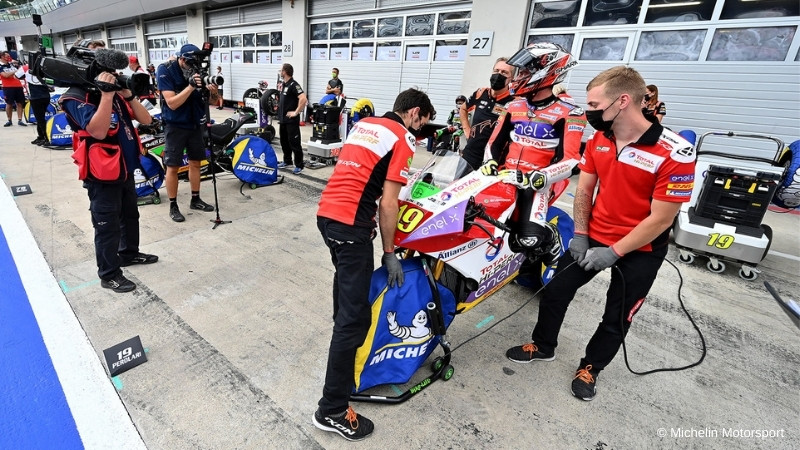 5 - In 2023, Ducati will be the sole manufacturer. Were you surprised by the decision of a major manufacturer to join MotoE? Would you have preferred a multiple manufacturers' category?
"To be honest, the sole manufacturer has been decided between us. I think this is what makes MotoE interesting at the moment. Electric mobility in motorcycling is at the very beginning, and there would be too many differences in performance in the case of multiple manufacturers. The sole manufacturer is the solution that can guarantee an exciting class with exciting and close races, which is what we need. For the moment, we want to have races with a great show and great fights. This can only be achieved with the sole manufacturer.
Of course, I'm very excited to see a major manufacturer like Ducati joining the MotoE World Cup as a sole manufacturer for 2023. Clearly, that will make a step because the Ducati bike will be developed in 2022, which is a five-year difference in terms of development compared to the Energica bike we are actually using. Clearly, these five years have been very important for electrical mobility. I was not very surprised because every manufacturer has to think about electric mobility for the future. There were a few manufacturers knocking at the door of Dorna to become the sole manufacturer. However, Ducati was the one that won the contest because they were the most eager to join, and I think they were the ones with the most performing project."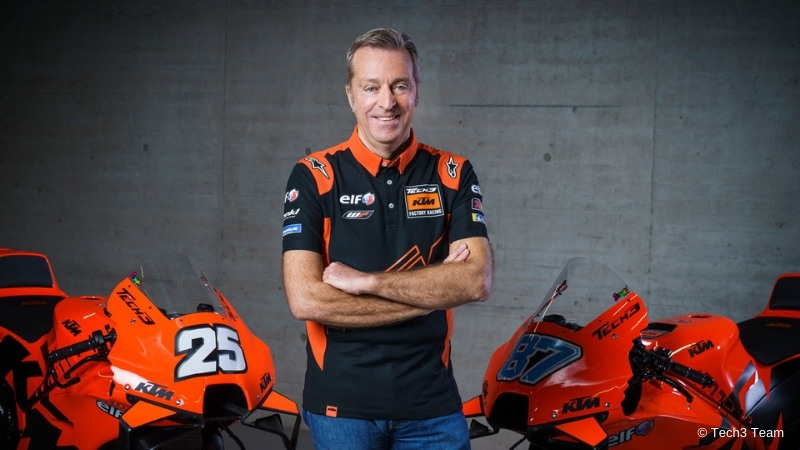 6 - Does Ducati in MotoE create any issue to Tech3 a key partner of KTM? People will see Tech3 and Ducati logos together, is all fine?
"It's the same thing for LCR and RNF. Stefan Pierer, CEO of KTM, completely understands the situation, and he talks to Dorna almost every day. We are sharing everything with him. They are with me, and they are my main partner, and we signed a contract from 2022 to 2026 in MotoGP, so there is absolutely no problem. We mainly advertise ourselves as a MotoE team, our name is Tech3 E-Racing, and Ducati will be the sole manufacturer. In Moto2, the bikes of the Red Bull KTM team have Triumph engine and Kalex chassis, so I think sometimes you have to be pragmatic, and KTM are very open and pragmatic people. The future of MotoE could see multiple manufacturers, but we have to wait a few more years. Right now, I'm really happy with what's going to happen in 2022, my riders line-up and the new format. I'm, of course, very excited about 2023, and we will have time to talk about that over the year."
Tech3 E-Racing Team: https://motoe.tech3racing.fr/index.php/en/

To be updated on MotoE World Cup, subscribe to Epaddock's Whatsapp broadcast and receive all our news on your mobile phone in real time: find out how here.