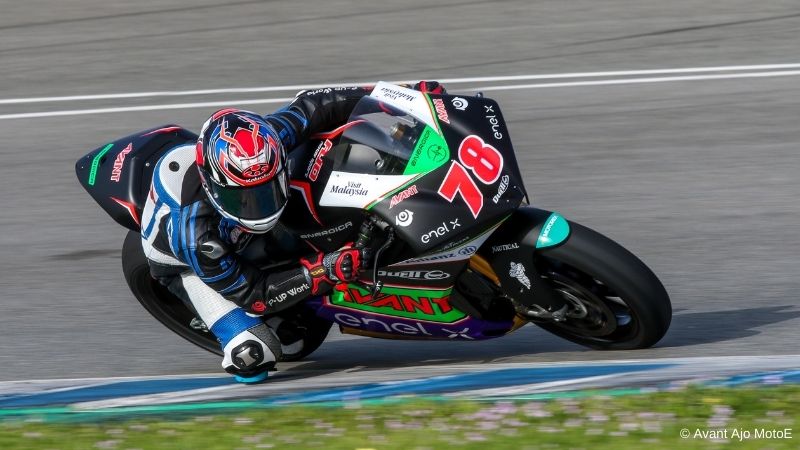 The Avant Ajo MotoE team and Hikari Okubo celebrate the first MotoE World Cup race with an excellent seventh position in Jerez de la Frontera.
The Jerez-Angel Nieto circuit has raised the curtain on the FIM MotoE World Cup 2021. On the occasion, Hikari Okubo took an excellent seventh position, scoring points in his first experience with electric motorcycles.
At the start, Okubo, who was eleventh on the grid, gained four positions in a single lap. Around the Avant Ajo MotoE rider, a large number of crashes occurred, in which Okubo managed not to get involved, finishing in seventh place on his debut in MotoE. At the end of the first round of the MotoE, Okubo is seventh in the overall standings with nine points.
Next round in two weeks on the French track at Le Mans for the French GP.
Hikari Okubo
"It was a strange day. The race was held late in the afternoon rather than in the morning, which made the track conditions completely different. Even so, we started well - and from there we tried to stay focused despite the crashes in front of me. After the first four laps, my front tyre was worn down, as I had pushed very hard at the start. This prevented me from continuing to run the same pace and enabled other riders to overtake me. Seventh is not a bad result since we picked up some important points. Now we have to focus on the next contest at Le Mans, where we will once again do our best to get a good result."
Aki Ajo - Team Manager
"We had a solid performance in the first race of the 2021 season of the MotoE World Cup. Hikari did a great job this weekend, making no mistakes. We know that this is not an easy championship for the rookie riders since pre-season testing during the winter is limited. With all this in mind, we have to be very happy with Hikari's performance, especially because of the consistency he has shown. This is the way forward for us to progress at the next few contests."
To be updated on MotoE World Cup, subscribe to Epaddock's Whatsapp broadcast and receive all our news on your mobile phone in real time: find out how here.