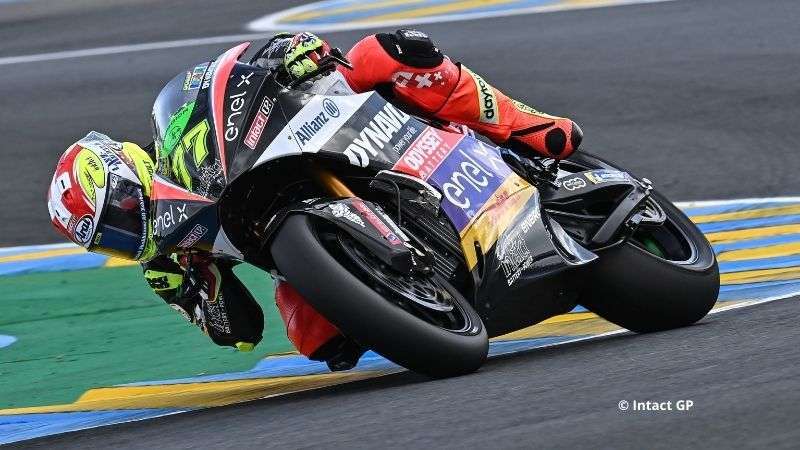 In the final race of the MotoE at Le Mans, Dominique Aegerter once again did an exciting race, finishing in fourth place starting fourteenth on the grid. With the result achieved, the Swiss rider of the Dynavolt Intact GP team took the third place in the Championship.
Sometimes bad luck plays an important role in racing: Aegerter has shown since the first winter tests that he is one of the fastest riders in the MotoE 2020. However, two wins and two third places were not enough for the Swiss rider to win the title of the category due to the two crashes in which Aegerter was an innocent protagonist at Misano and Le Mans.
Dominique Aegerter
"After starting the race from 14th position, I got off to a great start and was able to make up ten positions on the first lap. I was within a manageable gap to the leading group, but I couldn't quite close the gap. Of course, I'm disappointed that I didn't take third because Ferrari finished behind me and was able to become second in the championship, which of course annoys me a lot. Nevertheless, we had a successful season with two wins and two third places. Unfortunately, there was also a lot of bad luck involved with the two crashes that were not my fault, as I was taken out by others both times. The team did a great job and we still have a score to settle with some of the riders in this championship. Finally, I would like to say a big thank you to my team, all sponsors, and suppliers. I really hope that I'll get another chance next year, then hopefully with a little more luck so that I can win this championship".
Jürgen Lingg - Team Manager
"I am absolutely happy with Dominique's performance this season. What happened was at no point was it his fault. He fought to the last corner today too. He went from P14 to P4, which is a sensational achievement. We're happy with that, but sometimes certain things happen that you just can't influence. In my opinion, he was the strongest rider of the field, so I hope that he will stay with us next year. We are seriously more than satisfied with him. He has delivered an outstanding performance as a MotoE rookie".
Here all the news related to the two races of MotoE in Le Mans.
To be updated on MotoE World Cup, subscribe to Epaddock's Whatsapp broadcast and receive all our news on your mobile phone in real time: find out how here.
Are you a fan of motoE ? You can win a videopass on the Motogp.com website!
Complete the survey about MotoE