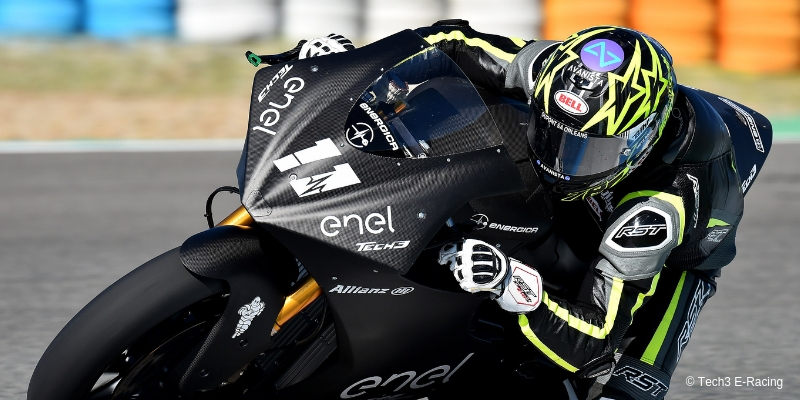 Hervé Poncharal (Tech3 E-Racing Team Manager)
"These first three days of testing have been exciting. We felt like the pioneers of a new era. This bike is so different from anything we've been used to, we honestly didn't know what to expect. After a few laps, everyone had a big smile on their face; each rider was pleasantly surprised with the behavior of the bike. This is a real racing bike and I think that Energica, Enel, Dorna and the whole group of MotoE led by Nicolas Goubert he did a great job, I'd like to thank them all. We enjoyed a three-day test without problems, the riders had fun and the MotoE it was fun to watch. The cornering speed it can sustain is incredible. The riders were happy with the behavior of the bike because, even if it is heavy, it does not feel. The grip is incredible and the cornering speed is closer to that of a Moto3 than a MotoGP. It's a new way of driving but everyone had a lot of fun: young riders like Eric Granado, experienced riders like Sete Gibernau, Endurance riders, Moto2 and MotoGP. I think this championship will be much more exciting and interesting than what we expected. We are happy and proud to be part of it. This is the beginning, but the level is already high enough and good enough to offer exciting races. I wish good luck to Energica and to all those involved in the project. I'm pretty sure that at the next test here in Jerez the bike will be even more competitive and the riders will be faster. We can't wait to get back on track with the MotoE".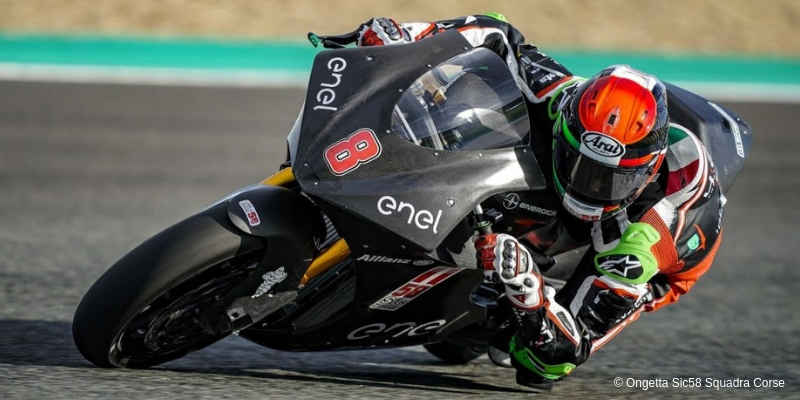 Paolo Simoncalli (Ongetta Sic58 Squdra Corse Team Manager)
"To be honest I was skeptical but I had to think again, two days were enough to learn to appreciate some noises never heard before because they were covered by the roar of the engine. For example, appreciate the swiping of the soaps on the curb, the rustling of the air movement created by the passage of the bike. Yes, it is another world that requires more help from electricians than mechanics. It's something else but leaves you enraptured. The first tests in Jerez start in a strange way, Casadei would have had to attend only as a spectator on the advice of the doctors following the hip operation but Luca Vitali who had offered himself as a substitute, falls unfortunately breaking a finger with his collarbone. He was perhaps taken by the alleged ease of this new bike so pleasant to drive and made a driving mistake that cost him two fractures. I could have run but fortunately Mattia felt good he is mounted in the saddle and he also went strong finishing with the 4 ° time. One nice thing about these tests was that they were all in one big room, the boxes didn't have walls or walls just like they used to. Perhaps this feeling of the past was also created by the fact that there were pilots like Gibernau, De angelis, De Puniet ... all prominent names just a couple of years ago. However, we have a record: the first fall of the MotoE for this new team called Ongetta SIC58 Squadra Corse. "

Lucio Cecchinello (LCR E-Team Principal)
"I'm totally satisfied with how this first test went with the bike MotoE. Our drivers Randy and Niccolò behaved very well and have always been at the top of the times list during the sessions. Unfortunately the weather conditions were not good for us and the track was never completely dry, which means that they could not push the bike to the limit. Everyone was very impressed with the bike, the technology and the performance. Now we look forward to the next test in March and will do our best to be prepared for an exciting season in MotoE".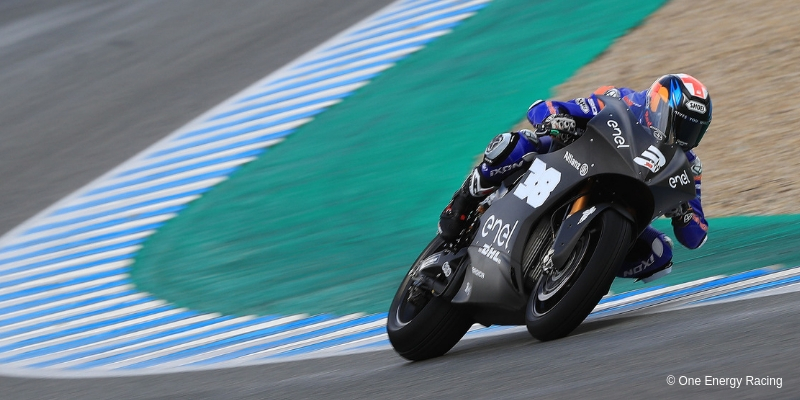 Johan Stigefelt (One Energy Racing Team Director)
"It has been a very interesting three days with the bike MotoE. It's a completely different world than we're used to, but Bradley's comments have been very positive. Our rider said he was very surprised at how manageable the bike is; it was nice to see him with a big smile on his face. The bike has a lot of room to grow and we will work to make it even better. What we have done is try to make the bike easy to ride and see how far we would go. We are pleased to have finished these tests in the lead and I think we will have a great season with Bradley in MotoE. It will be a difficult class and with very close times, where the small details will make the difference. We can't wait to get started! ".