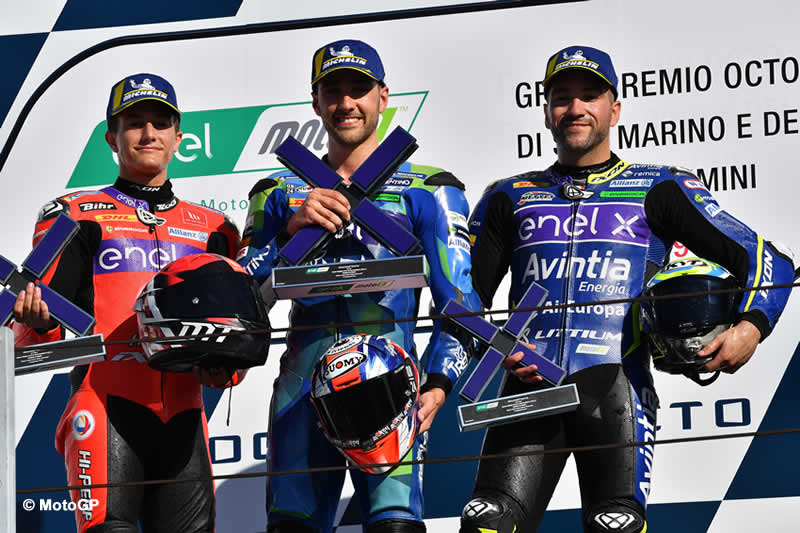 The home rider Matteo Ferrari wins the first race of the MotoE scheduled at the Marco Simoncelli circuit in Misano. Ferrari (Trentino Gresini MotoE) won a magnificent victory ahead of Hector Garzo (Tech 3 E-Racing) e Xavier Simeon (Avintia Esponsorama Racing).
Alex De Angelis starts from the pole and moves to the first position immediately followed by Ferrari and Simeon. After a few turns the first event of the race takes place: the leader of the classification, Mike Di Meglio (EG 0,0 Marc VDS), starts well from the back of the grid and after a few corners he is already fourteenth but his bike has a power drop and forces him to retire.
Meanwhile De Angelis, Ferrari and Simeon pass each other repeatedly in front, another twist occurs behind them. At the 6 curve, Niki Tuuli (Ajo MotoE ) attacks inside Mattia Casadei (Ongetta SIC58 Squadra Corse) and Bradley Smith (One Energy Racing) but loses the front and causes a domino fall, forcing Casadei to retire while Smith manages to resume the race. In the fall, Tuuli gets a fractured wrist and left femur.

The comeback from the bottom of the deployment of Eric Granado surpasses him but dares too much and falls to the 14 curve. The leading group composed of Ferrari, Simeon and De Angelis, separates the pursuers: Hector Garzo, Jesko Raffin and Niccolò Canepa. When it seems like a battle for 3 for the victory, Alex De Angelis suddenly finds himself on the ground due to the loss of the rear to the 5 corner.
At that point Ferrari forces to take off Simeon who fails to keep pace and is overtaken by Garzò who overtakes him at the 11 corner. The Rimini driver thus won his first victory in a world championship race, right in front of his home crowd. Garzò wins an important podium, the first for the Tech-3 team in MotoE, while Simeon is still on the podium after second place in Austria.
Jesko Raffin (Dynavolt Intact GP) closes fourth ahead of Niccolò Canepa (LCR E-Team) with whom he fought for most of the race. In sixth place Maria Herrera (Openbank Angel Nieto team) gets her best finish in MotoE, as well as Lorenzo Savadori (Trentino Gresini MotoE), seventh. For the other positions, please refer to the order of arrival below.
In the overall standings Ferrari now leads with 47 points ahead of Simeon for 2 points. Di Meglio remains third with 41 points, with Smith at 40 and Garzo at 33.
Tomorrow at 10: 05 is scheduled the race 2.
At this link you can download the results file of the first race of the San Marino GP. (link)