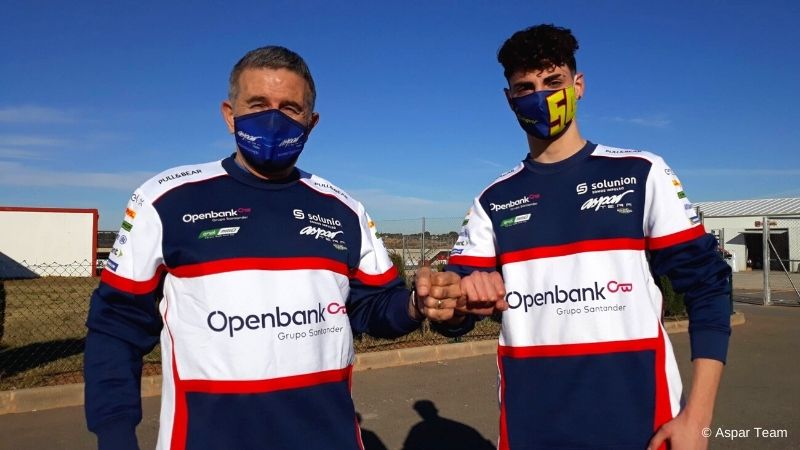 The Openbank Aspar Team and Fermín Aldeguer will participate in the next season of the FIM Enel MotoE World Cup.
The young Spanish rider, who will turn sixteen next April, will make his debut in the World Championship at the Spanish Grand Prix, scheduled for the weekend of May 2. The first ride with the MotoE will be on March 2 , on the same track at Jerez, for the first test session.
Fermín Aldeguer (Murcia, 2005) made his international debut in 2018, in the European Talent Cup, a competition in which he managed to be third in 2019. Last season he was part of the FIM CEV, in the Superstock 600 category, in which he became champion. He now makes the jump to the World Championship level in the electric category and with the aim of continuing to grow in his career.
Jorge Martínez "Aspar" (Team Director)
"For the Openbank Aspar Team, the MotoE category is one of our main bets. I want to welcome Fermín Aldeguer to the team, a rider with a lot of attitude and who has performed very well in his experience with 'big' bikes last season, despite his youth. We have before us a new challenge, a new opportunity to shine and continue to achieve success after a great 2020 season".
Fermín Aldeguer
"I am very happy to jump to the World Cup and even happier to do it with the Openbank Aspar Team, which is a team that has a lot of experience and has won races and world championships. I am convinced that we can be a very strong team and win races to fight for the championship. I have already been told that, at first, I will feel a little strange with the absence of sound from the bike. I know it is a very heavy bike and it is difficult to stop it at the beginning, but I will train to be able to ride it well and adapt as soon as possible. I hope it is a category in which we can enjoy and learn on circuits where I have not yet competed".
In the Openbank Aspar Team, Fermín will be under the guidance of Gino Borsoi, the team's technical director.
To be updated on MotoE World Cup, subscribe to Epaddock's Whatsapp broadcast and receive all our news on your mobile phone in real time: find out how here.