Primarily intended for urban mobility, NEO's electric scooter is Yamaha's first "zero emissions" electric propulsion scooter equivalent to 50cc models. For 2023, also in the AQUA version.
Last year Yamaha presented NEO's, its first electric scooter; in 2023 NEO's will also have the new AQUA color, in addition to the white (in two variants) and black colors of the 2022 version.
For many decades Yamaha has been one of the most successful manufacturers in the 50cc scooter market in Europe. Since the 90s, the company has produced some of the best-selling models in the industry under the Yamaha and MBK brands. Some have become true icons, such as BW's / Booster, Aerox / Nitro and the NEO's / Ovetto heat engine version.
Now Yamaha is present on the electric market with the new NEO's scooter: intelligent, simple, economical and reliable, the new NEO's is the ideal choice for anyone looking for a new generation zero-emission scooter at low cost to move around in an agile way in an urban environment.
NEO's scooter is powered by the latest generation Yamaha Integrated Power Unit (YIPU). A highly efficient brushless electric motor is mounted in the center of the rear wheel which significantly reduces the transmission power losses typically associated with traditional gear and belt systems. The swingarm contains the Engine Control Unit (MCU) which regulates power delivery.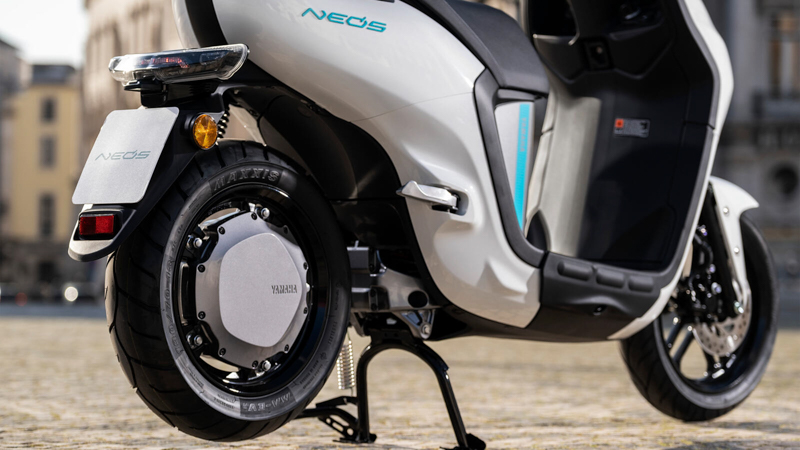 The 50,4 V / 19,2 Ah lithium-ion battery weighs only 8 kg and is positioned under the saddle in the center of the frame. Developed and manufactured in-house by Yamaha, this high energy density component offers a range of approximately 37km when fully charged. Supplied as standard with a battery, NEO's is equipped with the connector and housing for an optional second battery that can extend the range to approximately 68 km.
The battery can be recharged either when it is installed in the vehicle or after removing it to connect it to a power outlet. NEO's comes with a portable charger designed to plug into a household outlet. A full charge takes approximately 8 hours.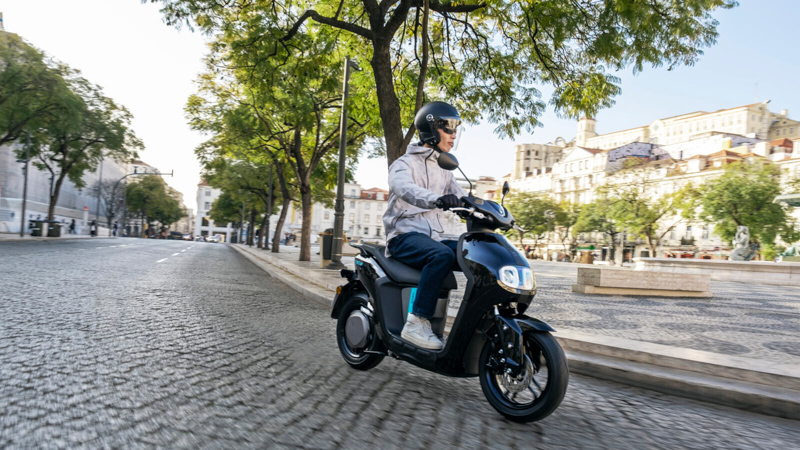 The Yamaha NEO's is designed for maximum efficiency under different riding conditions and is equipped with a Vehicle Control Unit (VCU) and an Engine Control Unit (MCU). The VCUs/MCUs control when and how each battery is used. If the battery is flat, power delivery is automatically limited, as indicated by the turtle icon on the instrument cluster. When an optional second battery is installed, the system selects it when the vehicle is stationary during typical stop-and-go driving in city traffic or automatically during longer uninterrupted journeys.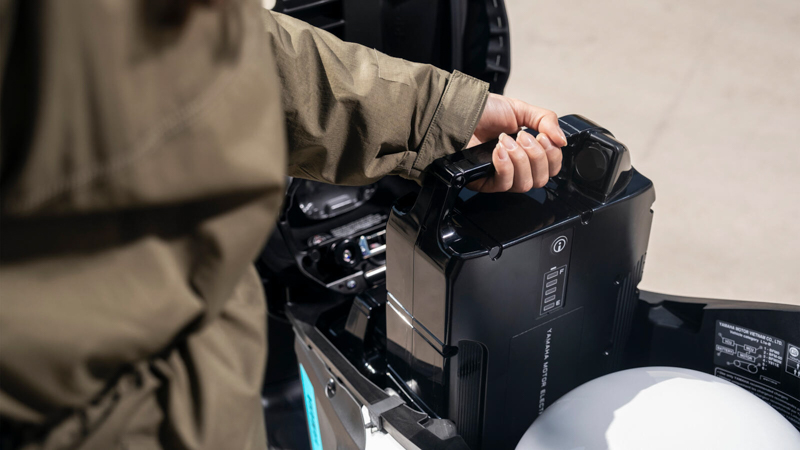 The direct drive electric motor mounted on the wheel hub delivers strong torque every time the throttle is opened, with instant response, combined with excellent acceleration from standstill and in motion. Its direct drive offers extremely smooth performance that makes NEO's an efficient scooter, ideal for city driving with continuous stop & go. The throttle response has been carefully engineered to offer precise control from standstill and smooth delivery in slow driving conditions, without the sudden acceleration, delays or grumpy reactions typical of some electric scooters.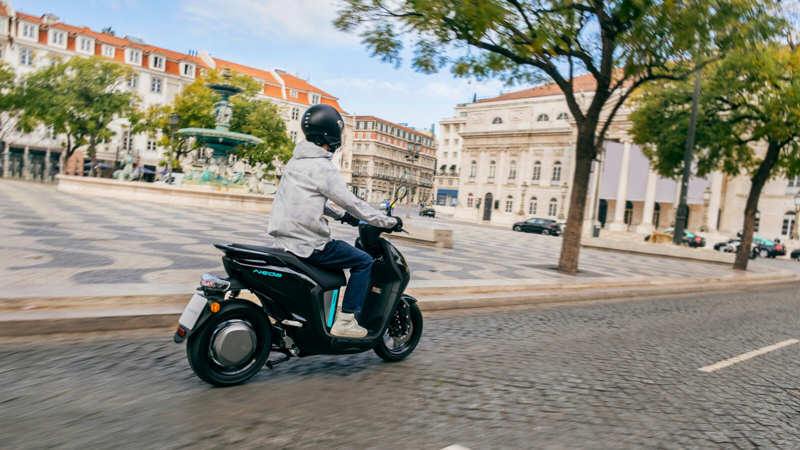 NEO's drivers can choose between two different driving modes depending on individual conditions and preferences: the STD mode offers the maximum power output of 2,06 kW at 40 km / h and is designed for use on the road while the ECO aims to reduce battery consumption by limiting speed to 35km / h and is suitable for unexpected longer journeys, to reach the maximum possible distance.
Thanks to the advanced battery position, the NEO's underseat compartment can accommodate a jet helmet, even with the optional second battery, the space is still sufficient to accommodate small everyday objects.
The NEO's scooter is available in four different colours: White, Milk White, Aqua and Black starting at a price of €3.599, a price which is reduced by 30% with government incentives and by 40% in the event of scrapping.
Main features of the Yamaha NEO's scooter
2,5 kW electric scooter, requires AM, B license
Yamaha Integrated Power Unit (YIPU)
Direct drive brushless electric motor mounted on the hub
Lightweight swingarm with integrated motor control unit (MCU)
Fast and smooth acceleration
Universal riding position for any build and experience
Removable 1kWh 50,4V / 19,2A Li-ion battery, weight 8kg, 225mm x 375mm x 105mm
8 hours for a full charge with standard charger
Single battery range of approx. 37 km *, possibility to add a second battery **
Driving modes STD and ECO
Agile, comfortable and easy to use
27 liters of cargo space under the saddle to accommodate the jet helmet or the second battery
Simple, compact, universal, unisex style
Full LED front and rear lighting and turn signals
Large flat platform
Die-cast aluminum handle
Lightweight 13 ″ alloy wheels with low resistance tires
KYB fork with corrosion resistant nickel plated stems
Removable rear wheel rim for easy tire change
Compact, easy-to-read LCD instrument panel
Connectivity to the scooter's CCU via Yamaha's MyRide smartphone app
* WMTC Class 1 in STD mode
** Sold separately
Photo: Yamaha Motor Co., Ltd.